Is Synchronoss Back in Business?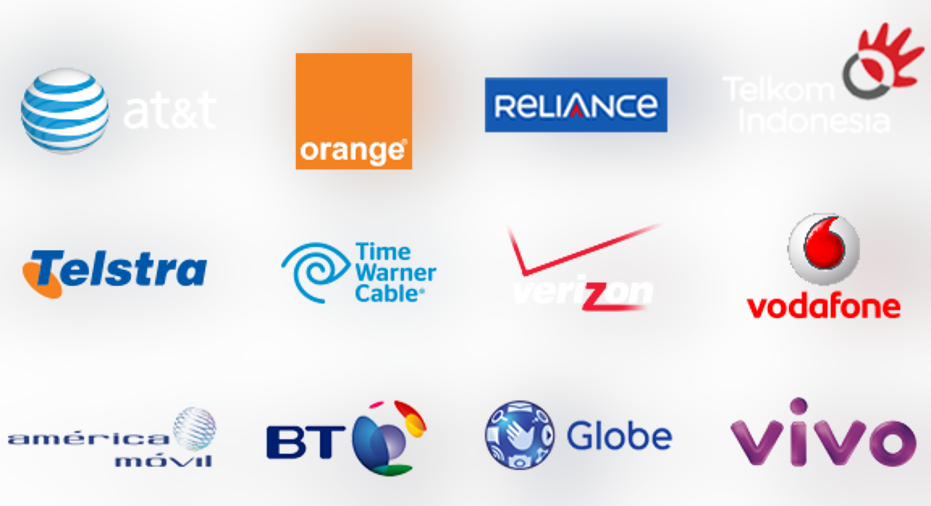 List of Synchronoss clients. Image source: Synchronoss.
The mobile industry is an important driver of economic growth in the U.S., and Synchronoss Technologies has taken advantage of the industry's boom to drive adoption of its mobile activation and cloud-backup services. Yet even though major companies like Verizon regularly use Synchronoss services, some investors are concerned about the price war that has been going on among wireless network providers. Coming into Thursday's first-quarter financial report, Synchronoss investors fear that the company's earnings could fall from year-ago levels.
Let's take an early look at what Synchronoss Technologies is likely to tell investors this quarter and whether the future looks brighter for the cloud and mobile company.
Stats on Synchronoss Technologies
| | |
| --- | --- |
| Expected EPS Growth | (6.1%) |
| Expected Revenue Growth | 8.4% |
| Forward Earnings Multiple | 11.5 |
| Expected 5-Year Annualized Growth Rate | 17% |
Data source: Yahoo! Finance.
Can Synchronoss Technologies bounce back?In recent months, investors have gotten less optimistic about Synchronoss' earnings prospects. They've cut their expectations on first-quarter earnings by nearly a dime to $0.46 per share, and they've made reductions of 5% to 7% to their full-year projections for 2016 and 2017. Nevertheless, the stock has gained ground, rising 9% since late January.
Synchronoss Technologies' fourth-quarter results seemed strong on their face, even though shareholders didn't react favorably to the report. Revenue was up 21% from the year-ago quarter on an adjusted basis, helping to send adjusted net income up 19%. Cloud-services revenue was the big winner in the quarter, climbing 43% and sending the company's total share of revenue from the cloud well above the one-half mark. Moves to enter into stronger partnerships with major carriers like Verizon could produce stronger growth in the future, and Synchronoss also made efforts to get advisors to help it drive its enterprise business unit forward and deliver the services its clients need the most.
Synchronoss hasn't stopped looking for new growth opportunities, and it hasn't hesitated to turn to strategic acquisitions to make progress. In March, the company announced it would acquire messaging platform provider Openwave Messaging. Focusing largely on the Asia-Pacific region, Openwave should help give Synchronoss direct access to a wider swath of users across the globe, bringing its total exposure to more than 3.5 billion subscribers for its personal cloud platform. Synchronoss also hopes the acquisition will accelerate its moves to become more widely known internationally. At the same time, offering better personal messaging options should enhance the value of Synchronoss' platform as well.
The partnership with Verizon should pay off in several ways as well. As Synchronoss CEO and founder Stephen Waldis explained it, the goal is to commercialize the Synchronoss Universal ID Platform in order to work with high-quality customers. The focus for Synchronoss is to produce a subscription revenue stream that it can rely on and grow in the future, as the company seeks to replicate the successes other cloud-computing companies have had in building up recurring revenue sources and using the proceeds to reinvest into their businesses. Some short-term costs might be necessary as partnerships with Verizon and other players begin. Still, Synchronoss is confident that in the long run, the leverage that these investments will provide will eventually help the company accelerate its overall growth, build a more diversified client base, and produce more free cash flow to use for other strategic purposes.
In the Synchronoss Technologies earnings report, investors should look out for specific discussions of partnerships with Verizon and other key businesses. Synchronoss has done a good job growing organically, but if outside collaboration can bring even more opportunities, then investors should celebrate them and expect Synchronoss to enter into more such arrangements in the future.
The article Is Synchronoss Back in Business? originally appeared on Fool.com.
Dan Caplinger has no position in any stocks mentioned. The Motley Fool owns shares of and recommends Synchronoss Technologies and Verizon Communications. Try any of our Foolish newsletter services free for 30 days. We Fools may not all hold the same opinions, but we all believe that considering a diverse range of insights makes us better investors. The Motley Fool has a disclosure policy.
Copyright 1995 - 2016 The Motley Fool, LLC. All rights reserved. The Motley Fool has a disclosure policy.