Is Spectrum Pharmaceuticals Still a Buy After Surging Higher in April?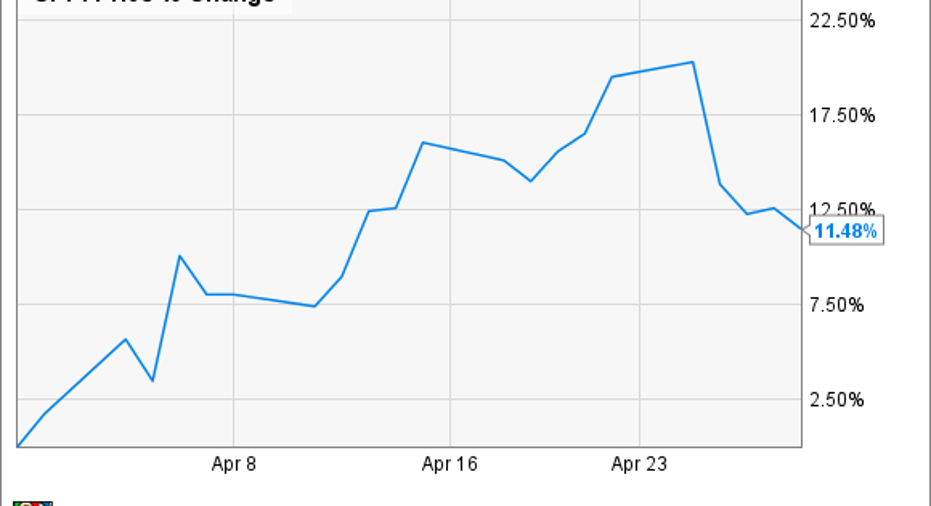 What:Shares of Spectrum Pharmaceuticals gained 11.5% last month, according to data fromS&P Global Market Intelligence. The primary catalyst behind the biotech's surge higher was the news that the FDA granted Evomela seven years of orphan drug exclusivity. The FDA approved Evomela earlier this year as both a high-dose conditioning treatment prior to hematopoietic stem cell transplantation in patients with multiple myeloma (MM), as well as a palliative treatment for MM patients unable to take an oral therapy.Spectrum gained Evomela's worldwide commercialization and development rights from Ligand Pharmaceuticals in 2013.
Image source: Spectrum.
So what:Evomela's peak sales are forecast to range from $100 to $200 million, meaning that it probably won't be a major revenue driver for the company going forward. That said, this extended period of exclusivity should allow the company to realize a greater return on investment over Evomela's entire life cycle.
Now what: Because Spectrum owes royalties to Ligand on Evomela's sales,the Street isn't optimistic that this newly approved product can make much of an impact on the company's flagging top line following the loss of exclusivity for its bone cancer drug Fusilev. Specifically, analysts are predicting that Spectrum's top line will drop by nearly 18% this year and by another 15% in 2017. Consequently, all eyes remain on the drugmaker's emerging clinical pipeline of anti-cancer drugs such as SPI-2012 that's indicated forchemotherapy-induced neutropenia in patients with breast cancer, and apaziquone, which is presently under regulatory review as a possibletreatment for non-muscle-invasive bladder cancer.
The bottom line is that Spectrum remains a fairly risky stock at this stage in its evolution due to the lack of a franchise-level product in its current portfolio. While that could change within the next year or so as its pipeline matures, my take is that this biotech is perhaps best viewed as a strong watchlist candidate heading into apaziquone's target PDUFA date of Dec. 11, 2016.
The article Is Spectrum Pharmaceuticals Still a Buy After Surging Higher in April? originally appeared on Fool.com.
George Budwell has no position in any stocks mentioned. The Motley Fool has no position in any of the stocks mentioned. Try any of our Foolish newsletter services free for 30 days. We Fools may not all hold the same opinions, but we all believe that considering a diverse range of insights makes us better investors. The Motley Fool has a disclosure policy.
Copyright 1995 - 2016 The Motley Fool, LLC. All rights reserved. The Motley Fool has a disclosure policy.