Is Southwest Airlines Coming to Hawaii?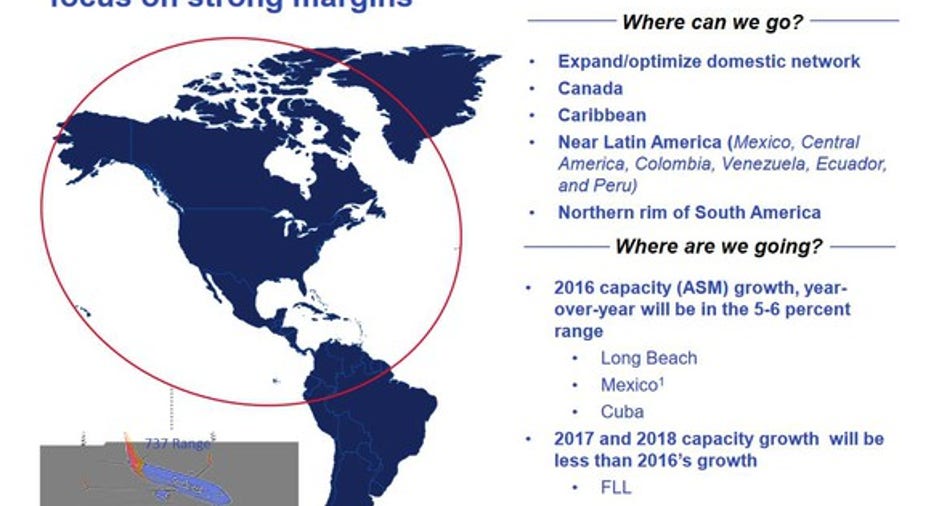 A little more than four years ago, Southwest Airlines took delivery of its first 737-800 from Boeing. This was significant because it was the company's first airplane capable of long over-water flights.
Ever since then, travelers, investors, and analysts have wondered whether and when Southwest might start flying to Hawaii. To some extent, Southwest Airlines executives have encouraged this, having mentioned Hawaii as a possible future destination numerous times in the past few years when discussing the company's growth prospects.
Southwest Airlines has talked about expanding to Hawaii for years. Image source: The Motley Fool.
On the flip side, other airlines -- especially market-leader Hawaiian Holdings -- have had to worry about facing a new and especially fierce competitor in the near future. Fortunately for them (but perhaps unfortunately for the traveling public), Southwest Airlines may still be several years away from expanding to Hawaii.
Hawaii is an obvious destination
Southwest Airlines has grown steadily for the past few decades, and now carries more domestic passengers than any other airline. Furthermore, Southwest is the No. 1 airline in California, which is by far the largest source of visitors to Hawaii.
This makes expansion to Hawaii almost a no-brainer, as it is arguably the premiere leisure destination in the United States. Southwest's "bags fly free" policy would probably be a hit in a market where travelers tend to need a lot of luggage, while consumer interest in "free" flights to Hawaii could entice people to sign up for Southwest's co-branded credit card. (Hawaiian Airlines' co-branded card is very successful for this reason.)
On the other hand, flying to Hawaii wouldn't be completely straightforward for Southwest Airlines. It will require some additional FAA certification work, beyond the effort that is always needed to add a new city to the route map.
Furthermore, West Coast-Hawaii flights would use nearly all of the 737-800's range. In some weather conditions, Southwest might have to reduce the plane's weight by leaving some seats empty in order to have enough range for the roughly 2,500 mile flight to Hawaii. The 737 MAX 8, which Southwest will start receiving in 2017, would alleviate this problem.
Southwest isn't in a rush
Earlier this month, analysts at Credit Suisse assigned Hawaiian Holdings a neutral rating. A big reason for their relative skepticism was their expectation that Southwest Airlines would begin flying to Hawaii in late 2017 or early 2018. However, it is seeming increasingly unlikely that Southwest will make it to Hawaii by then.
Southwest Airlines flights to Hawaii could hurt Hawaiian Airlines. Image source: Wikimedia Commons.
First, Southwest doesn't have much flexibility to grow between now and the end of 2017. Earlier this year, the company decided to retire its entire fleet of more than 100 1990s-vintage 737 Classics by the end of Q3 2017, prior to putting the new 737 MAX in service. As a result, Southwest expects to end 2017 with fewer aircraft in its fleet than the 714 it had at the end of March.
Second, expanding to Hawaii is not Southwest's top priority at the moment. Southwest expects to have 730 to 750 airplanes by the end of 2018, according to CFO Tammy Romo, but that's not enough fleet growth for the company to expand everywhere.
At Southwest Airlines' investor day on Thursday, management presented a bullish view on growth opportunities within the continental U.S., especially in markets where Southwest is the No. 1 airline. The company is also scheduled to open a new international concourse expansion in Fort Lauderdale next year. Adding international service from there will be a key priority for the next couple of years.
More broadly, Southwest Airlines CEO Gary Kelly stated on Thursday that it is easier for Southwest to "connect the dots" between its existing markets or even to grow in Mexico and the Caribbean than it would be to enter Hawaii. The company's investor presentation didn't even specifically list Hawaii as a key growth opportunity.
Image source: Southwest Airlines.
With ample growth opportunities remaining in those "easier" markets, Southwest is likely to put off any expansion to Hawaii. Would-be competitors like Hawaiian Airlines can breathe a sigh of relief -- at least for now.
Maybe around 2020?
Looking beyond 2018, Southwest Airlines is scheduled to take delivery of 14 to 15 additional 737s annually between 2019 and 2022, all of which will be for growth rather than replacement. This would provide for steady 2% annual fleet growth. The carrier also holds options to buy more 737s during that time period, particularly during 2021 and 2022.
It's possible that Southwest Airlines would start flying to Hawaii by 2018. However, for the next few years, it is more likely to focus on building out its presence in Mexico and the Caribbean, as well as pursuing targeted growth in the continental U.S. As a result, Southwest fans may have to wait until 2020 or even a little later to fly their favorite airline to Hawaii.
The article Is Southwest Airlines Coming to Hawaii? originally appeared on Fool.com.
Adam Levine-Weinberg owns shares of Boeing and Hawaiian Holdings and is short October 2016 $50 calls on Hawaiian Holdings. The Motley Fool has no position in any of the stocks mentioned. Try any of our Foolish newsletter services free for 30 days. We Fools may not all hold the same opinions, but we all believe that considering a diverse range of insights makes us better investors. The Motley Fool has a disclosure policy.
Copyright 1995 - 2016 The Motley Fool, LLC. All rights reserved. The Motley Fool has a disclosure policy.