Is Solar Powered Flight On The Horizon?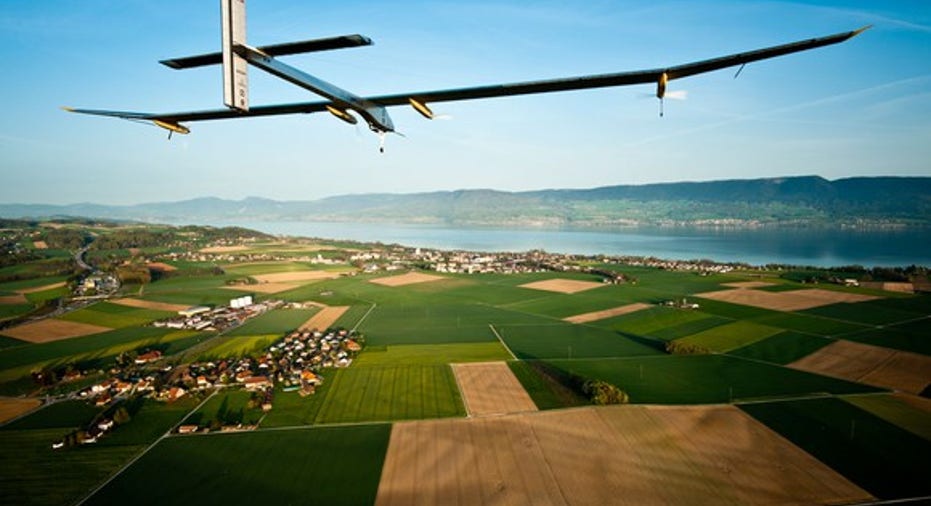 Solar Impulse 2 making its flight around the world. Image source: SunPower and Solar Impulse.
Solar energy is a booming energy source here on the ground, but it may be a growing power source in the skies as well. A solar powered plane called Solar Impulse 2 is currently flying around the world on only power generated from SunPower solar cells attached to the wing. And Boeing recently received a patent for a solar powered plane that could theoretically fly forever.
If aircraft can start using sunlight for operations it opens up a world of possibilities for what we can do in the skies. And that may open up a new market for companies like Boeing.
Image source: SunPower and Solar Impulse.
Proving solar flight can work
Solar Impulse's flight around the world is really the first big step proving that solar flight is possible for long durations. The aircraft has currently flown 29,837 kM in about 389.5 hours (it's not a fast flight) all on solar energy.
The flight is powered by SunPower's high efficiency solar cells and energy is stored in a battery pack onboard the aircraft. It has proven that an aircraft with a pilot and all of the associated equipment can fly 24 hours a day on solar energy, so a solar drone could potentially fly forever.
Where the future of solar flight could lie
I doubt we'll ever get to the point where commercial air travel is powered by the sun. There's just not enough solar energy hitting a small area like an aircraft's wing to meet the high energy demands needed to power a fully loaded plane. But a solar drone could provide cell service, TV broadcasts, high speed internet, surveillance, or other services currently performed by towers or satellites.
Boeing's design patent implies that it's planning to fly 24/7, so applications to replace towers or satellites would make sense. And if it could replace or augment other forms of communication and deploy much quicker than a satellite could.
24/7 flight is already on the horizon
This isn't the first 24 hour flight concept to be tested in the drone space. Boeing and Aerovironment have tested high altitude flight that could last days at a time. And if those drones prove to be desirable for the market it would seem obvious that solar energy is incorporated into their operation. The Aerospace Industries Association estimates that drones will grow from a $6.6 billion to an $11.4 billion business in the next decade and high altitude drones are all upside for those who can participate in the market.
Proving the concept has been a big step forward for the potential of solar flight. Now the industry needs to make it a priority to build out the capacity and business models that will support the industry long-term. It could take a decade or more to see solar aircraft become a big business, but given the number of applications it could have I think this is a concept that could have a bright future.
The article Is Solar Powered Flight On The Horizon? originally appeared on Fool.com.
Travis Hoium owns shares of AeroVironment and SunPower. The Motley Fool recommends AeroVironment. Try any of our Foolish newsletter services free for 30 days. We Fools may not all hold the same opinions, but we all believe that considering a diverse range of insights makes us better investors. The Motley Fool has a disclosure policy.
Copyright 1995 - 2016 The Motley Fool, LLC. All rights reserved. The Motley Fool has a disclosure policy.