Is Qualcomm Inc. Stock a Buy After Earnings Beat?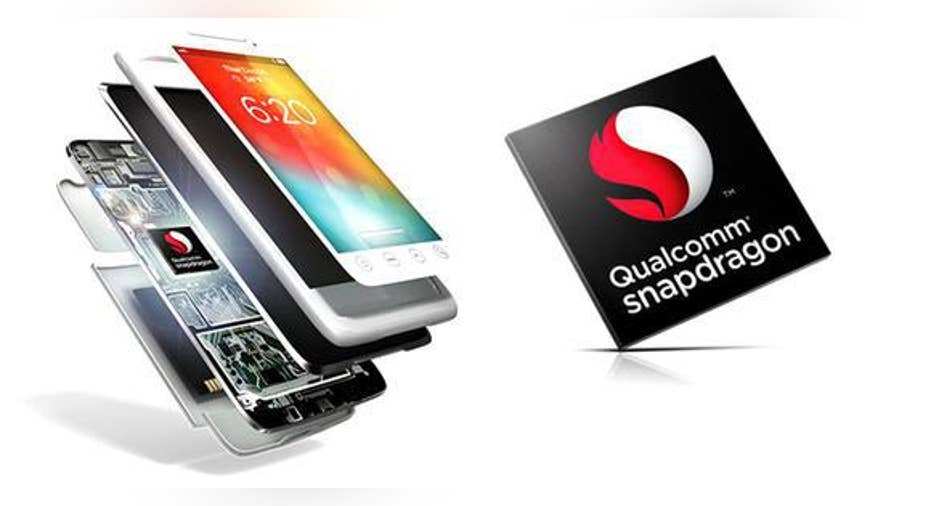 Shares of Qualcomm held steady after the mobile chipmaker beat second-quarter earnings estimates on both the top and bottom lines last week. Non-GAAP revenue fell 20% annually to $5.54 billion, but beat expectations by $200 million. Net income fell 34% to $1.6 billion, while diluted earnings (boosted by buybacks) fell 26% to $1.04 per share -- which still exceeded estimates $0.08.
Image source: Qualcomm.
Chipmaking (QCT) revenue fell 19% to $3.34 billion, as the unit's operating profit plunged 77% to $170 million. That decline was mainly attributed to slowing sales of smartphones, the loss of market share to rivals like MediaTek, and OEMs like Samsung and Huawei producing their own mobile chips.
Licensing (QTL) revenue declined 12% to $2.14 billion as operating profit fell 14% to $1.86 billion. That decline was caused by lower licensing fees in China caused by underreported shipments. Let's dig beyond those numbers to understand the positive and negative aspects of Qualcomm's report, and whether investors should buy shares.
First, the good newsThe first piece of good news is that Qualcomm has dealt with its licensing disputes in a timely manner. It announced that its royalty dispute with LG, which was revealed during the first-quarter earnings call, was settled for an undisclosed amount. It also continued securing new patent licensing deals with Chinese OEMs like Xiaomi, Lenovo, and HiSense. These moves might prevent its QTL losses from accelerating, but investors should note that other licensing disputes with South Korean, Taiwanese, and European regulators remain unresolved. However, Qualcomm declared during its conference call that QTL revenues could rise to "greater than $10 billion" in fiscal 2020 -- up from a range between$7.3 billion and $8 billion this year.
MSM (mobile station modem) chip shipments fell 19% annually to 189 million, but that figure was closer to the high end of its previous guidance for 175 million to 195 million shipments, thanks to shipments of the Snapdragon 820 for Samsung's Galaxy S7. Qualcomm expects the same 175 million to 195 million shipments for the current quarter, which would represent a 13% to 22% annual decline. Those figures leave much to be desired, but they indicate that sales of new Snapdragon chips will likely prevent QCT revenue from falling off a cliff this year.
Now, the bad newsThe bad news is that total 3G/4G device sales, which already fell 8% annually to $70.1 billion, are expected to keep falling. Device sales for the current quarter are expected to fall 1% to 14% annually. For the full year, Qualcomm lowered its device shipment forecast from a 1.67-1.77 billion range to 1.625-1.725 billion -- which would represent a range between an 11% annual decline and 5% growth.
Those figures are slightly below Gartner's estimate that global smartphone sales will only rise 7% this year, compared to 14% growth in 2015. Competition from cheaper rivals and first-party chip solutions will make it even tougher for Qualcomm to keep pace with the overall market. To offset that slowdown, Qualcomm is relying on new SoCs for Internet of Things devices, connected cameras, connected cars, and drones to diversify its portfolio away from smartphones and tablets. That move, which is supported by its $2.4 billion acquisition of CSR, could crush smaller camera and drone chipmakers like Ambarella .
Qualcomm's Snapdragon Flight drone reference design. Image source: Qualcomm.
The fundamentalsI believe that three things will set a floor under Qualcomm at current prices -- its buybacks, dividends, and valuation. During the quarter, Qualcomm spent $1.5 billion to buy back shares at an average price of $49 per share. That was a refreshing change of pace from overpaying for its own shares in previous quarters, and indicates that it's willing to defend the $50 level with buybacks.
It also spent $700 million on dividends, and boosted its payout by 10% in March -- representing its 13th consecutive year of dividend increases. That translates to a forward annual yield of 4%, which is significantly higher than Intel's forward yield of 3.3%. Analysts expect Qualcomm to grow its annual earnings by 11% over the next five years, which gives it a 5-year PEG ratio of 1.1. This indicates that Qualcomm is cheaper relative to its earnings growth potential than Intel, which has a higher 5-year PEG ratio of 1.3.
So is Qualcomm stock a buy?Investors looking for rapid price growth should avoid Qualcomm, since its QTL and QCT troubles won't likely clear up anytime soon. However, investors looking for a stable income stock supported by a 4% yield and a strong track record of buybacks should take a closer look at the beaten-down chipmaker.
The article Is Qualcomm Inc. Stock a Buy After Earnings Beat? originally appeared on Fool.com.
Leo Sun owns shares of Qualcomm. The Motley Fool owns shares of and recommends Ambarella, Gartner, and Qualcomm. The Motley Fool recommends Intel. Try any of our Foolish newsletter services free for 30 days. We Fools may not all hold the same opinions, but we all believe that considering a diverse range of insights makes us better investors. The Motley Fool has a disclosure policy.
Copyright 1995 - 2016 The Motley Fool, LLC. All rights reserved. The Motley Fool has a disclosure policy.