Is Opko Health a Buy Now That Rayaldee Is Approved?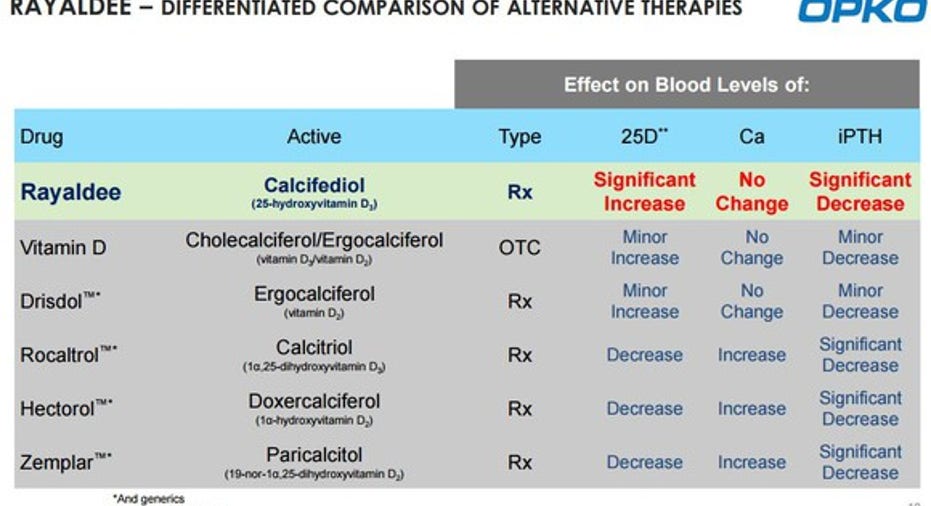 Image source: Flickr user stockmonkeys.com.
After initially rejectingOpko Health's kidney disease drug Rayaldee earlier this year because of manufacturing concerns, the FDA approved Rayaldee four months ahead of a new timeline it had set for itself.The approval clears the way for Opko Health to begin selling Rayaldee to chronic kidney disease patients later this year, but investors might want to take a wait-and-see approach before rushing in to buy Opko Health's shares.
Tapping a big market
The market for Rayaldee is conceivably massive. The drug addressessecondary hyperparathyroidism that's due to vitamin D insufficiencyin patients diagnosed with stage 3 or stage 4 chronic kidney disease (CKD). There are an estimated 9 million Americans who could benefit from Rayaldee treatment.
When patients suffer from vitamin D insufficiency, excessive amounts of parathyroid hormone are secreted. If that hormone remains too high for too long, it can lead to calcium and phosphorous being released from bone. In addition to weakening bones, this situation can lead to thecalcification of vascular tissue and renal tissue that can be life-threatening. Between 40% and 60% of stage 3 and stage 4 CKD patients are affected by this condition.
In trials, patients taking Rayaldee achieved at least 30% reductions in plasma intact parathyroid hormone versus placebo, and Vitamin D insufficiency was corrected in more than 80% of the patients. For comparison, less than 7% of people who received placebo saw their vitamin D insufficiency corrected.
In approving Rayaldee, the FDA gave a go ahead to the first FDA-approved therapy designed to address this condition. Currently, stage 3 and stage 4 CKD patients are treated with high-dose vitamin D supplements with arguable efficacy.
Moving in the right direction
The approval of Rayaldee is in keeping with Opko Health's mission to become a major player in the treatment of large, under-served patient populations.
Opko Health was founded by billionaire healthcare investor Phillip Frost, whose resume includes successfully building Ivax Labs into a major generic drugmaker. Frost sold Ivax Labs to Teva Pharmaceuticalin 2005 for $7.4 billion and served as Teva Pharmaceutical's chairman until stepping down in 2014 to run Opko Health.
In addition to Rayaldee, Opko Health also markets the prostate cancer screening test 4Kscore, and it operates a large specialty lab courtesy of its $1.5 billion deal to acquire Bio-Reference Labs in 2015. Opko Health is also on tap to receive royalties and potential sales milestones associated with Tesoro's Varubi, a therapy that can reduce post-chemotherapy nausea. The FDA approved Varubi last fall, but sales in Q1 were less than $1 million.
Opko Health's other irons in the fire include a long-lasting human growth hormone it has out-licensed to Pfizer. Phase 3 trial results for use of this human growth hormone in adults are expected later this year, and if they're good, a filing for FDA approval could be on deck shortly thereafter.
Patient approach
While the acquisition of Bio-reference Labs successfully transformed Opko Health into a $1 billion revenue company that could turn a profit next year, it remains to be seen whether Opko Health's prostate cancer test and its various drugs will be top sellers.
The 4Kscore test, for example, has been on the market since 2014, and despite it targeting a massive market for prostate cancer screening, its sales have yet to take off. In Q1, the company didn't bother to break out sales for the test in its earnings release.
Similarly, while Varubi targets a billion-dollar opportunity in chemotherapy-induced nausea, its sales during its first full quarter on the market were tepid. Opko Health could have better success with Rayaldee, but that's not a given. Sales may ramp slowly if it proves to be a challenge to convince doctors who are used to prescribing supplements to embrace it.
Taking a patient approach to investing in Opko Health may be best. Rather than rushing to buy, it could be worth waiting a few quarters to see if the company's various products gain traction or not. In the meantime, concentrating on other money-making investment ideas may prove to be more profitable.
The article Is Opko Health a Buy Now That Rayaldee Is Approved? originally appeared on Fool.com.
Todd Campbell has no position in any stocks mentioned.Todd owns E.B. Capital Markets, LLC. E.B. Capital's clients may have positions in the companies mentioned. Like this article? Follow him onTwitter where he goes by the handle@ebcapital to see more articles like this.The Motley Fool recommends Teva Pharmaceutical Industries. Try any of our Foolish newsletter services free for 30 days. We Fools may not all hold the same opinions, but we all believe that considering a diverse range of insights makes us better investors. The Motley Fool has a disclosure policy.
Copyright 1995 - 2016 The Motley Fool, LLC. All rights reserved. The Motley Fool has a disclosure policy.