Is Now the Right Time to Buy J.C. Penney?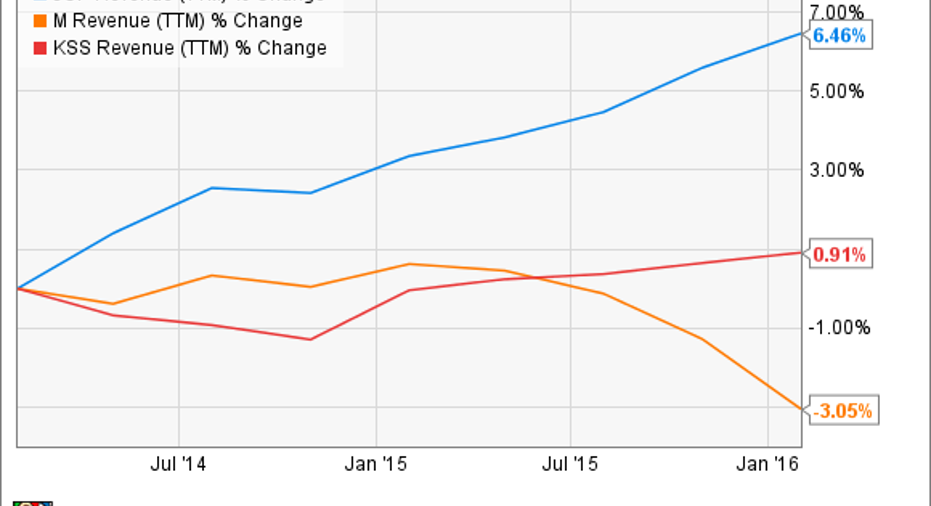 Image source: The Motley Fool.
J.C. Penney is in the midst of a strong turnaround, and both sales and profit margins are moving in the right direction as of late. Even better, management is expecting sustained performance in the coming quarters, and J.C. Penney stock still looks quite cheap in comparison to competitors like Macy's and Kohl's .
The turnaround is in placeTotal revenue for the quarter ended Jan. 30, 2016 was $4 billion, an increase of 2.6% versus $3.9 billion in the same period last year. J.C Penney delivered a big increase of 4.1% in comparable-store sales. This was the ninth consecutive quarter in which the company produced growing comparable sales year over year, and the number is up by 8.5% versus comparable sales two years ago.
The company is succeeding at generating consistent sales growth, and this is clearly one of the main reasons for optimism when evaluating the health of the turnaround. J.C. Penney is also producing improving profit margins, so the company is not relying onexcessivediscounts and promotions to increase sales.
Gross profit margin was 34% of sales last quarter, an increase of 30 basis points from the same quarter in the prior year. Management is also keeping operating costs under control -- SG&A expenses declined by $70 million to $962 million, accounting for 24% of revenue, a 240 basis point improvement from the same quarter a year ago.
Can J.C. Penney continue on the right track?CEO Marvin Ellison highlighted during the conference call that J.C Penney is clearly gaining market share versus the competition in a challenging retail environment. Ellison believes the company still has room for improvement on the back of multiple growth engines over the coming years.
To begin with, J.C. Penney is recovering some the market share it lost from 2011 to 2013, when the company was trying to rebrand itself as a higher-end retailer and it lost many of its traditional value-oriented customers. J.C. Penney is focusing on value once again, and low prices are bringing some of those customers back to the stores. In addition, Sephorainside J.C. Penney has been a major success for the company, and management is planning to accelerate expansion in the coming years.
The company is re-establishing private brands such as St. John's Bay, Royal Velvet, Cooks, and Ambrielle, while at the same time betting on new brands such as The Collection by Michael Strahan and Disney Apparel by Okie Dokie. Brand differentiation is a crucial source of competitive strength in the business, as it can generate both growing revenue from existing customers as well as attracting new customers to the shops.
J.C. Penney is also investing in technology to sustain its turnaround. The company is implementing new omnichannel technologies allowing it to better share inventory between brick-and-mortar stores and the online channel, while also building a better connection with online and mobile customers. Management is also using big data technology to improve merchandising, pricing, and marketing decisions.
The company is expecting a sustained improvement over the coming year. J.C. Penney is forecasting comparable sales during fiscal year 2016 to increase by 3% to 4%, gross profit margin to jump by 40 to 60 basis points, and SG&A expense to decline in dollar terms. The company also forecasts positive earnings per share figures for the full year, so management is quite confident on the company's chances to continue on the right track over the coming quarters.
J.C. Penny stock still offers room for gainsWhen comparing J.C. Penney against other department stores such as Macy's and Kohl's in terms of revenue growth over the last couple of years, the company is clearly outperforming the competition.
JCP Revenue (TTM) data by YCharts.
Both Macy's and Kohl's produce more consistent profitability, though. Macy's produced an operating margin of 7.5% of revenue last year and Kohl's has an operating margin in the neighborhood of 8% of sales. J.C. Penney, on the other hand, lost money at the operating level last year, even if management is expecting positive earnings in fiscal 2016, this can make a big difference for investors in terms of predictability.
The good news is that J.C Penney is still quite cheap in comparison to its peers. The stock trades at a price-to-sales ratio of 0.28 versus 0.52 for Macy's and 0.48 for Kohl's. This has big positive implications for investors, if management keeps leading the company in the right direction and producing more predictable earnings in the future, then J.C. Penney stock still offers substantial upside potential from current valuation levels.
The article Is Now the Right Time to Buy J.C. Penney? originally appeared on Fool.com.
Andrs Cardenal has no position in any stocks mentioned. The Motley Fool has no position in any of the stocks mentioned. Try any of our Foolish newsletter services free for 30 days. We Fools may not all hold the same opinions, but we all believe that considering a diverse range of insights makes us better investors. The Motley Fool has a disclosure policy.
Copyright 1995 - 2016 The Motley Fool, LLC. All rights reserved. The Motley Fool has a disclosure policy.