Is MannKind Corp. Ready to Rebound in 2017?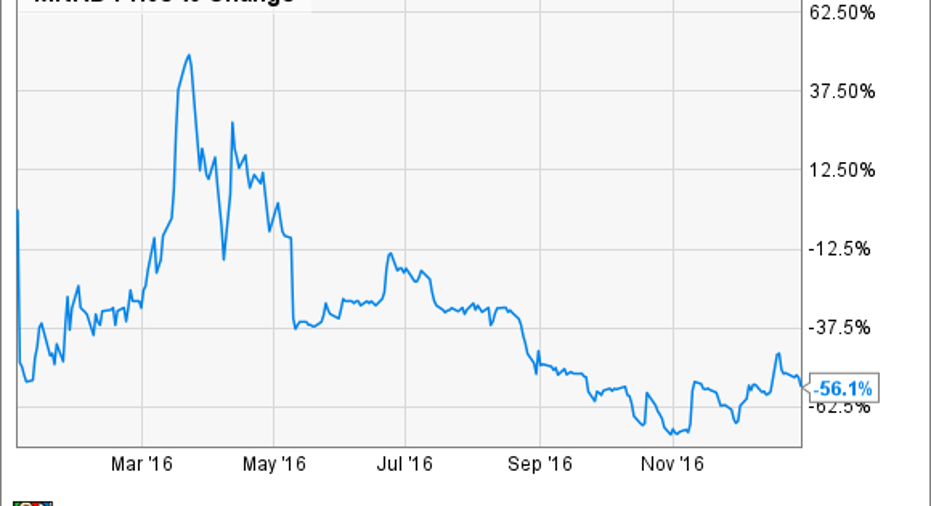 Image source: Getty Images.
What happened
According to data fromS&P Global Market Intelligence, MannKind Corp. (NASDAQ: MNKD) lost 56% of its value over the course of 2016.
The drugmaker's titanic plunge was catalyzed by the termination of itslicense and collaboration agreement with Sanofifor inhaled insulin product Afrezza last April. Sanofi decided to end the partnership with MannKind because of Afrezza's unexpectedly weak launch that produced a grand total of $5.2 million in net sales (at current exchange rates) during the first nine months of 2015.
So what
MannKind's faltering share price also triggered a non-compliance noticefrom Nasdaq last September that puts the company in danger of having its stock delisted from the exchange. The short story is that MannKind has 180 calendar days to get its stock to trade at or above $1 for 10 consecutive days, which has yet to happenand may, unfortunately, require a reverse split to achieve.
Now what
Perhaps even more pressing is the matter of MannKind's remaining cash reserves. With Afrezza's sales failing to gain momentum in Q4, according to IMS Health, and the company exiting the third quarter with a mere $35.5 million in cash, the biotech desperately needs a major infusion of capital simply to keep its doors open.
Now, MannKind did get a bit of additional cash recently when it received a $1 million milestone payment fromReceptor Life Sciencesat the end of December. But the biotech still doesn't appear to have the resources necessary to stay in business beyond perhaps the third quarter of 2017.
Given these outstanding questions about MannKind's solvency and the status of its stock on the Nasdaq, it's hard to see how the biotech can rebound in 2017. Investors may want to look elsewhere for more compelling turnaround stories.
10 stocks we like better than MannKind When investing geniuses David and Tom Gardner have a stock tip, it can pay to listen. After all, the newsletter they have run for over a decade, Motley Fool Stock Advisor, has tripled the market.*
David and Tom just revealed what they believe are the 10 best stocks for investors to buy right now... and MannKind wasn't one of them! That's right -- they think these 10 stocks are even better buys.
Click here to learn about these picks!
*Stock Advisor returns as of January 4, 2017
George Budwell has no position in any stocks mentioned. The Motley Fool has no position in any of the stocks mentioned. The Motley Fool has a disclosure policy.