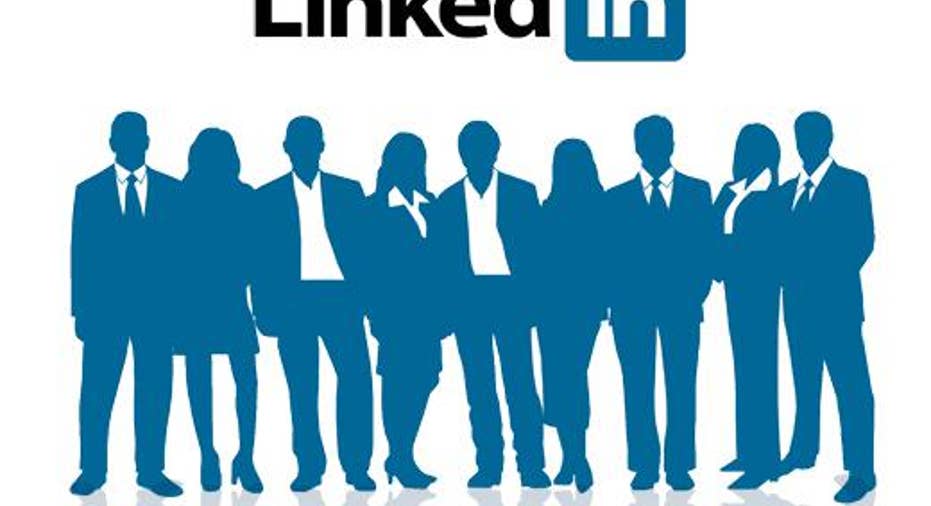 Image source: LinkedIn
Shares ofLinkedIn just can't get any turnaround momentum going. After Q1 resultssparked a big after-hours pop last Thursday, the shares have since retreated and remain off more than 50% from their 52-week highs. Wall Street took some positives away from the report, but it's clear that it still views the professional network as somewhat of a "show-me" story. Is the skepticism warranted, or is it simply providing long-term investors with an intriguing value opportunity?
Eye for talentLinkedIn posted Q1 EPS of $0.74 on revenue of $860.7 million, well above the consensus estimates of $0.60 and $828.5 million, respectively. While that would be a blow-out quarter by most standards, the expectations were already set at a pretty low level (which triggered the stock's February collapse in the first place). Still, a beat is a beat. And although growth continues to decelerate, the Q1 results should restore a bit of confidence in management's projections going forward. Speaking of which, management now sees full-year 2016 revenue of $3.65 billion to $3.7 billion, bracketing the consensus of $3.67 billion.
In recent months, one of the main concerns over LinkedIn has been slowing growth at its core talent solutions division, which currently accounts for about two-thirds of the company's business. Well, the good news is that revenue at the unit jumped 41% to $558 million. The not-so-good news? Hiring revenue, which represents about the vast majority of that figure, increased just 27% -- well below the 50%-plus growth days of just two years ago. Unfortunately, the trend isn't expected to turn anytime soon. Wall Street firm Avondale Partners, for example, sees hiring revenue growth of 18% in 2017 and only 15% in 2018.
Engagement partyDespite the execution issues, LinkedIn's highly valuable user-base seems relatively healthy. The company reported 433 million users in Q1, up from 414 million in Q4, representing the strongest net-add quarter since the start of 2014. And while unique visiting members only rose 9% year over year, page views managed to increase 34%. Q1 also marked the first full quarter of the company's revamped flagship mobile app, which seems to be sparking record-level engagement. During the quarter, viral actions jumped greater than 80%, daily shares grew 40%, and traffic to third-party publishers surged roughly 150%.</>
The positive user-related metrics even prompted Goldman Sachs, which maintains a buy rating on LinkedIn, to raise its price target on the stock from $155 to $162.
Cost concernsOn the expense side, a somewhat troubling trend continues. GAAP expenses in Q1 increased 42% year over year, once again outpacing the top-line boost of 35%. Over the past five years, LinkedIn's GAAP expenses have managed to grow at a faster rate than revenue, suggesting that leverage within LinkedIn's business model is becoming increasingly tough to come by. LinkedIn expects the cost structure to improve -- it sees greater than 40% future operating expense savings within the cost of revenue -- but up until this point, management just hasn't shown it can drive growthwhilekeeping a tight rein on expenses.
Stock-based compensation (SBC) also remains a concern. RBC says LinkedIn's SBC represented about 16% of revenue over the past two years, less than half ofTwitter's39%, but about double that ofFacebook's 8%. Management eventually hopes to drive that figure down to 10%, but in Q1, the ratio came it at 17%.
LinkedOut...for nowAll things considered, I'd pass on the stock for now, but keep it on very close watch. On the one hand, the company's network of users is certainly valuable given the data it drives, as well as the monetization avenues it creates. On the other hand, high expenses, coupled with decelerating top-line growth, raise questions over how difficult it is tomaintaina high level of user growth and engagement.
On top of that, the shares don't seem all that inexpensive despite the severe slump. Currently, LinkedIn trades at about a forward P/E of 29, while Facebook and Twitter sport forward P/Es of roughly 28 and 18, respectively. I'd love to be exposed to LinkedIn's monetization upside one day, but right now, the margin of safety doesn't seem wide enough to take on the risks that go with it.
The article Is LinkedIn Corp a Buy? originally appeared on Fool.com.
Brian Pacampara has no position in any stocks mentioned. The Motley Fool owns shares of and recommends Facebook, LinkedIn, and Twitter. Try any of our Foolish newsletter services free for 30 days. We Fools may not all hold the same opinions, but we all believe that considering a diverse range of insights makes us better investors. The Motley Fool has a disclosure policy.
Copyright 1995 - 2016 The Motley Fool, LLC. All rights reserved. The Motley Fool has a disclosure policy.