Is Las Vegas Sands Stock a Buy Today?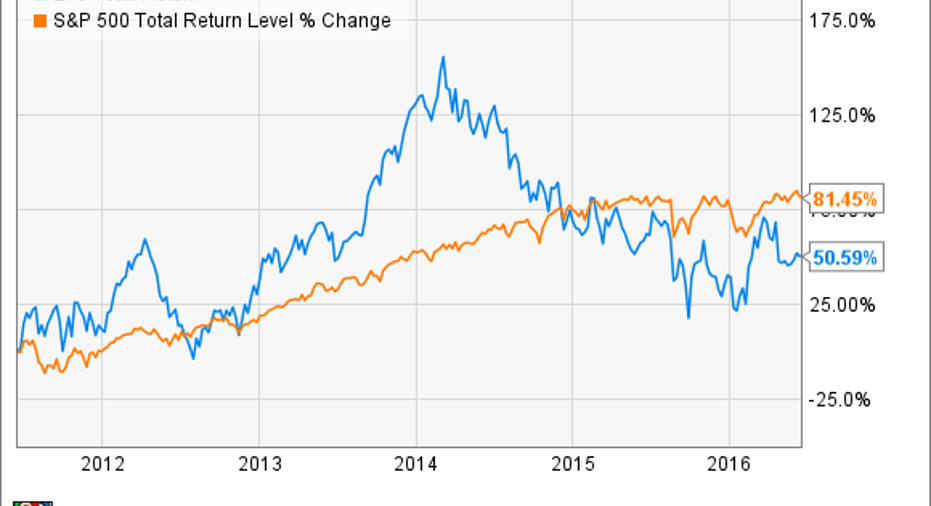 Rendering of Las Vegas Sands' next resort, The Parisian in Macau. Image source: Las Vegas Sands.
Las Vegas Sands has struggled on the market since the beginning of 2014 as Asian gamblers rapidly slowed their spending and competition began to creep into the company's main market of Macau. The challenges the company faces will only get stronger as MGM Resorts and Wynn Resorts open new properties on Cotai in the next year.
The question is, is there too much pessimism priced into Las Vegas Sands' stock today? That's what will determine if the stock is a buy. Let's take a look.
LVS Total Return Price data by YCharts.
As good as it's going to get for a while
Operationally, there's not much that's going to improve in the foreseeable future for Las Vegas Sands. Macau's gaming revenue is still falling, although it may finally be stabilizing, and competitors are completing new resorts on Cotai, where Las Vegas Sands is the dominant player.
Data source: Macau Gaming Inspection and Coordination Bureau. Image by the author.
Melco Crown completed Studio City late last year, and Galaxy completed Phase II of Galaxy Macau. But the bigger competitors will be Wynn Palace and MGM Cotai when they open. They're a street away from Las Vegas Sands' properties and will take more market share from the company.
Las Vegas Sands will open The Parisian late this year or early next, but I think the best-case scenario is that it maintains market share with that property. That could mean a drop in profitability overall given the rise in operating expenses associated with a new resort.
Things don't look much better elsewhere. In Las Vegas and Singapore, the best-case scenario is that revenue and EBITDA, a proxy for cash flow from a resort, stay flat this year and next. There's not much growth in the U.S. economy right now, and Singapore feels the hangover from negative factors affecting Macau, so in those markets, flat performance would be good.
Value isn't strong for Las Vegas Sands
At best, Las Vegas Sands is looking at flat results in the future, and I think there's good reason to think earnings will decline this year and next. With that in mind, valuation is very important.
Right now, Las Vegas Sands' market cap of $37.3 billion, net debt of $7.8 billion, and trailing EBITDA of $4.0 billion mean the company's enterprise value is 11.2 times trailing EBITDA. I'd like to see that ratio in the single digits given the weak operating prospects, so that makes the stock a tough buy now.
Until we see improvements in operations or more value in the stock, this isn't a stock I would buy. The odds just aren't in your favor in Las Vegas Sands.
The article Is Las Vegas Sands Stock a Buy Today? originally appeared on Fool.com.
Travis Hoium owns shares of Wynn Resorts. The Motley Fool owns shares of Wynn Resorts. Try any of our Foolish newsletter services free for 30 days. We Fools may not all hold the same opinions, but we all believe that considering a diverse range of insights makes us better investors. The Motley Fool has a disclosure policy.
Copyright 1995 - 2016 The Motley Fool, LLC. All rights reserved. The Motley Fool has a disclosure policy.