Is It Too Late to Invest in Amazon.com Inc.?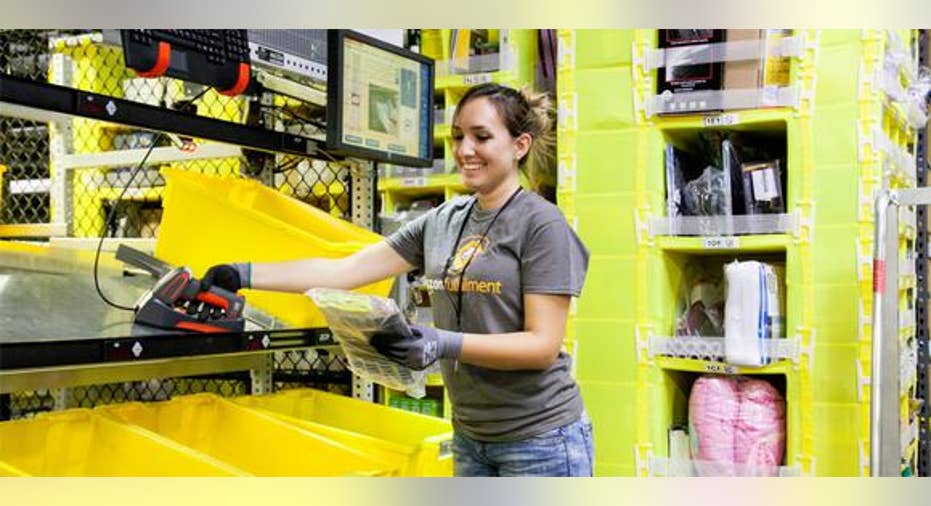 Amazon stock has more than doubled since the beginning of the year thanks to its solid sales growth, surprising profitability, and impressive ecosystem expansion. But after that massive rally, which extends its five-year price growth to nearly 300%, is it too late for investors to buy this seemingly unstoppable stock?
Source: Amazon.
Gravity-defying valuationsMost Amazon bears claim that the stock's valuations are too hot to handle. The stock trades at a whopping 966 times trailing earnings, comparedto the industry average of 43 for catalog and mail-order houses. Its current P/E, along with its stock price, are both at 52-week highs.
Amazon has a much lower forward P/E of 119, but that still looks lofty compared to its projected annual earningsgrowth rate of 60% over the next five years. That compares favorably to the 14% growth that analysts expect the rest of the industry to post, but it also gives Amazon a five-year PEG ratio of 5.9. Since a PEG ratio under 1 is generally considered "undervalued," we can safely say that Amazon is "overvalued" by traditional price-to-earnings standards.
However, the bears have been consistently wrong about Amazon over the past decade. That's because Amazon is considered a "cult stock" and its ecosystem growth has proven nearly unstoppable.
Amazon's retail growthLast year, Alphabet Chairman Eric Schmidt admitted that "more than twice" the number of shoppers went straight to Amazon instead of Google. This means that Google gains fewer product search queries to strengthen its targeted ads, which translates to less effective ads and weaker ad revenue growth.
Thanks to its dominance of the e-commerce industry, Amazon's annual revenue soared from $6.9 billion in 2004 to $89 billion in 2014. Amazon capitalized on that lead by strategically expanding its Prime ecosystem. Prime members, who pay $99 per year, get discounts, free two-day delivery on select items, access to streaming content, unlimited cloud storage for photos, and other perks.
Source: Amazon.
In July, research firm CIRP estimated that about half of Amazon's U.S. customers are signed up to Prime with a 95% retention rate. The research firm also claims that the average Prime member spends $1,200 on the site annually, compared to $700 for nonmembers. This wide moat prevents ecosystem rivals like Google and other online retailers from gaining much ground against Amazon.
Amazon keeps Prime users tethered to this ecosystem with cheap electronic devices like the Kindle Fire and Fire TV. It's also expanding that network with new Dash one-click ordering buttons, same-day delivery options, grocery delivery services, home services, and more. Amazon is automating the ordering process with warehouse robots,which it introduced over the past three years, and delivery drones, which are awaiting regulatory clearance. This plan will gradually reduce Amazon's dependence on human workers, which will cut costs and boost margins.
Amazon's cloud growthAmazon's core marketplace business generated 92% of its revenue last quarter, with the remainder coming from Amazon Web Services (AWS), its rapidly growing cloud platform business. AWS originally served as its e-commerce site's backbone, but it now hosts services like enterprise data, cloud-based computing, data processing, machine learning, and Internet of Things messaging for big customers like the CDC and NASA.
Source: Amazon.
Synergy Research estimates that AWS controls 29% of the global public cloud market. Microsoft and IBM , respectively, control 25% and 12%, while Google controls a mere 6%. Microsoft and IBM both generate more overall cloud revenue than AWS, but much of that revenue comes from the private cloud and SaaS platforms like Office 365. In terms of pure cloud platform (IaaS/PaaS) revenue, AWS easily surpasses both companies with an annual run rate of $7.3 billion. AWS also has 10times the utilized capacity of the next 14 largest platform competitors combined, according to research firm Gartner.
Last quarter, Amazon's AWS revenues rose 78% annually on a constant-currency basis and accounted for 8% of its top line. Morgan Stanley analyst Brian Novak estimates that percentage couldmore than double to 17% next year.
AWS generated $521 million in operating income last quarter, compared to operating income of $528 million at Amazon's North American business and an operating loss of $56 million at its international one. This means that AWS is much more profitable than its core marketplace business despite generating much less revenue. As AWS's weight on Amazon's top line increases, so will the company's overall profits.
My verdict: It's not too lateInvesting in Amazon requires a leap of faith. The fundamentals look scary, but no other company can match Amazon's e-commerce or cloud platform presence. The company's prisoner-taking Prime ecosystem, its ongoing effort to streamline orders and cut costs, and its profitable cloud platform all indicate that its best days are still ahead.
The article Is It Too Late to Invest in Amazon.com Inc.? originally appeared on Fool.com.
Leo Sun has no position in any stocks mentioned. The Motley Fool owns shares of and recommends Alphabet (A and C shares), and Amazon.com. The Motley Fool recommends Gartner. Try any of our Foolish newsletter services free for 30 days. We Fools may not all hold the same opinions, but we all believe that considering a diverse range of insights makes us better investors. The Motley Fool has a disclosure policy.
Copyright 1995 - 2015 The Motley Fool, LLC. All rights reserved. The Motley Fool has a disclosure policy.