Is It Time to Bail on Movie Theaters?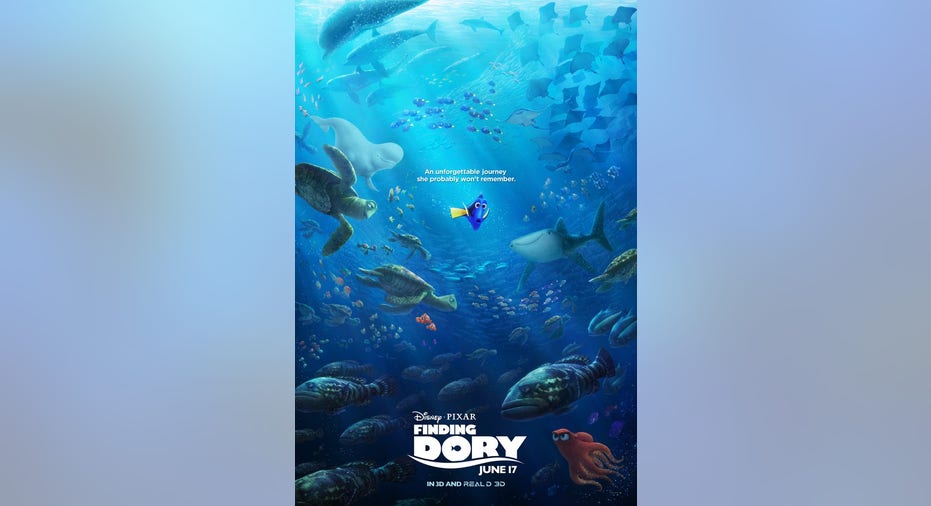 2016 is proving to be a lackluster year for box office sales. While sales are roughly in line with sales at this time last year, the rest of 2016 is expected to fall short of 2015's historic second half. How could this affect the largest U.S. movie theaters,AMC Entertainment , Regal Entertainment , and Cinemark Holdings ? Is it time to get out of movie theater stocks, or are the companies finding other ways to offset slower ticket sales?
The last year in review
Total sales for movie theaters are setting a similar pace for 2016 compared to 2015. Box office sales on the year are up 0.3% to $5.2 billion. That increase is misleading, though, because the average price for a movie ticket has increased over 2015 by 1.7%. This means total tickets sold have actually dropped compared to the first six months of 2015.
Image source: Disney's Pixar.
This comes in spite of the fact that Disney's Star Wars: The Force Awakens was still posting strong ticket sales in January. Disney has two big hits this year in Captain America: Civil War and Finding Dory, but neither film is expected to top Comcast subsidiary NBC Universal's Jurassic World from last summer. That film currently holds the record for fourthall-time highest-grossing filmin the U.S.
There are a few more animated, superhero, and sci-fi movies with big potential set to hit the box office in the second half of 2016. Expectations are that these won't be enough to surpass last year's record-setters. Movie theaters haven't been content to let Hollywood productions alone dictate their performance, though. Have their efforts been enough to keep business growing?
Wooing people off the couch and out of restaurants
Movie theaters have had to fight against people tightening up on their budgets by going out less, much like TV providers have been fighting the trend toward cord-cutting. Theaters have developed a few key schemes to lure people back to the silver screen.
One way has been the use of screen technology. 3D movie showings have become very common, with many big blockbuster productions getting released as a traditional showing along with a 3D offering. Theaters have also been installing various high-definition screen technologies for those who may prefer to watch films on their high-definition TVs.
Also becoming more common are hospitality upgrades. Reclining seats have been a new feature popular with consumers. Finally picking up on the "dinner and a movie" idea, theaters are starting to offer more than just the usual candy, popcorn, and soda, and expanding into foods with a little more substance.
The upgraded screens tend to carry a higher ticket price than an older screen, and the new food offerings can provide a new revenue source for theaters. Have the new initiatives been paying off for the largest movie theater businesses? As of their last reported quarterly earnings, all three companies are having a record year for total revenue coming in.
| Metric | AMC | Regal | Cinemark |
| --- | --- | --- | --- |
| Year-to-date ticket sales revenue | $482.6 million | $515.7 million | $435.8 million |
| Percent increase over 2015 | 15.3% | 13.6% | 8.8% |
| Year-to-date concessions revenue | $244.2 million | $230.1 million | $237.8 million |
| Percent increase over 2015 | 21.8% | 16.1% | 10.9% |
Data sources: AMC, Regal, and Cinemark quarterly earnings reports.
Theaters are not slowing down. The year-over-year double-digit growth shows the success the industry has had in getting customers to pay more for tickets to premium 3D or high-definition screenings, and in the increasing popularity of the new concessions menu. These results also do not yet count 2016's best-performing title so far, Captain America, and the fast-growing ticket sales of the recently released Finding Dory.
Looking at box office tickets sold is only part of the story for today's theater business. Despite what may shape up to be a softer year for ticket sales than 2015, movie theaters have never been stronger.
Who should be buying?
Despite being an old and well-established business, movie theaters look like a buy for investors looking for some future growth. AMC Entertainment is an interesting consideration, with its planned takeover of small-town screen operator Carmike Cinemas expected to go through by the end of the year. The acquisition will make AMC the world's largest theater chain with screens in both big U.S. markets as well as rural America.
Image source: AMC Theaters.
The theater business also presents intriguing dividend holdings for investors looking for income. All three companies pay attractive dividends, but Regal's dividend looks especially attractive at a 4.3% annual yield.
Rather than letting a potentially flat year hamper it, the movie screening business continues to find ways to grow. Investors should look beyond slower ticket sales and be excited to see how these businesses do in another record year for the box office with their new offerings fully developed.
The article Is It Time to Bail on Movie Theaters? originally appeared on Fool.com.
Nicholas Rossolillo has no position in any stocks mentioned. The Motley Fool owns shares of and recommends Walt Disney. Try any of our Foolish newsletter services free for 30 days. We Fools may not all hold the same opinions, but we all believe that considering a diverse range of insights makes us better investors. The Motley Fool has a disclosure policy.
Copyright 1995 - 2016 The Motley Fool, LLC. All rights reserved. The Motley Fool has a disclosure policy.