Is It Game Over for Take-Two Interactive Earnings?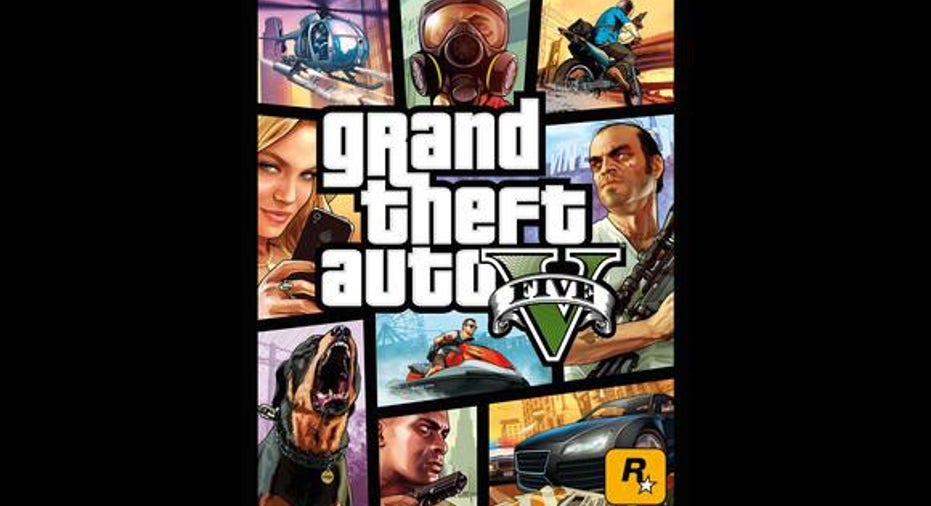 Image source: Take-Two Interactive.
The most difficult thing about success is that it can be tough to keep delivering exceptional performance year after year. For Take-Two Interactive , the ongoing success of its Grand Theft Auto series has produced huge financial windfalls over the years, but in periods during which no major release occurs, the video game maker's results can take a big step backward. Coming into its fiscal fourth-quarter report on Wednesday, Take-Two investors are bracing for substantial declines in revenue and net income, but that hasn't stopped them from pushing the stock to record highs recently. Let's take an early look at what's happening at Take-Two Interactive and whether it can continue to perform well throughout the coming year.
Stats on Take-Two Interactive
| | |
| --- | --- |
| Expected EPS Growth | (47%) |
| Expected Revenue Growth | (29%) |
| Forward Earnings Multiple | 18.5 |
| Expected 5-Year Annualized Growth Rate | 12.8% |
Source: Yahoo! Finance.
What's on the next level for Take-Two?
In recent months, investors have gotten slightly more upbeat about the near-term prospects for Take-Two's earnings. They've boosted their fiscal fourth-quarter projections by a penny per share and have made a larger $0.06 per share increase in their expectations for the current quarter. The stock has climbed in response, gaining 7% since mid-February.
Take-Two's fiscal third-quarter results helped to set a positive tone for the video game company and for its shareholders. Sales did plunge as expected by almost half compared to the year-earlier quarter, largely because the 2014 holiday season releases of new versions of Grand Theft Auto V for the PlayStation 4 and Xbox One game consoles created a huge uptick that made comparisons difficult. Adjusted earnings per share were also exceptionally strong compared to the consensus forecast among investors, even though the declines in net income were equally substantial. Excitement about new releases led Take-Two to increase its earnings projections by roughly 50% to 75%, and sales forecasts looked stronger as well.
On the game front, Take-Two has continued to move forward with key developments. XCOM 2 was released in early February, following up on the latest installment in the series from 2012 and coming out to critical acclaim. More recently, Take-Two released Battleborn in early May, and although the game's results won't have an impact on its fiscal fourth-quarter earnings, Take-Two is looking to the Gearbox Software-developed game as a key component of its growth for the year.
Looking further out, Take-Two has several major releases planned toward the end of 2016. The long-awaited Mafia III follow-up to previous installments of the action-adventure video game has been slated for initial release in October, allowing sentiment to build in support of the game going into the 2016 holiday season. The latest installment of the Sid Meier's Civilization series will come out later in October, and those who have followed that venerable franchise over the course of its long history will expect good things from it as well.
One major area of potential expansion lies in the virtual reality realm, where hardware like the Oculus Rift could finally start to make more gamers interested in pursuing a deeper, more interactive experience with their games. Take-Two will need to prepare for the future shift in demand, both by adapting existing hit titles to the virtual-reality format and by coming up with brand new offerings that take full advantage of the possibilities that virtual reality opens up. Appealing to gamers who are on the cutting edge of technology trends will be crucial for Take-Two's long-term success.
In the Take-Two earnings report, investors should watch most closely for how the company is positioning itself in continuing the key Grand Theft Auto series. Estimates range from 2018 to 2020 for the next release, and gamers and investors alike have high hopes for the next installment. In the meantime, Take-Two needs to find strategies to take advantage of changing trends and stay ahead of its competitors to keep its share price rising.
The article Is It Game Over for Take-Two Interactive Earnings? originally appeared on Fool.com.
Dan Caplinger has no position in any stocks mentioned. The Motley Fool owns shares of and recommends Take-Two Interactive. Try any of our Foolish newsletter services free for 30 days. We Fools may not all hold the same opinions, but we all believe that considering a diverse range of insights makes us better investors. The Motley Fool has a disclosure policy.
Copyright 1995 - 2016 The Motley Fool, LLC. All rights reserved. The Motley Fool has a disclosure policy.