Is InvenSense Still a Buy?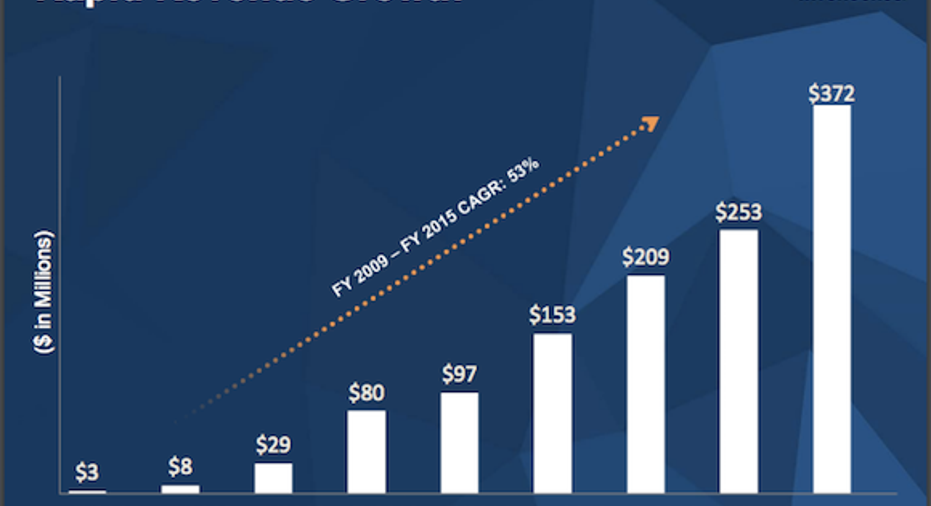 Image source: Invensense.
InvenSense (NYSE: INVN) has suffered a series of blows over the past year. The company's stock is down more than 44% over the past 12 months, its motion sensor recently lost a spot in Samsung's (NASDAQOTH: SSNLF) flagship Galaxy S smartphone lineup, and slowing Apple (NASDAQ: AAPL) iPhone sales could hurt the company's revenue.
All of that sounds pretty bad, and it begs the question whether or not this beleaguered tech stock is still a buy.
So let's dissect a few key areas of InvenSense's business to answer that.
What's happening with revenue?First, revenue is moving in the right direction. It's actually been growing at a pretty healthy clip, year over year, for the past few years. Take a look:
Image source: InvenSense.
Fiscal 2015 revenue grew 47% year over year, and the year before that it was up 21%.
So it would appear the company, at least for now, isn't having major revenue issues. But if we take a look at InvenSense's margins, things don't look as great.
Non-GAAP gross margin fell to 44% in FY 2015, down from 51% in 2014. That's the lowest it's been since 2009.
But things start to look even worse when we see that InvenSense's operating margins plummeted in fiscal 2015 to just 14%, down from 24% in fiscal 2014 -- and way down from the previous five years.
Image source: InvenSense.
To be fair, operating margin has have fallen as InvenSense has poured money into its R&D expenses. R&D now represents 20% of the company's operating expenses, up from just 11% in fiscal 2013. But that's much higher than the company wants (it's aiming for R&D at 13% to 15%) and it's still unclear whether or not the increase in spending will pay off.
But there are bigger problemsThe real problem for InvenSense right now is that the company is tied so closely to Apple (InvenSense gets about 34% of its total revenue from Apple) that the iPhone's recent sales slowdown could weigh heavily on the company. Contained within the in the iPhone 6s and 6s Plus areInvenSense's 6-axis motion sensors. Slowing iPhone sales equals slowing sensor sales.
Apple reported in its fiscal Q2 2016 earning this month that iPhone sales had fallen to 51.1 million, down 16% year over year, its first decline ever in iPhone unit sales.
If Apple continues to suffer iPhone sales declines, InvenSense won't be able to resist the negative effect. The company's revenue is simply too closely tied to Apple's smartphone.
And then there's the issue of InvenSense losing a spot in Samsung's flagship Galaxy S smartphone lineup. Samsung recently passed over InvenSense's 6-axis sensor for the Galaxy S7. Make no mistake: that was a big loss. Back in January, InvenSense CEO Behrooz Abdisaid that the company's second-largest revenue contributor (which is Samsung) will dip down to a single-digit percentage of revenue. Samsung represents about19% of InvenSense's total revenue, so the drop is pretty substantial no matter how you slice it.
In short, InvenSense is losing lots of business from two of its biggest customers, and it's unclear where it will make up those losses.
Not much to look forward toInvenSense's yearly revenue (for now) is moving in the right direction, but gross margin and operating margin are not. Additionally, the company has tied its horse to the Samsung and Apple smartphone wagon (both of which are suffering in their own way). InvenSense is trying to expand into new revenue streams, but it's unclear if can adapt fast enough.
iPhones sales could certainly turn around, but that doesn't help InvenSense diversify its revenue streams in the long run. Additionally, Samsung's long been in a downward spiral with its mobile prospects and that's only going to continue hurting InvenSense.
After weighing the evidence, I don't think InvenSense is a buy. The company severely needs to diversify itself away from Apple and Samsung, and (so far) it doesn't appear to be doing that fast enough. This fact, coupled with slowing phone demand in the present, make the future look murky at best.
The article Is InvenSense Still a Buy? originally appeared on Fool.com.
Chris Neiger has no position in any stocks mentioned. The Motley Fool owns shares of and recommends Apple and InvenSense. Try any of our Foolish newsletter services free for 30 days. We Fools may not all hold the same opinions, but we all believe that considering a diverse range of insights makes us better investors. The Motley Fool has a disclosure policy.
Copyright 1995 - 2016 The Motley Fool, LLC. All rights reserved. The Motley Fool has a disclosure policy.