Is Intuitive Surgical, Inc. Stock Getting Ahead of Itself?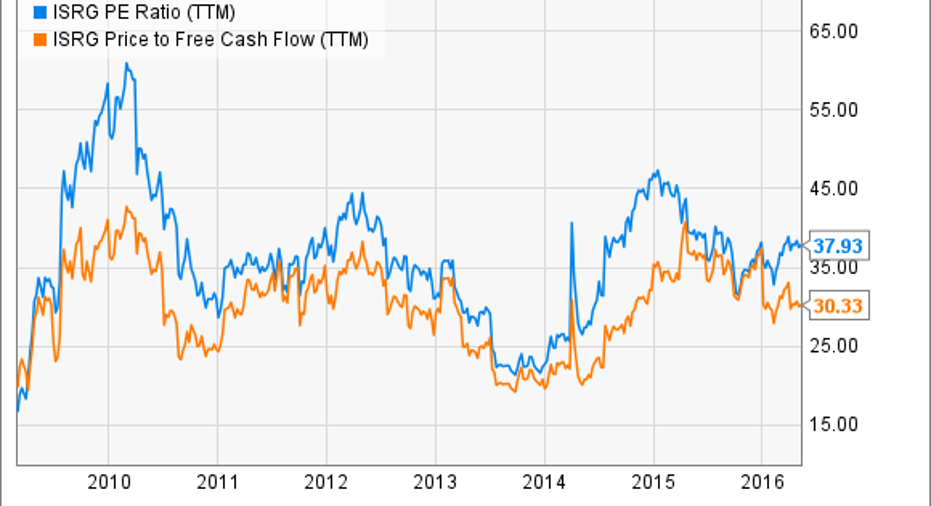 The new daVinci Xi system has helped diversify the procedures in which doctors use the machine. Photo: Intuitive Surgical
If you went back two years and told Intuitive Surgical investors that the stock would be sitting 77% higher by May 2016, you'd have been laughed out of the room.
The company was having trouble selling its new Xi system, as hospitals were bracing for budgetary constraints under the Affordable Care Act, and medical professionals were questioning the efficacy of daVinci -- the most important product to Intuitive's bottom line -- for benign hysterectomy procedures.
But what a difference two years can make.
What's behind the torrid growth?While system sales have increased at a modest rate, the real story behind the stock's rise has to do with outstanding procedure growth. Over the past nine quarters, management has prepared investors with modest procedure growth projections -- and then blown those expectations out of the water.
There are three key drivers of this rapid procedure adoption:
Hernias: Both inguinal and ventral hernia repairs have taken off, even though management has not broken out the numbers, instead lumping this into the "General Surgery" category.
Colorectal: Alsoclassified as "General Surgery," these procedures are contributing significantly to growth, though not as much as hernia operations, according to management.
International urological procedures:Intuitive is specifically focused on Europe, where the broader economy seems to be improving, and Asia -- particularly China, Japan, and South Korea. These countries are earlier in the testing and learning phase of daVinci use, so the core urological procedures there are helping to drive growth.
How expensive is the stock?Over the past couple of years, anxiety over Intuitive's tanking stock price has been replaced with concerns that Intuitive is overpriced.
Let's look at where Intuitive's P/E ratio and P/FCF ratio sit today compared to where they have been since the depths of the Great Recession:
ISRG PE Ratio (TTM) data by YCharts.
For a little added color, at today's price of about $625 per share, the stock trades for about 27 times forward earnings and has a PEG ratio of 2.2.
Over the next four years, analysts expect Intuitive to grow earnings at a compounded rate of 9.5% per year. While there are thousands of companies that would kill for that kind of future, that growth rate is somewhat low for a stock that's trading for 38 times trailing earnings.
Why Intuitive is a "hold" in my opinionAs with any stock, there are a lot of moving pieces here. For one, Intuitive now has a few publicly traded companies looking to steal market share away from it. Though FDA approval for its SurgiBot System has been put on hold, TransEnterix is one example of a new (but tiny) competitor. Meanwhile, much deeper-pocketed companies like Johnson & Johnson and Alphabet's Life Sciences division have joined forces to explore possibilities in robotic surgery.
That being said, it could take decades for any rival to build up the installed base of machines and doctors who have trained with robots to put a dent in Intuitive's market share. I don't consider competition to be a huge threat...yet.
Instead, I simply think the stock is expensive. On the upside, there's a lot of optionality here: As more doctors experiment with daVinci, it could become the standard-bearer in even more operations. That's why I continue to hold the shares I already own.
But on the other hand, there's always the looming threat of iatrogenic conditions -- i.e., illnesses and injuries that are actually caused by medical interventions. (I explored the topic in more depth here).The procedures that doctors are using daVinci for are relatively new, and it's important for investors to keep abreast of the literature concerning the long-term consequences of using daVinci.
If I didn't already own shares of Intuitive, I would consider buying them -- because, over a long enough time horizon, I believe the potential is huge. But I wouldn't be surprised to see further dips at some point in the future. That's been the history of this stock. With shares trading for 40 times trailing earnings, and with only 10% growth in Intuitive Surgical's forecast, I'll be looking to add to my position on those dips.
The article Is Intuitive Surgical, Inc. Stock Getting Ahead of Itself? originally appeared on Fool.com.
Suzanne Frey, an executive at Alphabet, is a member of The Motley Fool's board of directors. Brian Stoffel owns shares of Alphabet (A shares), Alphabet (C shares), and Intuitive Surgical. The Motley Fool owns shares of and recommends Alphabet (A shares), Alphabet (C shares), Intuitive Surgical, and Johnson & Johnson. Try any of our Foolish newsletter services free for 30 days. We Fools may not all hold the same opinions, but we all believe that considering a diverse range of insights makes us better investors. The Motley Fool has a disclosure policy.
Copyright 1995 - 2016 The Motley Fool, LLC. All rights reserved. The Motley Fool has a disclosure policy.