Is Harley-Davidson on the Comeback Trail?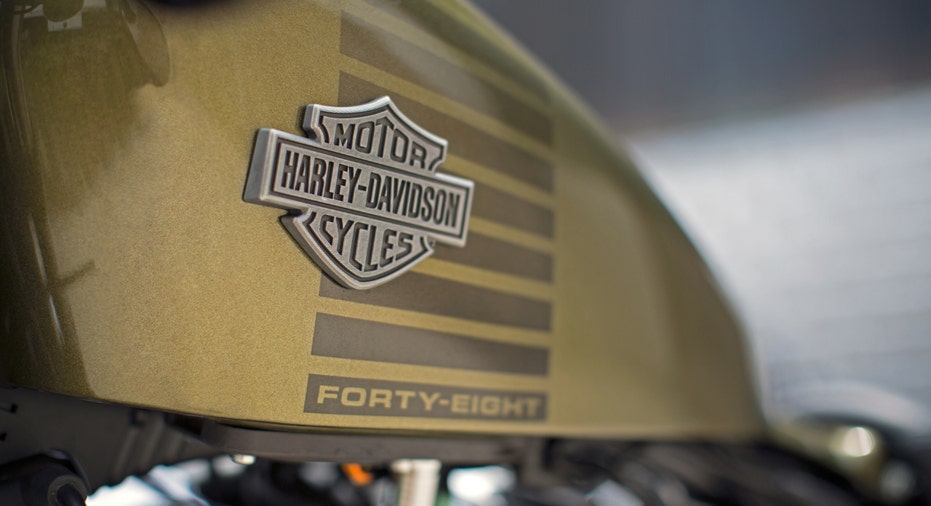 Harley-Davidson (NYSE:HOG) reported better earnings than expected for the first quarter, saying sales trends are improving amid the launch of new motorcycles and a broad marketing drive.
However, Wall Street remains skeptical.
The iconic motorcycle company has struggled to hold its ground against competitors like Indian Motorcycle, a unit of Polaris (NYSE:PII), and lower-priced Japanese brands. Meantime, bike makers continue to seek younger customers as many of their loyal fans get older. Wall Street has been bearish on Harley-Davidson recently. Its stock has slipped more than 8% since the start of April, virtually wiping out its gains during the first three months of the year.
In the first quarter, Harley-Davidson booked 1.4% growth in global retail motorcycle sales compared to the year-ago period. International regions were a bright spot, offsetting slightly weaker sales in the U.S.
Harley-Davidson sold 4.5% more bikes outside the U.S. Canada led the way with 16.3% growth. Sales in Asia were up 6.6%, and the company's Europe, Middle East and Africa region grew 8.8%. Latin American sales fell 26.5%.
Retail sales in America ticked 0.5% lower, a decline of 162 units to 35,326. Harley-Davidson cited increased discounting by rivals, as well as reduced demand in areas of the country that have been impacted by slumping oil prices. Harley-Davidson's market share for the quarter was 50.9% versus 51.4% in the fourth quarter of 2015.
Although Harley-Davidson shares surged in pre-market trading, the stock was trading lower in midday action.
In a research note to clients, analysts at RBC Capital Markets cautioned that because Harley-Davidson kicked off promotions earlier than usual, "there is still a question as to whether demand was 'created'" or if the timing of sales just shifted. The investment bank also said weather was favorable early in 2016.
Ad Drive
Harley-Davidson aims to use 2016 models and a much larger advertising effort to grab the attention of new riders. Product development spending in the latest quarter was up around 7%, reflecting Harley-Davidson's efforts to freshen its product lineup. Two high-performance cruisers, the Low Rider S and CVO Pro Street Breakout, launched in March. A new Roadster was revealed on Monday. It will begin shipping in May.
The Milwaukee-based company expects to lift its marketing investment by 65% to approximately $70 million in 2016, spending on a variety of advertising campaigns and customer outreach programs. Most of those dollars will be spent early in the year, according to Chief Financial Officer John Olin.
"We are competing against wider price gaps, and we're not going to compete by discounting. We're going to compete by driving equity into the brand," Olin said during a conference call with analysts.
He added that 33% of Harley-Davidson's sales go to U.S. customers who are both new to the brand and new to motorcycling.
Harley's 1Q Beat
As part of the marketing drive, Harley-Davidson debuted "Live Your Legend" ads during the NCAA men's basketball tournament. Executives also said Harley-Davidson increased its presence at major events and added more demo opportunities for riders. At Daytona Bike Week in March, there was a 30% increase in the number of demo rides, and retail sales at local dealers rose 27%.
Harley-Davidson earned $250.5 million, or $1.36 a share, in the first quarter, compared to $269.9 million, or $1.27 a share, a year ago. Per-share earnings were higher due to a lower share count. Wall Street analysts had anticipated weaker first-quarter income of $1.29 a share.
First-quarter revenue climbed 4.4% to $1.58 billion, topping expectations for $1.5 billion.
The company reiterated its outlook for 1% to 3% growth in 2016 shipments. Harley-Davidson also expects to ship 82,500 to 87,500 motorcycles in the second quarter, bookending last year's second-quarter tally of 85,172.