Is Google Getting Ready To Take Fiber National?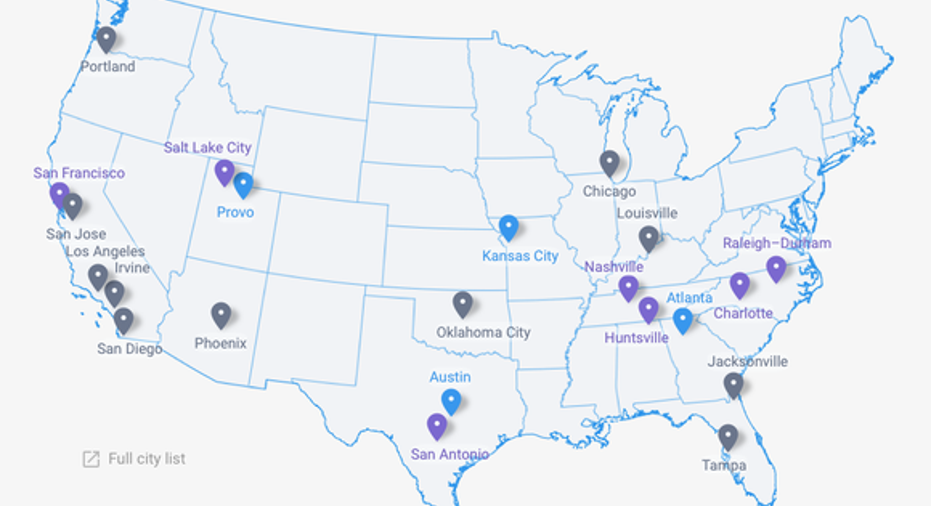 Alphabet's Google has been slow to roll out its high-speed Internet service across the country.
Instead of charging full-steam ahead the company has decided to pick and choose which cities it operates in based on how cooperative those municipalities are. Unlike its chief broadband rival Comcast which has worked to lock up as much territory as possible, Google only goes where it's wanted. That makes for easier expansion and it should greatly concern rivals because any city that gets Fiber has worked for it and one of the reasons that makes that work worth doing tends be anger over how Comcast (and others) have acted.
Still, as much as Google can be a thorn in Comcast and the rest of big broadband's side, the company's limited footprint has made it an annoyance more than a real threat. Now however Google has been testing using wireless technology to send Internet directly into people's homes. That could put it on a path to rolling out a nationwide network and if that happens Comcast and the rest of the incumbents should be very scared.
So far, Google has only entered a few cities with plans to consider a limited amount more. Image source: Google Fiber.
What is Alphabet doing?To launch in a city Google Fiber not only needs to run Fiber throughout the territory it also needs to bring it directly into each home. But, that could change if technology the company has been testing can be perfected.
Craig Barratt, who serves as CEO of the Alphabet division which houses Fiber, told Re/Code that the company is working on connecting wireless towers to existing fiber lines, and that it is "experimenting with a number of different wireless technologies" to make that a reality.
That's a first time admission for the company, according to the website and it could be a massive game changer.
Why is this important?One of the biggest challenges facing all broadband providers is the so-called last mile. That's the connection between its network in any given area and the actual homes and businesses which want service. In the case of Google Fiber, the expense of making those last mile connections has made the service only viable in densely populated areas. Being able to make that last connection without a literal piece of cable being run could allow the company to bring service to areas where Fiber would not be cost effective.
"We are experimenting with a number of different wireless technologies," Barratt told Re/Code. "One of the things that is intriguing about wireless is that it allows you reach houses and users that are in lower density settings -- where fiber becomes too expensive. So providing fixed wireless services using some of the technologies we think are ways of accelerating our deployments."
Of course, this is still developing technology but Barratt made it clear that Alphabet planned to pursue it and that it will continue to announce new cities it plans to enter. That's a long way from national expansion, but its a step toward it that should have Comcast and the rest of the industry deeply concerned.
Will Fiber go national?It's fair to say based on Barratt's comments that Alphabet now sees Fiber as more than an experiment. It's a growing business in a field that's "really ripe for innovation, both in terms of the core technology and also different approaches to the business model," he said. Adding fixed wireless capabilities to the company's arsenal will make Fiber viable in more markets.
Google Fiber has a long way to go before it can be considered a national brand, but the company even hinting at big expansion raises pressure on Comcast and the rest of big broadband to step up their game. This is very good news for consumers who in many cases only have one choice for high-speed Internet.
The looming threat of Alphabet's service could go a long way toward forcing the other people in the space to treat customers better. That may be all the company wants (since it needs people to have good Internet in order to grow its core search engine business) but it's clear that if it needs to Alphabet will bring Fiber more places to force the industry to change.
National Fiber may never happen, but a much-expanded service in many more markets looks likely. That could well be enough to push the industry to where Alphabet wants it to go which should be a win for consumers in general and the company's shareholders in a long-term sense.
Either people will get quality broadband from an existing provider or Alphabet will step in with Fiber and bring it to them. In both scenarios the company gets what it wants.
The article Is Google Getting Ready To Take Fiber National? originally appeared on Fool.com.
Suzanne Frey, an executive at Alphabet, is a member of The Motley Fool's board of directors. Daniel Kline has no position in any stocks mentioned. He rarely knows who the musical guest on Saturday Night Live is anymore. The Motley Fool owns shares of and recommends Alphabet (A shares) and Alphabet (C shares). Try any of our Foolish newsletter services free for 30 days. We Fools may not all hold the same opinions, but we all believe that considering a diverse range of insights makes us better investors. The Motley Fool has a disclosure policy.
Copyright 1995 - 2016 The Motley Fool, LLC. All rights reserved. The Motley Fool has a disclosure policy.