Is Facebook Inc The Most Innovative Company In Tech?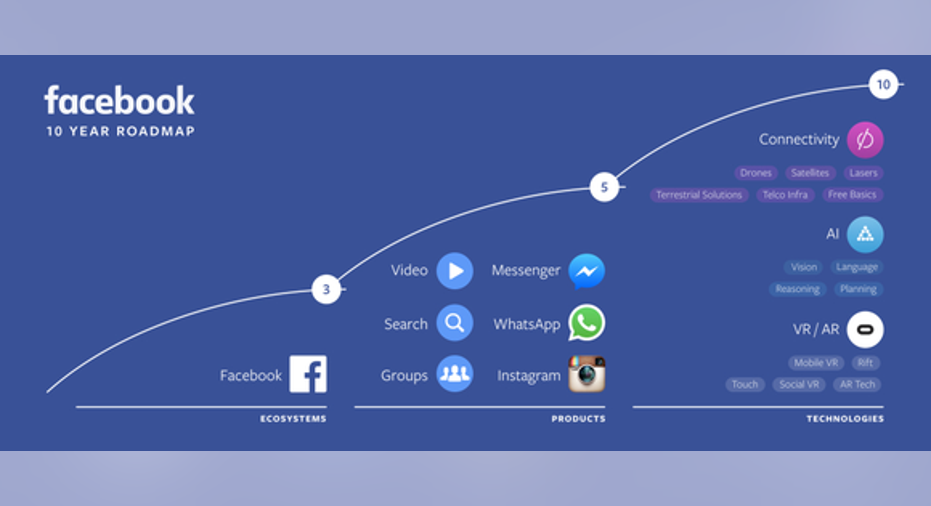 One of the first names that comes to mind when investors think of the world's most innovative tech companies is likely Alphabet , and for good reason. Its Jetson-like driverless cars have captured the imagination of the world, and is close to bringing self-driving autos to the masses. Toss in disease seeking nano-technology, Alphabet's project loon connectivity balloons, and Glass -- among others -- and it's no wonder Alphabet is top-of-mind.
The "new" Microsoft and its artificial intelligence (AI), data-crunching cloud solutions, and augmented reality (AR) wonder HoloLens also warrants a place in the innovation discussion. But before anointing Alphabet or Microsoft as the king of cutting-edge technologies, Facebook has earned its place in the discussion for one, undeniable reason: it intends on changing the way the world communicates.
Image source: Facebook.
Pushing the envelopeFollowing the acquisition of Oculus and its Rift virtual reality (VR) headset, Facebook CEO Mark Zuckerberg said gaming would be just the first of many applications. Zuckerberg made it clear VR would go well beyond gaming, and it may be closer to reality than some had thought. One of the most amazing presentations at Facebook's recent F8 developer conference was its "social VR" demo.
In keeping with Zuckerberg's long-term plans, social VR gives users the ability to virtually travel around the world, explore, and interact with the surroundings; all from the comfort of home. Also, imagine communicating with friends and family, in the same room, regardless of where they are in the world?
Microsoft had a couple of widely publicized hiccups with its AI bots recently, but has continued to dabble with what is widely seen as one of the next big things. Alphabet is also exploring bots as a means of simplifying the user experience. Bots are also on Facebook's development radar and could prove to be a significant upgrade. Asking a bot to conduct a search while on Facebook will forego the need to "Google something" or log onto Bing, keeping users engaged and enhancing the experience.
The ability to stream live video is not a feature exclusive to Facebook; Alphabet's YouTube has featured several events on its wildly popular video site. However, Facebook has a leg up on Alphabet's streaming video aspirations for a couple of reasons. One, with over 1 billion daily active users (DAUs), it's not necessary for Facebook "friends" to log on to the site to catch the latest live video because there's a good chance they're already on.
Also, as Facebook alluded to at F8, its AI efforts will soon give it the ability to "recognize" both images and video. In other words, users will be able to search for a video based solely on the name, or names, of friends who appeared in the footage.
Big deal, right? Actually, opening the doors to image recognition, or "dark data," to analyze pictures and video in much the same way cognitive computing sifts through numerical and written information is a significant technological advance. It will provide Facebook with even more user data, which in turn will be utilized to improve its already impressive ad targeting capabilities.
A couple more goodiesThe 900 million plus monthly average users of Facebook's Messenger have been able to video call friends and family for some time. Now Messenger users can make group calls, or even jump in on an existing group call with the tap of a button. And it won't be long before group video calling is available, though Facebook is mum on a timeline
In addition to the aforementioned live streaming video and image recognition, Facebook is also close to introducing Surround 360 that "produces sharp, truly spherical footage in 3D." Developers are expected to have access to surround 360 specs this summer.
Incorporating AI bots, 3D images, Messenger calling features, communicating in VR, and Facebook's other innovations may not grab the attention that a self-driving car or AR does, but there's a difference. Facebook's futuristic upgrades and new technologies -- combined with its 1.65 billion monthly active users (MAUs) -- will literally change the way the world communicates.
The article Is Facebook Inc The Most Innovative Company In Tech? originally appeared on Fool.com.
Suzanne Frey, an executive at Alphabet, is a member of The Motley Fool's board of directors. Tim Brugger has no position in any stocks mentioned. The Motley Fool owns shares of and recommends Alphabet (A shares), Alphabet (C shares), and Facebook. The Motley Fool owns shares of Microsoft. Try any of our Foolish newsletter services free for 30 days. We Fools may not all hold the same opinions, but we all believe that considering a diverse range of insights makes us better investors. The Motley Fool has a disclosure policy.
Copyright 1995 - 2016 The Motley Fool, LLC. All rights reserved. The Motley Fool has a disclosure policy.