Is Exact Sciences' Balance Sheet Safe?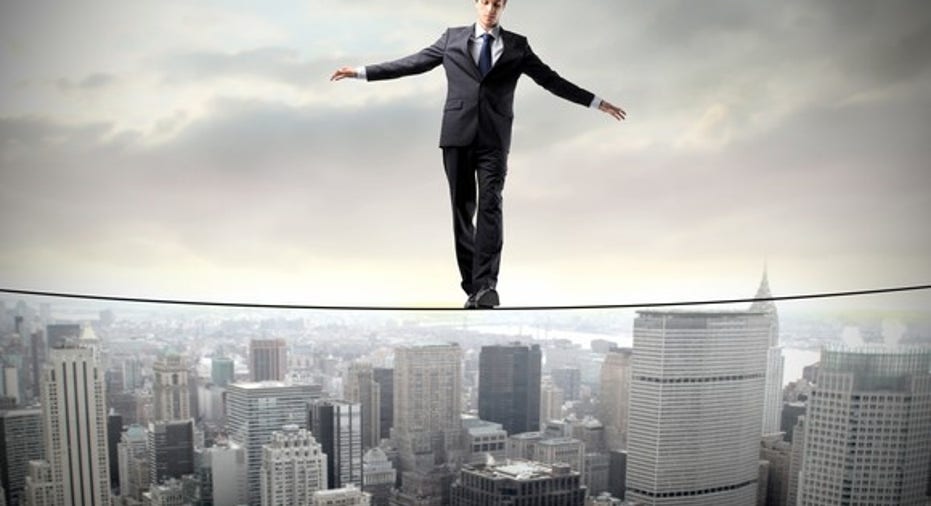 Exact Sciences' (NASDAQ: EXAS) Cologuard colon cancer screening test is winning over doctors and patients, but marketing costs are hampering the company's ability to strengthen its balance sheet.
A big-league market opportunity
Guidelines call for Americans between age 50 and age 75 to get tested for colon cancer regularly, but sadly, few seniors follow through on that advice.
IMAGE SOURCE: GETTY IMAGES.
A colonoscopy is the best way to determine if a patient has colon cancer, but colonoscopies can be expensive and they're invasive, and as a result, many patients avoid them. Only 58% of the estimated 80 million Americans who should get tested for colon cancer do so.
To tap into that market, Exact Sciences created Cologuard, a lower-cost testing option. Cologuard patients receive a kit that allows them to mail a stool sample to an Exact Sciences lab for testing. If the lab determines that there's a risk of colon cancer, patients can then follow up with a colonoscopy. Last year, 244,000 patients completed their Cologuard test, and 1,500 cases of colon cancer were identified. Importantly, the majority of the cases Cologuard caught were in the early stages, when it's much more easily treated.
Spreading the word
Exact Sciences sales surged 152% to $99.4 million last year, but that only scratches the surface of this addressable market. The company estimates that the market opportunity for colon cancer testing is worth $4 billion, and tapping into that market requires a massive investment in marketing to doctors and patients.
A ramp-up in its sales force and a direct-to-consumer ad campaign resulted in operating expenses of $223 million in 2016, and since spending eclipsed revenue, management reported a loss of $167 million, including a $59 million loss in the fourth quarter.
With a break-even point of about $240 million, Exact Sciences is going to need Cologuard demand to climb significantly from where it is today if it hopes to turn a profit. In 2017, management forecasts it will complete 415,000 test; however, that translates into revenue of only $170 million to $180 million, so more losses are expected.
Fortunately, it appears that the company has the financial firepower necessary to bridge the gap to net earnings.
Despite burning through $140 million in cash last year, Exact Sciences exited December with $311 million still at its disposal. Importantly, the company's pace of cash burn is improving, falling to $26.7 million in Q4 from $30.5 million in Q3. While there's likely to be quarter-to-quarter variability in cash burn, the rate should shrink as sales climb this year.
The company's liabilities don't worry me, either. Exact Sciences owes $4.6 million in long-term debt on a $5.1 million collateralized loan that it took on to purchase a building in Madison, Wisconsin. It's required to make monthly payments of $31,000 through May 2019; then it will make a final payment of $4.4 million when the loan matures in June 2019. Given the company's sales growth, and its solid cash stockpile, making these payments shouldn't be a problem.
Looking ahead
Cash burn is even less of a concern now that the company's successfully negotiating reimbursement deals with insurers. According to management, new contracts with insurers mean that about 72% of its addressable market is in plans that cover Cologuard. That's good news, because it means that payers aren't putting up roadblocks to the company's growth anymore.
Assuming doctors and patients continue embracing Cologuard as a low-cost, non-invasive screening alternative, then it should simply be a matter of time before sales reach levels that put this company in the black. While anything could happen to derail Exact Sciences' march to profitability, it doesn't appear that the balance sheet is a risk that should keep investors away from this stock.
10 stocks we like better than Exact SciencesWhen investing geniuses David and Tom Gardner have a stock tip, it can pay to listen. After all, the newsletter they have run for over a decade, Motley Fool Stock Advisor, has tripled the market.*
David and Tom just revealed what they believe are the 10 best stocks for investors to buy right now... and Exact Sciences wasn't one of them! That's right -- they think these 10 stocks are even better buys.
Click here to learn about these picks!
*Stock Advisor returns as of February 6, 2017
Todd Campbell has no position in any stocks mentioned. His clients may have positions in the companies mentioned. The Motley Fool has no position in any of the stocks mentioned. The Motley Fool has a disclosure policy.