Is Disney World's Biggest Rival Falling Short This Summer?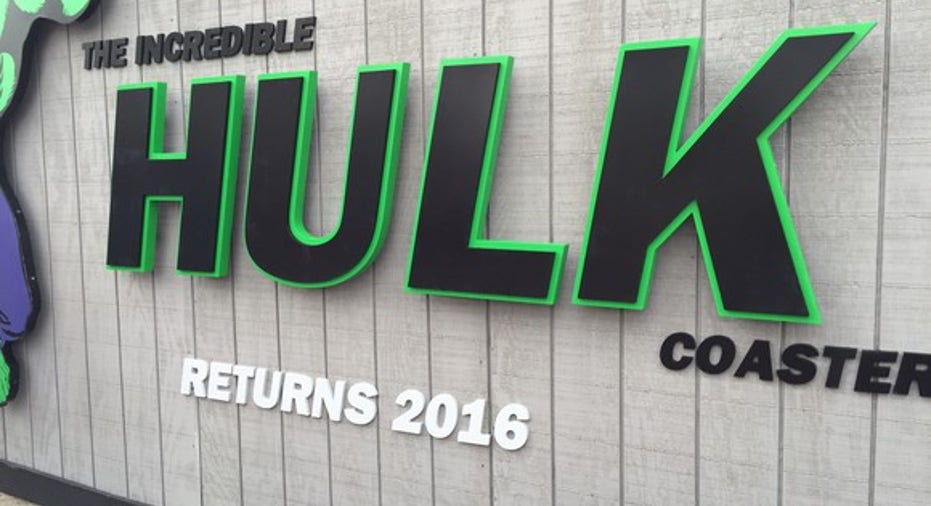 He's green. He's mean. For now, he's unseen. Image source: Rick Munarriz.
Central Florida's leading theme park operators promised visitors a lot of new attractions this summer. They haven't lived up to some of its biggest expectations. SeaWorld Entertainment delivered on time. The Mako coaster at SeaWorld Orlando and Cobra's Curse at Busch Gardens Tampa opened earlier this month, but its two larger rivals have had a fair share of hiccups.
Most ofDisney's planned additions for Disney World are entertaining guests. The updated Soarin' Around the World hang gliding attraction at Epcot and the nightlyStar Wars-themed fireworks show at Disney's Hollywood Studio debuted without a hitch and to rave reviews nearly two weeks ago.
Unfortunately, the same can't be said about the punctuality and reliability of Disney World's two most ambitious 2016 additions. Frozen Ever After -- the Frozen-themed boat ride -- that was originally supposed to open in "early 2016" finally began taking park guests on a five-minute boat ride through Arendelle eight days ago. However, prolonged downtime and the attraction's low capacity have pushed wait times on the new dark ride to as long as five hours.
Guests at Disney's Animal Kingdom will have to wait even longer for Rivers of Light. The waterfront spectacle that was supposed to be the centerpiece of Animal Kingdom's new nighttime experiences blew past its original launch date of April 22. Mechanical issues continue to hold up the rollout of the show.
However, the bumpy start to two of Disney World's most anticipated attractions has nothing on Comcast's Universal Orlando. Disney's biggest rival has struggled to get its two new rides officially open weeks into the peak summertime travel period.
Kong, Hulk, and other four-letter words
He's hairy. He's scary. His operating hours are quite contrary. Image source: Rick Munarriz.
Comcast's Islands of Adventure has been letting guests try Skull Island: Reign of Kong on many recent afternoons, but the technical rehearsals have been buggy. Universal Orlando has yet to announce an official opening date for the attraction.
The new 3-D ride finds guests boarding 72-passenger all-terrain vehicles on a quest to catch up with King Kong. Early reviews have been largely favorable, but a common complaint is that the story seems incomplete. Something seems to be missing to tie the experience together, and that -- along with a fair share of mechanical breakdowns -- could be why an official opening announcement has proven elusive. If Universal Orlando needs to make some storyline updates to make the ride seem more complete and therefore provide a more satisfying guest experience, it could bump its official rollout until much later this year.
Things are going even worse for the park's retracked The Incredible Hulk coaster. It closed after Labor Day weekend last year with a slated June opening. That's not going to happen. June became summer, and the park's last official blog post in May on the matter pushed the popular scream machine's reintroduction to "late summer."
Both rides are technically still on track to open during the summer season, but usually when rides promise summertime openings they are running at the start of the peak travel period. Guests often book summer vacations in anticipation of new openings, and the busy travel season is technically over after Labor Day. If "late summer" for the Hulk coaster extends as far as late September, it won't just be the park's June guests that are fuming.
The two slow rollouts are problematic for Universal Orlando because Universal Studios Florida -- the sister park to Islands of Adventure -- is missing a few of last summer's attractions. Twister, Disaster!, and Beetlejuice's Rock & Roll Graveyard Revue have all been shuttered to make way for pair of attractions that will open in 2017 and 2018.
This could eat into the momentum at Comcast's resort. Universal Studios Florida and Islands of Adventure saw their turnstile clicks rise 16% and 8%, respectively, in 2015, according to industry tracker Themed Entertainment Association. That compares to 3% to 6% attendance gains at Disney World's four gated attractions and 2% to 3% at SeaWorld's two Florida parks. Comcast has been closing the gap with Disney since the The Wizarding World of Harry Potter opened.
| Park | 2009 Attendance | 2015 Attendance | Change |
| --- | --- | --- | --- |
| Magic Kingdom | 17,233,000 | 20,492,000 | 18.9% |
| Epcot | 10,990,000 | 11,798,000 | 7.4% |
| Animal Kingdom | 9,590,000 | 10,922,000 | 13.9% |
| Hollywood Studios | 9,700,000 | 10,822,000 | 11.6% |
| Universal Studios Florida | 5,530,000 | 9,585,000 | 73.3% |
| Islands of Adventure | 4,627,000 | 8,792,000 | 90% |
Data source: Themed Entertainment Association.
Comcast's window to catch up to Disney is closing. Disney has a major Avatar-themed expansion set to open at Animal Kingdom next year. The real fireworks will come in a few years when Disney's Hollywood Studios -- its least visited park last year -- completes the buildout of its Star Wars and Toy Story lands.
Universal Orlando was counting on two bigger-than-life mercurial characters to keep momentum going this summer, and so far this season they have been more mercurial and less bigger than life.
The article Is Disney World's Biggest Rival Falling Short This Summer? originally appeared on Fool.com.
Rick Munarriz owns shares of SeaWorld Entertainment and Walt Disney. The Motley Fool owns shares of and recommends Walt Disney. Try any of our Foolish newsletter services free for 30 days. We Fools may not all hold the same opinions, but we all believe that considering a diverse range of insights makes us better investors. The Motley Fool has a disclosure policy.
Copyright 1995 - 2016 The Motley Fool, LLC. All rights reserved. The Motley Fool has a disclosure policy.