Is Boeing Planning a New 737 Jet?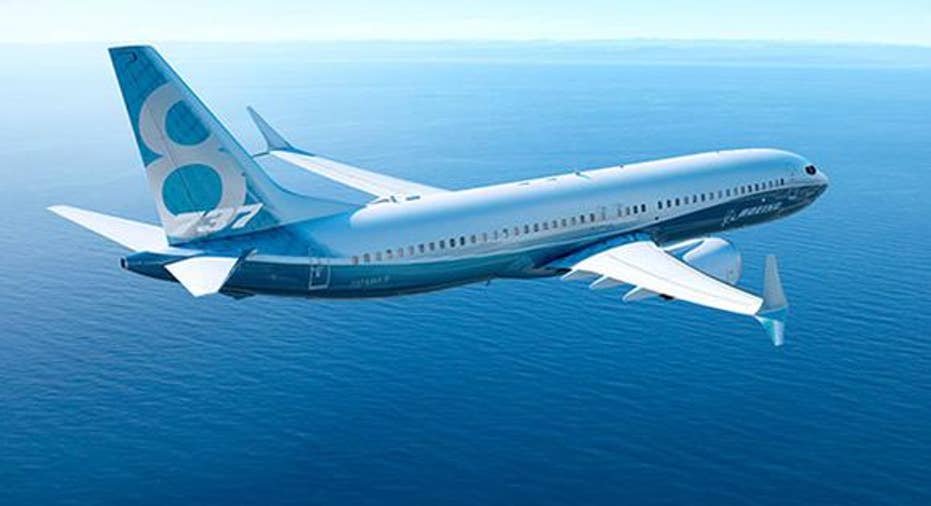 Boeing is on track to start delivering the fourth generation of its workhorse 737 jet next year. However, of the three variants it has designed -- the MAX 7, MAX 8, and MAX 9 -- only the 737 MAX 8 has sold well thus far.
Demand for the smallest version has been particularly weak. Boeing has only secured 60 firm orders for the 737 MAX 7, out of a total of more than 3,000 across all three variants. 55 of those orders have come from just two airlines: Southwest Airlines and WestJet.
Southwest is one of only two major airlines to order the 737 MAX 7. Image source: The Motley Fool.
As a result, Boeing may shelve the 737 MAX 7 and instead develop a somewhat larger plane for the bottom of its 737 lineup (tentatively dubbed the 737 MAX 7X), according to The Wall Street Journal. Let's take a look at how Boeing may try to pull this off -- and its odds for success.
A simple shrinkBoeing has already started production of the 737 MAX 8, and it began flight testing in late January. Boeing's idea for the 737 MAX 7X is to do a simple "shrink" of the 737 MAX 8. The new variant would have about 150 seats in a two-class configuration, compared to 162 seats for the 737 MAX 8.
The main advantage of a simple shrink design is that it minimizes development costs relative to optimizing different variants. A second advantage is that the 737 MAX 7X would probably have more range than the 737 MAX 8's 3,515 nautical miles (and significantly more than the 737 MAX 7's expected range of 3,350 nautical miles).
The downside is that a shrink design will always lead to excess weight. That means the shrink aircraft will be less fuel efficient than an optimized plane of the same size.
Boeing may develop a new plane by shrinking the 737 MAX 8 by a few rows. Image source: Boeing.
However, in this case, the fuel efficiency penalty should be offset by the fact that the 737 MAX 7X would be several rows longer than the 737 MAX 7. (Larger aircraft within a given family are generally more fuel efficient.)
A good fit for many airlinesThe hypothetical 737 MAX 7X would be a lot more appealing to many airlines than the 737 MAX 7. Most airlines outfit the 737-700 (which is the same size as the 737 MAX 7) with 120 to 130 seats. For example, WestJet fits 130 seats on its 737-700s.
Adding a few rows to get the seat count up to 140 or 150 makes sense because most countries require one flight attendant for every 50 seats. Thus, the only major cost difference between operating the 737 MAX 7 and the 737 MAX 7X (on a per-trip basis) would be fuel. The extra seats should generate more than enough incremental revenue to cover that cost.
Getting Southwest on board is the keyHowever, the 737 MAX 7X isn't as good a fit for Southwest Airlines. Southwest already has 143 seats on its 737-700s, because it utilizes a single-class configuration. The 737 MAX 7X would naturally have more than 150 seats in Southwest's typical configuration. This would force it to add a fourth flight attendant, driving up operating costs.
On Southwest Airlines' recent earnings call, Chief Operating Officer Mike Van de Ven stated that he had heard rumors about the potential new model and that Southwest would consider it if approached by Boeing. However, that was hardly a ringing endorsement. Indeed, it's hard to see how the 737 MAX 7X would fit within Southwest's route network.
The 737-700 is useful for smaller markets, for routes where Southwest wants to offer frequent flights to attract business travelers, and for airports with short runways. The 737 MAX 7 would perform the same function. The 737 MAX 7X concept wouldn't help much for these missions. Its trip costs might not be much lower than those of the 737 MAX 8 without the savings from having one less flight attendant.
Southwest Airlines already has firm orders for the 737 MAX 7, albeit only 30 of them. Thus, Boeing needs to find a solution that will be acceptable to this key customer. One possibility is that it will overcome Southwest's concerns by offering a bigger discount.
Boeing could also potentially entice Southwest to convert all of its 737 MAX orders to the larger MAX 8 variant. Southwest's 737-700s are only 11 years old on average; with this existing fleet, it should be able to meet its needs for smaller aircraft for another 15 years or more. By then, Southwest's needs could be different, while Boeing could have new products available.
However, another possibility is that Boeing will stick with the existing 737 MAX 7 design. True, it's not quite as efficient as competing aircraft that were designed with the 110-130 seat market in mind. Nevertheless, the 737 MAX 7 is still a useful product for airlines that have large 737 fleets and want to carefully match capacity to demand in smaller markets.
The article Is Boeing Planning a New 737 Jet? originally appeared on Fool.com.
Adam Levine-Weinberg owns shares of The Boeing Company. The Motley Fool has no position in any of the stocks mentioned. Try any of our Foolish newsletter services free for 30 days. We Fools may not all hold the same opinions, but we all believe that considering a diverse range of insights makes us better investors. The Motley Fool has a disclosure policy.
Copyright 1995 - 2016 The Motley Fool, LLC. All rights reserved. The Motley Fool has a disclosure policy.