Is Amazon Competing With YouTube?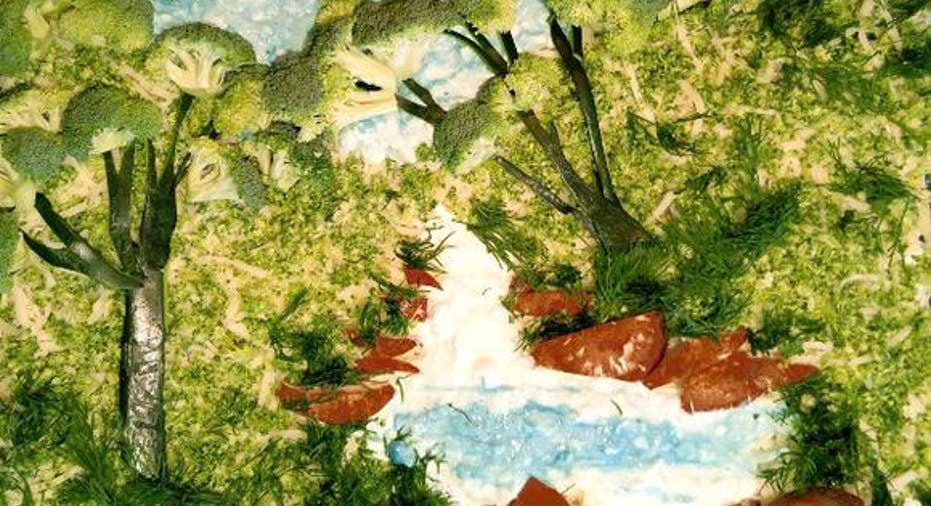 A Bob Ross-landscape inspired lasagna made by Twitch user CookingForNoobs. Image source: Twitch.
When Amazon bought Twitch in 2014 for $1 billion, it mostly specialized in live streaming video games from professional and amateur gamers. At the end of October last year, Twitch launched Twitch Creative, a platform to support non-gamer broadcasters on Twitch like artists, builders, and crafters. It kicked things off with a Bob Ross marathon.
Now, Twitch is actively recruiting chefs and cooks to live stream themselves from their kitchen like a Food Network show. The Amazon subsidiary is opening up a new channel, aptly called Food, to promote live streaming food-related content. The first content shown on the new channel will be all 201 episodes of Julia Child's The French Chef.
Twitch's expansion puts it more in competition with YouTube than in the past. YouTube is a subsidiary of Google, which in turn is a subsidiary ofAlphabet . While YouTube has gone after Twitch, with live streaming and a dedicated Gaming channel, Twitch is now going after YouTube.
The rapid expansion of Twitch CreativeWhile Creative started off targeting painters, sculptors, drawers, and other crafters, the platform saw rapid adoption from other niches as well. Makeup artists, musicians, game developers, and graphic designers have all adopted the platform to engage their audiences with the creative process -- something that's facilitated by the live-streaming aspect of Twitch.
The makeup artist and musician communities on YouTube are huge. Michelle Phan notably launched her career as a makeup designer and entrepreneur thanks to YouTube. Phan modeled her production style off of Bob Ross, and countless others have modeled their YouTube videos off of Phan. That's the same type of content Twitch is looking for with Creative.
There's also a thriving community of cooks posting tutorials on YouTube, as well as other niches like health and fitness and product unboxing videos. While not everything on YouTube lends itself to the live-streaming format with audience interaction, there's a lot of space between where Twitch and YouTube currently compete and where they could compete.
And Twitch seems intent on taking on those additional niches. Some are developing organically, while Twitch may have to actively develop others. Still, the content overlap between Twitch and YouTube will only continue to grow.
The huge revenue opportunity for TwitchEvercore analyst Ken Sena estimates YouTube generated $9 billion in gross revenue last year. Meanwhile, Twitch is estimated to generate just between $100 million and $200 million in ad revenue this year. But Piper Jaffray analyst Gene Munster believes Twitch could generate $1.14 billion in revenue within five years. And he's only accounting for Twitch's gaming niche.
In five years, Munster says Twitch could be worth as much as $20 billion, about 7% of Amazon's current market cap. Sena, comparatively, says YouTube is worth about $85 billion today, 17% of Alphabet's market cap.
While no one expects Twitch to overtake YouTube in viewership or revenue, expanding into niches outside of gaming means that it will compete with YouTube for more time spent watching videos online and could potentially grab a share of ad revenue from the streaming giant. That means Twitch could grow to be worth more than expected in the next five years, while YouTube's revenue growth slows.
The article Is Amazon Competing With YouTube? originally appeared on Fool.com.
Suzanne Frey, an executive at Alphabet, is a member of The Motley Fool's board of directors. Adam Levy owns shares of Amazon.com. The Motley Fool owns shares of and recommends Alphabet (A shares), Alphabet (C shares), and Amazon.com. Try any of our Foolish newsletter services free for 30 days. We Fools may not all hold the same opinions, but we all believe that considering a diverse range of insights makes us better investors. The Motley Fool has a disclosure policy.
Copyright 1995 - 2016 The Motley Fool, LLC. All rights reserved. The Motley Fool has a disclosure policy.