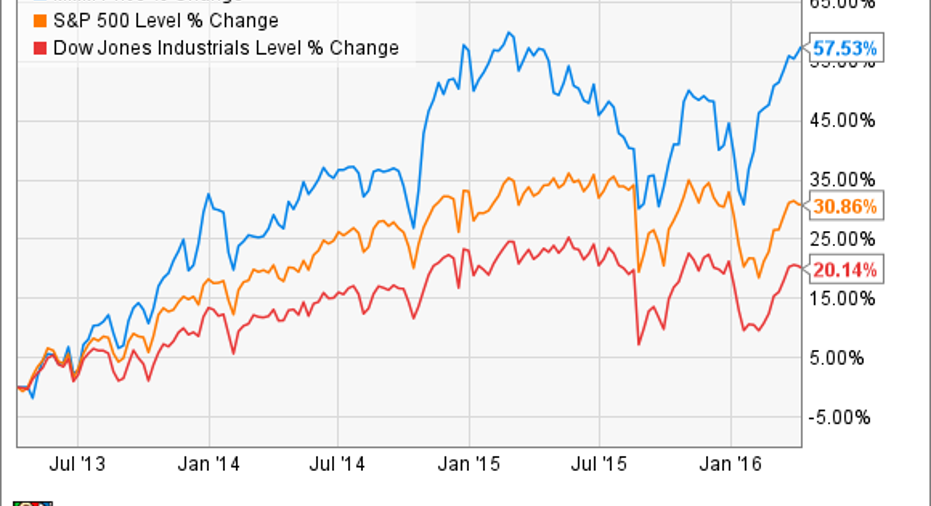 Image source: 3M
Where to begin with3M(NYSE: MMM)? The company defies description. It's a little bit of a consumer-products company, partly an industrial chemical company, party a healthcare supply company. It makes money, too. Quite a lot of it -- more than $30 billion in revenue last year. The real question, though, is whether you're likely to make money by adding 3M stock to your portfolio.
The prosIf you'd invested in the stock three years ago, you would have easily beaten the market:
And on top of your price gains, you would have also been paid a nice dividend. 3M currently yields about 2.7%, a bit higher than competitorDuPont's2.4% yield. And it's not far behindGeneral Electric's 3% yield. Unlike GE, however, 3M has raised its dividend this year (and, as a Dividend Aristocrat, management will make it a priorityto continue to do so in the years ahead).
3M continues to invest heavily in research and development, spending more than $1.7 billion annually. In 2015, this investment amounted to 5.8% of the company's revenue. Rival DuPont spent a higher percentage, but it has since made steep cuts to its materials science research division, benefiting 3M.
Even better, because of 3M's diverse businesses, a single innovation can benefit multiple units (it's a lot like GE in this regard). A single advance in adhesive tape, for example, could benefit the company's consumer products, medical, and industrial businesses. And in fact, 3M is an expert at generating returns on its capital. Its return on capital employed is above 27%, higher than all but three of its Dow counterparts, including GE and DuPont.
The consOf course, all the R&D spending in the world can't guarantee a company's dominance. There's an element of luck involved, too. And with fully one-third of 3M's revenue coming from products invented within the past five years, unexpected R&D failures could set the company back quite a bit.
Also risky for the company are potential lawsuits. As a chemical company, 3M is at a higher risk of litigation stemming from side effects of chemicals it has manufactured. Upcoming legal proceedings related to a chemical called PFOA are particularly concerning in light of recent PFOA-related judgments against DuPont.
There's also the issue of debt: 3M's board recently approved a $10 billion share-buyback program. That sounds good for investors, but if 3M needs to take on more debt to make the purchases, it could be a losing proposition in the long run. 3M's debt-to-capital ratio currently stands at 48% .That's better than GE's 61.8% debt-to-capital ratio, and comparable to DuPont's 46.8%. However,3M's short-term debt load has already ballooned in 2015 from $106 million to $2 billion, with just $1.8 billion in cash on hand. So, while there is some room to absorb some further share buybacks, management would need to exercise caution in doing so.
The con that's really a proThe company's price-to-book ratio has skyrocketed over the past two years, as has its price-to-tangible book value ratio, which strips out goodwill and other intangibles that might artificially inflate book value. This situation might lead you to believe the stock is overvalued. But for 3M, that's not the case.
Because 3M has been rapidly repurchasing stock for the past few years, as well as accumulating depreciation, its book value is artificially lowered. The accumulated depreciation makes its property, plant, and equipment assets seem less valuable than they probably are. The share repurchases decrease the company's common equity, a number used to calculate tangible book value.
Even with these fluctuations, the company's P/E ratio has remained fairly constant at about 22 times earnings.
The long and short of itWhether 3M is a buy for you depends on what you're looking for in your portfolio.
As a very large company and a member of the Dow, 3M doesn't have any days of rapid growth to look forward to. Investors looking for growth will definitely want to look elsewhere.
For investors looking for capital preservation and dividend growth, 3M is a very good stock in which to invest. It's very stable, and its portfolio of businesses and competitive advantages make it a very low-risk choice. While some of its peers sport higher dividend yields, this Dividend Aristocrat will almost certainly keep growing its dividend, and it's even looking to continue its recent history of share buybacks.
Value investors face a murkier picture. It's tough to tell whether the company is fairly valued right now, but given its excellent ability to generate returns on capital, paying a premium for the stock is to be expected. In short, 3M looks to be a buy.
The article Is 3M a Buy? originally appeared on Fool.com.
John Bromels has no position in any stocks mentioned. The Motley Fool owns shares of General Electric Company. Try any of our Foolish newsletter services free for 30 days. We Fools may not all hold the same opinions, but we all believe that considering a diverse range of insights makes us better investors. The Motley Fool has a disclosure policy.
Copyright 1995 - 2016 The Motley Fool, LLC. All rights reserved. The Motley Fool has a disclosure policy.