iRobot Just Dove Deeper Into the Internet of Things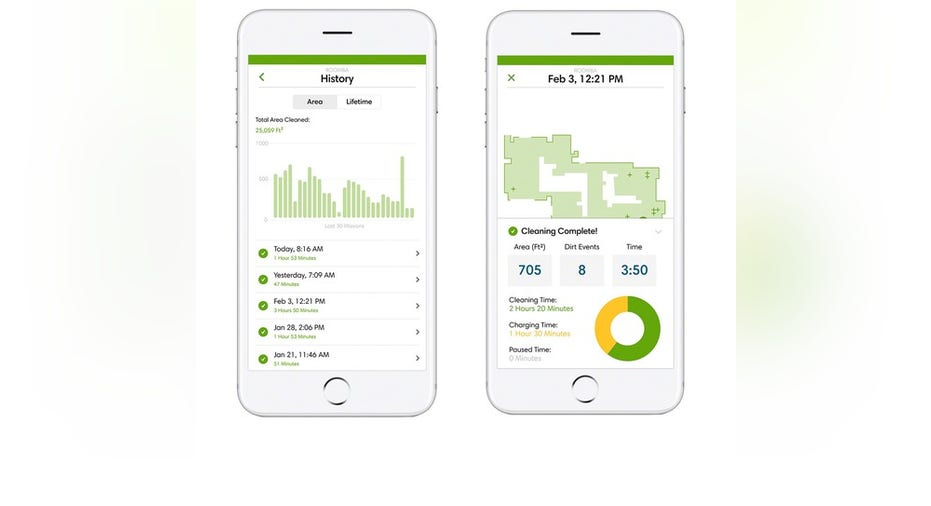 When iRobot Corporation (NASDAQ: IRBT) launched its first Roomba 900-series robotic vacuum in late 2015, I mused that the advanced new bot was obviously its smartest yet. From visual navigation to its tangle-free AeroForce cleaning system, a Carpet Boost mode that automatically detects floor types, a Dirt Detect mode to identify areas with higher concentrations of dirt and debris, and cloud connectivity through its easy-to-use HOME app, it's no wonder the Roomba 900 series has has thrived despite -- as company co-founder and CEO Colin Angle put it last quarter -- "having the highest number of competitors we've ever seen."
But earlier this week, iRobot unveiled new cloud-based technology that not onlyimproves Roomba's user-friendliness, but also marks a huge step in its initiatives to advance connected homes and the Internet of Things -- that is, the concept of adding internet-based functionality to everyday items.
IMAGE SOURCE: IROBOT CORPORATION
"Alexa, ask Roomba to begin cleaning."
First, iRobot launched a new version of the HOME App that includes "Clean Map reports." These reports most notably provide visual post-cleaning maps created by the Roomba as it cleans, as well as useful information about the robot's cleaning performance such as the total square footage cleaned, the number and location of Dirt Detect events triggered, cleaning length, charging time, and any other errors or notifications the Roomba throws (for example, if the bin is full or the unit is stuck somewhere). The new app is already available for download.
What's more, iRobot is integrating Amazon.com's Alexa voice-activated control with all connected Roombas, which will let users start, stop, or pause Roomba cleaning jobs with simple voice commands like "Alexa, ask Roomba to begin cleaning." The Alexa skill for Roomba will be launched for U.S. customers in the second quarter and will be compatible with all connected Roomba vacuums.
IMAGE SOURCE: IROBOT CORPORATION
"Exciting next steps toward our vision..."
To be fair, these might seem like small improvements to iRobot's connected Roomba platform. But note that in its press release, iRobot tellingly refers to the moves as their "next step in the connected home."
iRobot Chairman and CEO Colin Angle elaborated:
To be sure, iRobot could easily segue this technology to allow households with larger floor plans to accommodate multiple Roombas working together. And while Roomba may generate the majority of iRobot's revenue as it stands, the company offers a number of other connected home robots. Those include its floor-mopping Braava jet model, which quickly became iRobot's No. 1-selling SKU in Japan following its introduction there last year. And based on recent FCC filings, we also know that iRobot is in the early stages of building a robotic lawn mower that would communicate and set its boundaries using a convenient wireless beacon system.
What's more, iRobot executives have spoken at length in recent years about using the cloud to allow their robots to learn more about their surroundings, which extends to both navigation and -- over the longer term -- even recognizing the best way to manipulate certain objects.
"For example," offered former iRobot CTO Paolo Pirjanian during a 2014 interview, "this object is a cup, and so I have to grab it like this; it looks like it's a glass, so I need to grip it tight enough so it doesn't slip, but not too hard so it breaks."
In short, this is only the tip of the iceberg regarding iRobot's connectivity and Internet of Things efforts. And as a longtime shareholder, I can't wait to see what's next.
10 stocks we like better than iRobot When investing geniuses David and Tom Gardner have a stock tip, it can pay to listen. After all, the newsletter they have run for over a decade, Motley Fool Stock Advisor, has tripled the market.*
David and Tom just revealed what they believe are the 10 best stocks for investors to buy right now... and iRobot wasn't one of them! That's right -- they think these 10 stocks are even better buys.
Click here to learn about these picks!
*Stock Advisor returns as of February 6, 2017
Steve Symington owns shares of iRobot. The Motley Fool owns shares of and recommends Amazon and iRobot. The Motley Fool has a disclosure policy.