iRobot Crushes Expectations With a Record Quarter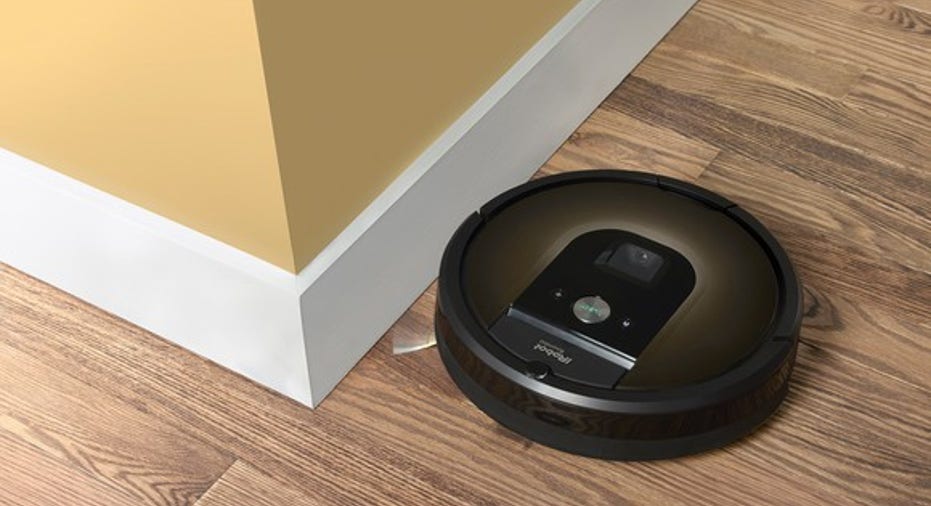 iRobot Corporation(NASDAQ: IRBT)released stronger-than-expected fourth-quarter 2016 results Wednesday after the market closed. But with shares of the home-robotics specialist down around 9% in after-hours trading as of this writing, it seems the market isn't pleased.
To be fair, iRobot stock had also climbed more than 80% over the past year and traded near an all-time high leading up to this report, thanks to several stronger-than-expected quarterly performances in 2016. Let's take a closer look, then, both at what drove iRobot's business in the key holiday period and what investors can expect going forward.
iRobot's Roomba 980 robotic vacuum, IMAGE SOURCE: iRobot Corporation
iRobot results: The raw numbers
| Metric | Q4 2016 | Q4 2015 | Year-Over-Year Growth |
| --- | --- | --- | --- |
| Sales | $212.5 million | $206.4 million | 3% |
| Net income | $13.7 million | $19.3 million | (29%) |
| Earnings per share | $0.49 | $0.65 | (24.6%) |
DATA SOURCE: iRobot Corporation.
What happened with iRobot this quarter?
Last year'sfourth-quarter results included revenue of $31 million and earnings of $0.23 per share from iRobot's defense and security (D&S) business, which was divested on April 4, 2016, to allow the company to focus solely on the consumer-robotics market. Q4 2015 results also included a $0.06-per-share gain on the sale of an investment.
Relatedly, this quarter's results also included a benefit of $0.03 per share associated with a change in accounting treatment of an equity investment, and a $0.01-per-share contribution from transition services provided to the former D&S business.
Adjusted earnings before interest, taxes, depreciation, and amortization (EBITDA) declined 18.3% year over year, to $28.6 million.
iRobot's guidance called for lower fourth-quarter revenue of $202 million to $207 million, earnings per share of $0.36 to $0.44, and adjusted EBITDA of $22 million to $26 million.
Consumer robot revenue grew 21.1% year over year, to $212.1 million, including:
47% year-over-year growth in domestic home robot sales, to $124 million, driven by continued strong demand for iRobot's high-end Roombas and further investment in ad media and national promotions.
A 3% decline in international revenue, to $88.1 million. During the subsequent call, management said iRobot established a "small reserve for pricing adjustments, recognizing the need to respond to rapidly changing market conditions in some of our overseas markets." As a result, iRobot recorded a $5 million revenue reduction for pricing support.
China sell-through was up 17% year over year, slightly below expectations, even as sales of the Roomba 800, which is the premium model in China right now, exceeded expectations. As such, iRobot is excited to launch the Roomba 900 series in China in 2017.
iRobot signed a definitive agreement to acquire its Japanese distributor, with a targeted close early in the second quarter of 2017.
Braava and Braava jet revenue grew roughly 75% year over year in 2016, even though Braava jet was only just introduced in Asia in the third quarter.
Wet floor care products comprised 15% and 50% of 2016 revenue in Japan and China, respectively.
Consumables represented 5% of total wet floor care revenue for the year.
The year ended with $254 million in cash, up from $213 million at the end of 2015.
Year-end inventory was $50 million, or 42 days, down from $62 million, or 51 days, at the end of 2015, driven by higher Q4 consumer revenue, the sale of the D&S segment, and the shutdown of the remote presence business.
What management had to say
iRobot's co-founder and CEO, Colin Angle, stated:
Looking forward
Because iRobot manages its business from a full-year perspective, the company will only offer annual guidance going forward.
So for the full year of 2017, iRobot anticipates revenue of $770 million to $785 million, good for year-over-year growth of 17% to 19%, assuming the acquisition of its Japanese distributor closes as planned at the beginning of Q2 and contributes $20 million to $25 million in incremental revenue.As usual, iRobot also expects full-year revenue to be more heavily weighted toward the back half, with around 57% of total sales expected in the third and fourth quarters. Sales growth should be driven by 17% to 19% increases in consumer revenue (or 14% to 15% excluding the acquisition), and revenue is expected to increase sequentially throughout 2017, as it did last year.
iRobot CFO Alison Dean elaborated on the coming year, stating that "growth will be driven by accelerated growth overseas, continued growth in the U.S. through further market penetration of our Roomba robots, and increased momentum in our wet floor care product adoption."
Turning toward the bottom line, iRobot expects 2017 operating income of $57 million to $70 million and earnings per share of $1.35 to $1.65, including a one-time negative $0.25 to $0.35 impact from the acquisition.
By comparison -- and though we don't usually pay close attention to Wall Street's quarterly demands -- analysts' consensus estimates called for lower 2017 revenue of $762.5 million, with earnings near the higher end of iRobot's expected range.It's unclear whether those figures incorporate the financial impact of iRobot's impending acquisition of its Japanese distributor. But on the surface, iRobot's initial decline appears to be the result of a knee-jerk reaction to its bottom-line guidance shortfall for the coming year, potentially coupled with the stock's astronomical rise over the past 12 months.
With that in mind, this was still a fantastic quarter for iRobot, and the company is looking forward to accelerating its growth and further solidifying its leadership in the promising consumer robotics industry. As a result, I think long-term investors willing to watch its growth story continue to unfold should be more than happy with iRobot today.
10 stocks we like better than iRobot When investing geniuses David and Tom Gardner have a stock tip, it can pay to listen. After all, the newsletter they have run for over a decade, Motley Fool Stock Advisor, has tripled the market.*
David and Tom just revealed what they believe are the 10 best stocks for investors to buy right now... and iRobot wasn't one of them! That's right -- they think these 10 stocks are even better buys.
Click here to learn about these picks!
*Stock Advisor returns as of February 6, 2017
Steve Symington owns shares of iRobot. The Motley Fool owns shares of and recommends iRobot. The Motley Fool has a disclosure policy.