Iraq's Booming Economy Lures Western Banks Despite Security Risks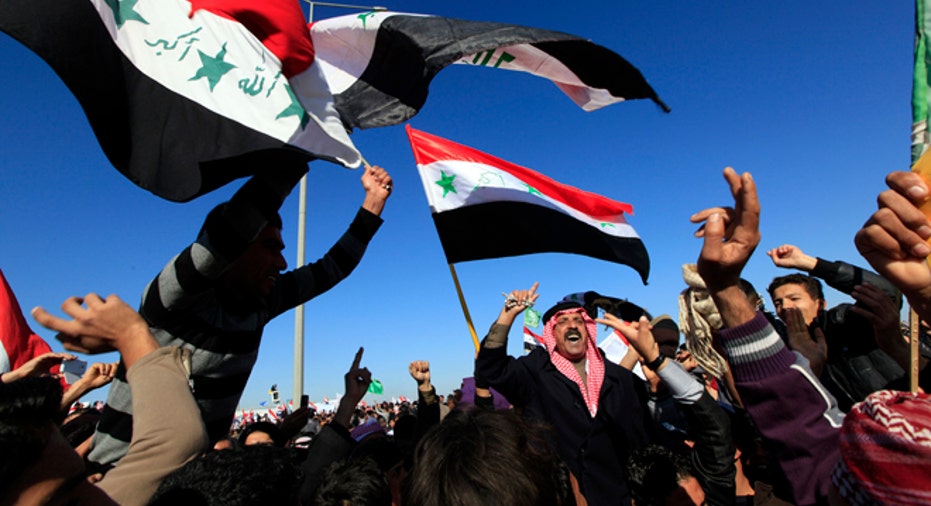 Last week banking giant Citigroup (NYSE:C) revealed plans to dip its toes into a volatile market that was unthinkable just years ago: Iraq.
By becoming the first U.S. lender to establish a physical presence in once-war torn Iraq, Citi is hoping to capitalize on the Middle Eastern country's booming oil-juiced economy, enormous potential for deposit growth and improved security situation.
But Western banks seeking to enter Iraq are likely to encounter a number of high hurdles, including a recent spike in violence and troublesome levels of corruption that pose a serious legal risk.
"Iraq is very salivating for any player," said Sanjay Motwani, CEO of Sansar Capital, an asset management firm with more than $30 million invested in Iraq. "If Iraq was really that dangerous and it was that much of a basket case, why would Citi go there?"
While the U.S. economy struggles to achieve escape velocity and China's is decelerating, the International Monetary Fund projects Iraq's $150 billion economy will surge 9% this year after jumping 8.4% in 2012.
Iraq's economic resurgence has been underpinned by the country's formidable oil sector, which the International Energy Agency sees contributing 45% to the entire world's incremental oil supply this decade. The IEA has also predicted Iraq will become the world's No. 2 oil exporter by the 2030s.
Room to Run for Banks
But as appealing as Iraq's overall economic story appears to be, foreign banks are likely drooling over the country's credit profile.
Iraq's domestic credit stands at a paltry 9% of GDP, compared with an average of 55% in the Middle East North Africa region, according to the World Bank. Iraq's total credit outstanding is just $10 billion, compared with $23 billion for Jordan, whose economy is just one-quarter that of Iraq's.
Not only do many Iraqis lack credit options, but they also struggle with even basic banking functions. With just 900 bank branches inside the country, there is about one branch per 36,000 Iraqis and just one ATM machine for every 100,000 residents, Sansar Capital said.
"Iraq is an important market, with an economy that has substantial potential over time. Having a presence in Iraq will position us to better attune our services to the banking needs of our clients as they grow and develop their businesses in the country," James Cowles, CEO of Citi's Europe, Middle East and Africa division, said in a statement last week.
Profitable Place to Lend
Iraq's net interest margins, a key metric for banks, are also very attractive. According to Motwani, Iraqi lending rates are generally around 12% and deposit rates are 4%, giving banks there an "extremely high" net interest margin of 8%, compared with just 1% to 2% for many Western lenders.
Global lenders like Citi have cleaner balance sheets than Iraq's state-owned banks, which Sansar Capital estimates collectively own 91% of the country's banking-sector assets. These state banks are riddled with bad loans tied to the old regime and two of them, Rafidain Bank and Rasheed Bank, are in the midst of a World Bank-assisted restructuring.
"Oil and corruption tend to be tied at the hip because of the staggering amounts of money involved."
Global banks also have the financial firepower that Iraq's private-sector banks like Bank of Baghdad and Kurdistan Bank are lacking.
"The banking sector in Iraq has a lot of promise. It's under banked and there is a lot of potential for private banks to enter. But there are a lot of challenges there," said Bishr Baker, managing partner for Ernst & Young's Jordan and Iraq practice.
Violence Still Grips Parts of Iraq
For obvious reasons, the volatile security situation in Iraq tops the list of concerns for many potential entrants.
On the one hand, security has improved drastically in recent years, especially compared with before the 2006 surge. Violence is down 80% between 2006 and 2012, according to Sansar Capital, which cited statistics compiled by Iraq Body Count.
However, Iraq remains far from safe, as underscored by a recent spate of attacks that made May the deadliest month since the height of the sectarian conflict in 2006-2007. Police said a suicide bomber killed at least 22 people on Monday in an attack on a Shi'ite mosque.
While more than 1,000 people were killed in violence in Iraq in May, the United Nations said attack-related deaths fell to 761 in June.
"Security has improved quite a lot, but it is still not that secure," said Baker, who travels to E&Y's offices in Baghdad and Erbil and works with the Central Bank of Iraq and Ministry of Finance.
"Obviously the returns will be proportional to the risk you take," he said. "This is a new market. You have to decide when you want to enter: right at the beginning, in the middle or later?"
Vice City
But it's also worth pointing out that like many countries, Iraq's security situation varies based on location.
Sansar Capital said violence in Iraq is "highly localized," with 91% of deaths occurring in seven of the country's 18 provinces.
Another major risk facing Western banks and companies entering Iraq is corruption, especially given renewed U.S. enforcement of the Foreign Corrupt Practices Act.
Out of 174 countries, Iraq ranked 169th in the 2012 Corruption Perceptions Index, which measures how corrupt countries' private sectors are perceived to be. On a scale of zero to 100, where zero means a country is seen as highly corrupt, Iraq received a score of 18, placing it just above some unwanted company: Sudan, Afghanistan, North Korea and Somalia.
"Foreign companies should be extremely careful of monitoring their activities (especially bank related activities) on the ground and must be doing double due diligence," Schehrazade Rehman, a George Washington University professor, wrote in an email. "Oil and corruption tend to be tied at the hip because of the staggering amounts of money involved."
A Race to Baghdad
For Citi, the decision to enter Iraq with just a representative office instead of a fully functioning retail branch appears to be a way to serve its large number of oil clients that are participating in the country's production ramp-up.
"Iraq is far from safe for any serious foreign direct investment on the ground. A bank rep office is not a serious investment commitment foothold in the country -- it is a smart way to approach a country like Iraq given its political and economic risk factor," said Rehman.
"Citi also gains goodwill from the Iraqi government because it is one of the first U.S. banks to show up -- this may pay off down the road if it decides to expand its banking services on the ground," she said.
Citi's entry into Iraq follows a similar move by the U.K.'s Standard Chartered, which earlier this year unveiled plans to open three branches, including in Ebril and Basra.
"It's a gutsy move," said Rita McGrath, a Columbia Business School professor and author of The End of the Competitive Advantage. "The bet they're making is if they can build relationships there, they can establish early-mover advantage that would be harder for others to overcome."