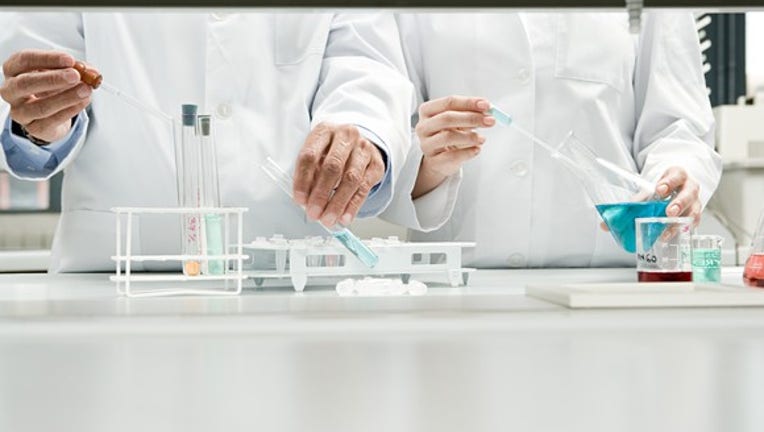 Ionis Pharmaceuticals (NASDAQ: IONS) reported fourth-quarter earnings on Tuesday. The biotech has two drugs on the market, but given Kynamro's low sales and the fact that spinal muscular atrophy drug Spinraza only launched in late December, most of the revenue came from partners who have licensed its drugs. Nevertheless, those payments helped drive Ionis into the black in the fourth quarter.
Ionis Pharmaceuticals results: The raw numbers
Data source: Ionis Pharmaceuticals.
Image source: Getty Images.
What happened with Ionis Pharmaceuticals this quarter?
The biggest event of the quarter happened just days before the books closed, when Spinraza was approved by the Food and Drug Administration in late December, triggering a milestone payment from partner Biogen (NASDAQ: BIIB).
Ionis had good news on the pipeline front in December, as well, when it reported positive data from the COMPASS phase 3 trial testing volanesorsenin patients with severe hypertriglyceridemia. The drug produced a mean reduction in triglycerides of 71.2% from baseline compared to a 0.9% reduction for patients who received placebo.
In January, after the books closed, Ionis signed a deal with Novartis (NYSE: NVS) to develop and commercialize two early stage cardiovascular disease drugs, AKCEA-APO(a)-LRx and AKCEA-APOCIII-LRx. The deal provides near-term payments of $225 million, plus potential milestone and royalty payments down the road.
Also in January, partner Bayer decided to advance IONIS-FXIRx into a phase 2b trial in patients with end-stage renal disease on hemodialysis, which Ionis will conduct. Bayer also chose to license a next-generation drug, IONIS-FXI-LRx, which, combined with the advancement of IONIS-FXIRx, triggered a $75 million milestone payment.
What management had to say
Biogen is in charge of the Spinraza launch, but Lynne Parshall, Ionis' chief operating officer, likes what she's seen so far:
"We are pleased with the urgency with which Biogen is undertaking this launch. For example, we received FDA approval just before the holidays on December 23. And by December 26, there were already teams in the field working with physicians to ensure the patients had access to Spinraza as rapidly as possible."
Ionis' chief financial officer Beth Hougen pointed out the economics on sales of Spinraza:"We earn tiered royalties on Spinraza sales. This means that, as Spinraza sales grow, so will our portion of those sales. The revenue we earned from these royalties is nearly all profit to us."
Looking forward
It's going to be a data-packed beginning of the year for Ionis with a readout from the phase 3 APPROACH study testing volanesorsen in patients with familial chylomicronemia syndrome expected in March. A little while later, sometime in the second quarter, Ionis will present data from the phase 3 NEURO-TTR study of IONIS-TTRRx in patients with familial amyloid polyneuropathy.
With the potential for both those drugs to get approved if the phase 3 trials are successful, Ionis is restocking the pipeline with plans to add three to five new drugs to the pipeline this year.
Adding the milestone payments to the Spinraza royalty payments, management thinks it can be breakeven or profitable at the operating line on a pro forma basis in 2017, which would allow the company to be cash-flow positive.
10 stocks we like better than Ionis PharmaceuticalsWhen investing geniuses David and Tom Gardner have a stock tip, it can pay to listen. After all, the newsletter they have run for over a decade, Motley Fool Stock Advisor, has tripled the market.*
David and Tom just revealed what they believe are the 10 best stocks for investors to buy right now... and Ionis Pharmaceuticals wasn't one of them! That's right -- they think these 10 stocks are even better buys.
Click here to learn about these picks!
*Stock Advisor returns as of February 6, 2017
Brian Orelli has no position in any stocks mentioned. The Motley Fool owns shares of and recommends Biogen and Ionis Pharmaceuticals. The Motley Fool has a disclosure policy.