Ionis Pharmaceuticals Inc Is Burning Partners' Cash (Thank Goodness There's Lots of It)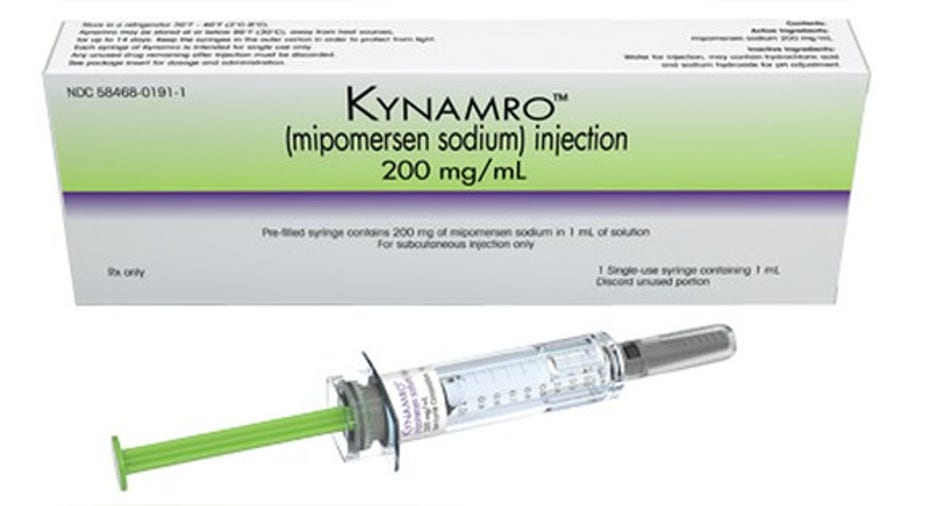 Ionis Pharmaceuticals reported earnings last week, but with revenue coming from partners rather than selling drugs, the pipeline update was the most important part of the conference call.
Ionis Pharmaceuticals results: The raw numbers
| Metric | Q1 2016 Actuals | Q1 2015 Actuals | Growth (YOY) |
| --- | --- | --- | --- |
| Revenue | $36.9 million | $62.6 million | (41%) |
| (Loss) from operations | ($54.7 million) | ($9.3 million) | N/A |
| (Loss) per share | ($0.52) | ($0.14) | N/A |
Data source: Company press release.
What happened with Ionis Pharmaceuticals this quarter?
Revenue was lower year over year, but that's entirely due to the timing of milestone payments. The first quarter included $12.5 million from Biogen for advancing nusinersen and ONIS-BIIB4Rx and $1.5 million from GlaxoSmithKline for advancing IONIS-HBV-LRx. The year-ago quarter had $31 million from Biogen and $15 million from GlaxoSmithKline.
Ionis and Biogen presented data on nusinersen ininfants withspinal muscular atrophy (SMA) from the ongoing phase 2 trial showing the infants -- now toddlers -- are reaching milestones that wouldn't be expected for babies with SMA.
After the quarter ended, Ionis sold its rights to Kynamro -- which it got back from Sanofi -- for a $15 million upfront payment and up to $80 million in additional milestone payments. Starting next year, Ionis will get royalties that average in the mid to low teens on global sales of Kynamro, although it'll have to give Sanofi 3% royalty and also 3% of the cash payments.
The company ended the quarter with a hair over $700 million in the bank, quite a bit for a biotech without any substantial sales of drugs.
Image source: Sanofi.
What management had to say
In a comment on accelerating the development of nusinersen based on comparing the phase 2 data to historical controls rather than the ongoing placebo-controlled phase 3 trial, Ionis' chairman and CEO Stan Crooke continued to take a conservative approach, stating, "We also understand the challenge when gaining rapid approval based on historical controls. This substantial past and recent experience, even in rare disease situations, shows that any approach other than working cooperatively with regulatory agencies around the world, leads to prolong delays in approval." Crooke didn't call out Sarepta Therapeutics by name, but it seems likely that the biotech's recent experience with the FDA on its Duchenne muscular dystrophy drug compared to historical controls is what he was hinting at.
Even if Biogen and Ionis wait for the full phase 3 data for nusinersen, Ionis' chief business officer, Sarah Boyce, pointed out it's not the only drug they'll be getting ready for an New Drug Application (NDA): "We are well along in NDA preparations for all three drugs and plan to file rapidly after positive Phase-3 data. Of course, means that we can have all three drugs on the market over the course of the next couple of years." Beyond nusinersen, Ionis has the potential for near-term approval for triglyceride-lowering volanesorsen and IONIS-TTRRX.
You may recall, Ionis took a bit of a dive in April after disclosing that the FDA was holding up GlaxoSmithKline's trial testing IONIS-TTRRX in transthyretin (TTR) amyloid cardiomyopathy. Crooke gave an update on the issue delaying that trial, stating, "We have seen some platelet reductions in our patients treated with TTRRx." Later he brushed it off as a minor setback especially in the ongoing trials: "We think this is manageable in the TTR patients, and we are doing just that."
Looking forward
The three phase 3 drugs set to read out in the coming year or so are clearly the most important to Ionis' near-term valuation, but Ionis has plenty of drugs in earlier stages behind those. Many of the pipeline drugs are already partnered out and could produce substantial milestone payments this year, including $55 million from Bayer for IONIS-FXIRX and $25 million from AstraZenecafor advancing the first cardiometabolic drug under their partnership.
The article Ionis Pharmaceuticals Inc Is Burning Partners' Cash (Thank Goodness There's Lots of It) originally appeared on Fool.com.
Brian Orelli has no position in any stocks mentioned. The Motley Fool owns shares of and recommends Ionis Pharmaceuticals. The Motley Fool recommends Biogen. Try any of our Foolish newsletter services free for 30 days. We Fools may not all hold the same opinions, but we all believe that considering a diverse range of insights makes us better investors. The Motley Fool has a disclosure policy.
Copyright 1995 - 2016 The Motley Fool, LLC. All rights reserved. The Motley Fool has a disclosure policy.