Investors Should Take Facebook's E-commerce Plans Seriously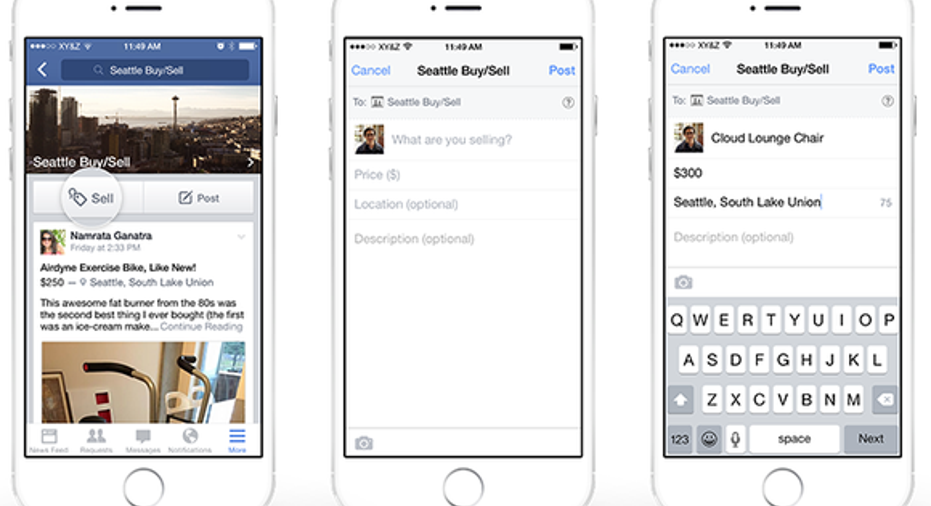 In the past few years, Facebook Inc (NASDAQ: FB) has made a series of moves that made industry insiders and the business media openly question if the social-media giant was about to enter e-commerce or the payments industry in a big way.
Image source: Facebook Inc
It began in the summer of 2014, when Facebook poached PayPal Holdings Inc (NASDAQ: PYPL) president David Marcus to head their mobile messaging. Unsurprisingly, the very next year, Facebook announced several e-commerce and payment-solution initiatives. These included:
In March 2015, Facebook announced you could now send money to friends via Facebook Messenger by linking your debit card to your account.
Later that same month, at Facebook's annual F8 conference, the company previewed Businesses on Messenger, a platform enabling "rich and personal conversations with businesses."
In May 2015, at the JP Morgan Global Technology, Media, and Telecom Conference, CFO Dave Wehner said he believed there would be "opportunities" to bring some of those same business-to-consumer communication features to WhatsApp.
Is Facebook the future of money?
These new features make it clear Facebook is working hard to build Messenger and Whatsapp into what could be the most holistic customer experience in e-commerce. Soon, consumers will be able to make their orders, track their shipments, talk to a customer representative, and probably post reviews -- all through these popular apps. Oh, and of course, they'll probably be able to pay for everything through these platforms, as well.
Image source: Facebook Inc.
The moves were so bold that, in August 2015, a Washington Post piece by Rakesh Agrawal, the CEO of redesign, wondered if Facebook "could be the future of money." The moves obviously have far-reaching consequences for e-commerce, especially for those who think Amazonwill forever remain unchallenged. But it's also fair to ask, especially for investors of other payments companies like Mastercard Inc,PayPal, and Visa Inc,if Facebook is about to become a major upsetting force in the payments arena.
A payments industry disruptor or partner?
To understand whether Facebook intends to enter the payments industry as a competitor to the more established players, one must examine the company's moves carefully. There do appear to be ample clues that Facebook intends to enter the sector as a partner, rather than a great disruptor. If true, Facebook's moves into online retail could well provide a boost for the industry, giving consumers even more opportunities to use digital wallets and payment-processing networks.
At Facebook's 2016 F8 conference, Samantha Maciel, Facebook's Product Manager on Ads Payments, and Anand Subbarayan, Facebook's Product Manager on Platform Payments, gave a joint presentation entitled Lessons on Growth from the Facebook Payments Team. Most of the presentation focused on growing Facebook's ability to negotiate all types of payments from users and advertisers alike.
The pair described problems they encountered in emerging markets by using a credit/debit card-only type of system. They called this approach too "U.S. centric," as many emerging markets lack robust credit card market penetration.But their solutions to these problems centered on using existing technology rather than developing their own in-house solutions.
Indeed, they described several localized approaches that have worked in different countries. In Indonesia, for instance, they developed a system allowing advertisers to make cash payments by depositing money in a local ATM.
Could all this be Zuckerberg and the Facebook team playing coy before surprising the market with a disrupting payment product or service? Sure, anything's possible. But it appears to be more of a genuine interest in partnering with existing payments companies so it can move its different platforms toward e-commerce.
Facebook's e-commercedesigns
During Facebook's 2015 fourth-quarter conference call, CEO Mark Zuckerberg was asked point-blank by a Bernstein analyst what his thoughts were about the role of the different Facebook platforms in payments. Zuckerberg replied, "We don't view ourselves as a payments business, that's not the type of company that we are." Instead, Zuckerberg said, Facebook wanted to partner with "everyone" in the payments industry to work at removing the friction from business transactions.
Image source: Facebook Inc.
Of course, actions are more important than words, and investors should take notice that Facebook has followed up on its stated desire of creating partnerships with existing payments companies. In October 2016, Facebook and PayPal entered into an agreement that should prove to be mutually beneficial to both companies. The deal calls for PayPal to become a payment option across more of Facebook's platforms, including commerce activity on Messenger. It's also easier now for users to link their PayPal accounts to the site.
The deal does exactly what Zuckerberg said Facebook wanted: To make the process of buying and selling goods online smoother and easier.
Facebook's sole focus seems to be growing its platforms' universes and making them even more all-encompassing. Moving beyond the world of advertising and creating the ability to process transactions is just a natural step in that direction.
Shaking up the cyber-business world
As Facebook enters e-commerce in bigger and more direct ways, it should be a catalyst for all payments players. The easier items can be purchased online, the more digital wallets and credit or debit cards will be used to make these purchases. Around the globe, cash payments are still used for 85% of all purchases. While this number is lower in more developed countries like the United States, Facebook's reach extends well beyond America's coastline. If online retail can be introduced in a meaningful way into emerging markets, all payments players could see the benefits.
Businesses that might have the most reason to be concerned are online merchants such as Amazon and eBay Inc. Of course, with cyber sales on the rise and traditional brick-and-mortar retailers flailing, there's probably plenty of room for winners in the online retail world.
Find out why Facebook is one of the 10 best stocks to buy now
Motley Fool co-founders Tom and David Gardner have spent more than a decade beating the market. (In fact, the newsletter they run, Motley Fool Stock Advisor, has tripled the market!*)
Tom and David just revealed their ten top stock picks for investors to buy right now. Facebook is on the list -- but there are nine others you may be overlooking.
Click here to get access to the full list!
*Stock Advisor returns as of January 4, 2017
Matthew Cochrane owns shares of Amazon.com, Facebook, Mastercard, and PayPal Holdings. The Motley Fool owns shares of and recommends Amazon.com, eBay, Facebook, Mastercard, PayPal Holdings, and Visa. The Motley Fool has a disclosure policy.