Investors Flock to Safe-Haven Bonds in Market Selloff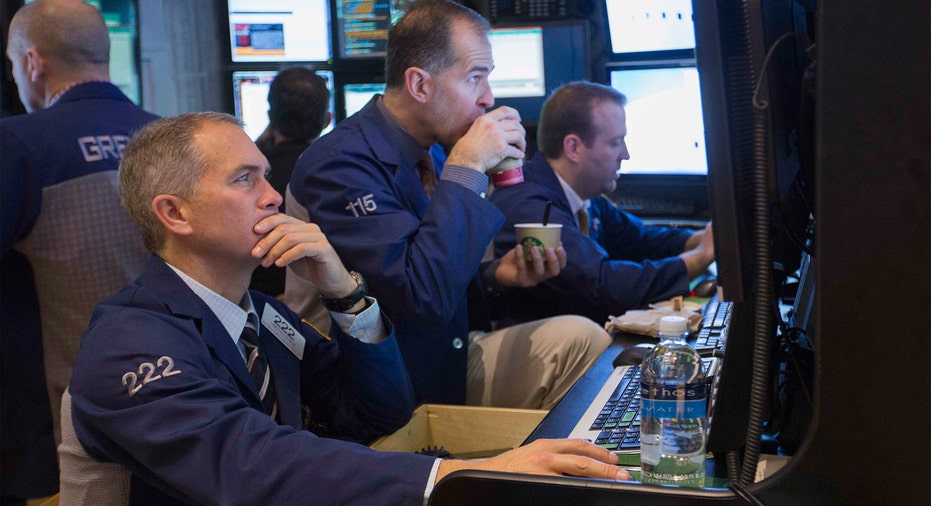 U.S. equity markets pared a steep selloff on Tuesday after investors fled the equity market and sought safety in government bonds.
The Dow Jones Industrial Average declined 179 points, or 1.09% to 16330. The S&P 500 sagged 24 points, or 1.23% to 1942, while the Nasdaq Composite fell 72 points, or 1.50% to 4756.
Materials and technology led all 10 S&P 500 sectors in decline.
Today's Markets
Wall Street traded solidly in negative territory though there wasn't one specific driver for the momentum.
"Late September seems to have much in common with late August – namely disappointing weather and stock market selloffs," Chris Beauchamp, senior market analyst at IG wrote in a note. "This time around, however, there is no specific cause which can be blamed."
He pointed to a conglomeration of factors including a lack of buying conviction in the market, rallies that have failed to maintain momentum, and caution surrounding the Federal Reserve's decision last week to keep rates steady.
The sea of red in the U.S. came on the heels of a sharp selloff in European markets where the UK's FTSE 100 index notched new lows for the month.
"A combination of a fairly cautious Fed last week, plus travails of Volkswagen and comments from a key stainless steel producer in Finland have provided fuel for the FTSE 100's latest slump," Beauchamp said. "U.S. markets are being sold just as heavily, as buyers search in vain for reasons to be positive."
Over in Europe, the Euro Stoxx 50, which tracks large-cap companies in the eurozone dropped 3.38%. The German Dax plunged 3.70%, while the French CAC 40 declined 3.45%, and the FTSE 100 shed 2.49%.
It was a brighter picture overnight in Asia where China's Shanghai Composite index capped the session up 0.92%, extending its longest winning streak in a month. Action there comes as the nation's president, Xi Jinping, visits the U.S. and as the White House's chief economist warns China to avoid "quick fixes" like a sudden devaluation of its currency, to boost its economy.
Elsewhere in the region, Hong Kong's Hang Seng gained 0.18%, and Japan's Nikkei declined 1.96%.
As selling in global equity markets accelerated, not even the metals market was excluded from the selling pressure. Gold, generally seen as a safe-haven asset, declined 0.71% during the session to $1,125 a troy ounce, while silver dropped 3.06% to $14.75 an ounce. Copper, sinking to two-week lows, meanwhile, plunged 3.81% to $2.31 a pound.
Oil prices also declined: U.S. crude dropped 1.82 % to $45.83 a barrel, while Brent, the international benchmark, recovered from steep losses in the prior session to end up 0.33% to $49.08 a barrel.
Investors looked primarily to the safety of government bonds as they ditched their equity positions on Tuesday. The yield on the benchmark 10-year U.S. Treasury bond declined 0.089 percentage point to 2.128%. Yields move in the opposite direction of prices.
"The commodities pressure is all interconnected to the view of the emerging markets, strength of the U.S. dollar, etc.," David O'Malley, CEO of Penn Mutual Asset Management said. "Commodities seem to be the centerpiece for where that pressure is. U.S. bonds are a safe haven today especially with an accommodative Fed."
Elsewhere, the dollar was higher against a basket of global currencies, while the euro fell 0.53% against the greenback.
On the corporate news front, Bank of America (NYSE:BAC) shareholdersvoted on Tuesday to allow Chief Executive Officer Brian Moynihan to continue to hold positions as chairman and CEO of the nation's second-biggest bank by assets. The action followed months of debate about whether the two key positions should be held by two individuals rather than one in an effort to allow more independent oversight from the company's board of directors.  Bank of America shares slumped more than 1% in recent action.
Goldman Sachs (NYSE:GS) CEO Lloyd Blankfein released a letter to shareholders Tuesday morning announcing he had been diagnosed with a "highly curable" form of  Lympoma, and will undergo chemotherapy treatments "over the next several months." Shares of the investment bank weighed the most on the Dow Industrials, declining nearly 3% in recent action.
The CEO of German automaker Volkswagen issued an apology on Tuesday morning after the company admitted to skirting U.S. emissions rules using a "defeat device" that inaccurately measured emissions as cars released up to 40 times more pollutants than allowed under clean air laws.