Investors cheer German deal, but some bemoan lack of vision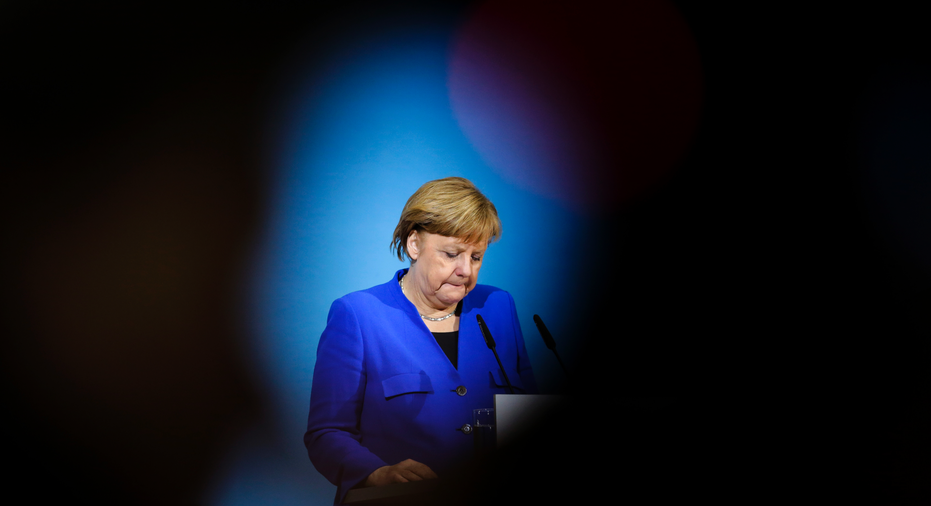 Hopes for a new government in Germany sent the euro and markets higher Friday on relief that the Europe's biggest economy might soon get stable leadership. But it left some economists and business lobbyists saying it offers too little to support the country's prosperity over the longer term.
Friday's tentative deal to open formal coalition talks would see Chancellor Angela Merkel's Christian Democrats, the allied Bavaria-only Christian Social Union and the center-left Social Democrats continue their coalition. The agreement follows the collapse of a proposal for Merkel's party to govern along with the Greens and pro-business Free Democrats.
One primary reason for investors' cheer — which saw the euro jump to a three-year high of $1.2156 against the dollar — was simply relief that the country's political situation was being sorted out, almost four months after the Sept. 24 election.
It seems likely that Merkel, a known quantity for investors and a firmly pro-European politician, will remain chancellor.
Also, the deal avoids the risk of another election, which would have raised the prospect of more gains by populist parties such as the far-right AfD. Analysts have singled out the rise in populist, euroskeptic parties in many countries as one of the key risks to growth and markets in Europe. Several such parties want to weaken the euro ties or break up the currency bloc altogether, with uncertain consequences for the region's economies.
"The agreement is overdue," said Dieter Kempf, president of the Federation of Germany Industries lobby. "Germany urgently needs a government capable of taking action."
The most important points in the agreement between Merkel's conservatives and the Social Democrats include a promise not to increase taxes, some flexibility on reaching a commitment to cut greenhouse gas emissions by 40 percent by 2020, and a willingness to work with France on steps to fix chronic flaws in the shared euro currency.
Friday's deal was only an agreement to open full-fledged coalition talks that should produce a more detailed policy map for the next government. A deal must also be approved by the Social Democratic rank and file, who have been skeptical about joining with the conservatives again after suffering substantial losses in the election.
The plan has some increases in social spending, such as a 25 euro per month rise in child benefit, along with a decrease in the so-called solidarity tax imposed to help the former East Germany catch up with the west.
Kempf welcomed the flexible approach to cutting greenhouse emissions, saying that "there are grounds for hope that technical and economic realities will be more clearly recognized."
He also welcomes the promise not to raise taxes, yet said that the 28-page document was short on specifics: "What is lacking is a vision of in what direction a future government will shape our country." He said the proposals represented a "minimum" of possible steps and urged more definite proposals on areas such as the digital economy.
The deal includes a strong statement in favor of strengthening the European Union, including steps to make the eurozone currency union function better. That could include transforming the current European Stability Mechanism bailout fund into a full-fledged European Monetary Fund to help backstop crisis-hit countries. There was also mention of targeted investment that could "serve as the point of departure for a eurozone investment fund." The euro currency's lack of a central fiscal pot to even out recessions has been identified as one of its weaknesses. The currency union was threatened with breakup in 2011-2012 during a crisis over too much debt in several member countries. Germany has resisted fiscal sharing out of concern that it would wind up funding other countries on a long-term basis.
There was no mention of other fixes such as EU-wide deposit insurance or efforts to promote cross-border investment holdings, dubbed capital markets union.
Still, continuity has a certain appeal in a country where the economy grew 2.2 percent last year and unemployment is low at 3.6 percent. Far-reaching reforms that from 2004 under former Social Democratic Chancellor Gerhard Schroeder that lowered business costs are often credited for boosting the country's economic performance.
Clemens Fuest, head of the Ifo research institute in Munich, sharply criticized the agreement for containing too much in additional social outlays and little in the way of tax reductions. "This government program will bring a long term expansion of the state share of economic output, that is, higher taxes and more spending."
Carsten Brzeski, chief economist for Germany at ING, said that "as regards economic policies, the agreement is a continuation of the well-known policies of the last few years: cautious steps forward, rather than any visionary experiments."
___
This story has been corrected to show that the name of the lobby group is Federation of German Industries, not Federation of Germany Industry.