Investing Newsletters: Motley Fool Hidden Gems vs. Rule Your Retirement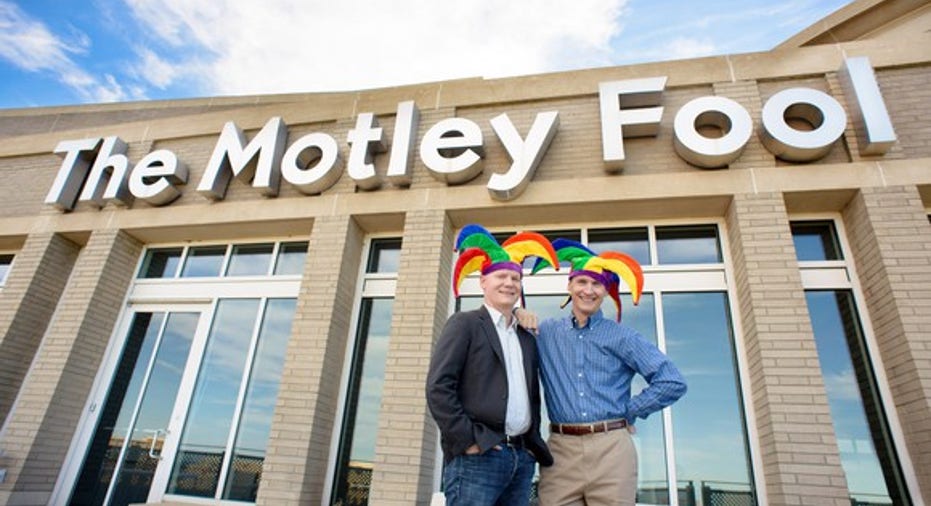 The primary goals of anyone who buys stocks should be the same: to predictably generate wealth and beat the market in the process. But the latter is easier said than done, considering the S&P 500's historical annual returns of roughly 10%.Yet by focusing on relatively small, unknown companies, theMotley Fool Hidden Gemsnewsletter hasconsistently done just that. Since its inception in 2004, Hidden Gems' stocks have climbed 59%, on average, helping subscribers beat the market by more than 6%in the process. (Returns are as of April 20, 2017.)
But as much fun as that can be, life isn't all about just picking great stocks. That's why theMotley Fool Rule Your Retirementnewsletterhas served as a guiding light for investors as they work to accumulate a nest egg and manage their finances through a crucial time in their lives.
Let's take a closer look, then, at what sets these two investing newsletters apart, and how can you benefit from them.
Motley Fool co-founders David and Tom Gardner stand by all their flagship newsletters. IMAGE SOURCE: THE MOTLEY FOOL
HowHidden Gemsfinds diamonds in the rough
Hidden Gemsis led by co-advisors and longtime Fools Seth Jayson and Andy Cross. Andy and Seth are supported by their own talented team, including senior analyst Michael Olsen, analyst Stan Huber, analyst Andrew Fredrickson, and analyst Abi Malin.
Together, theyspecialize in finding and recommending undervalued small-cap companies -- or those roughly defined as businesses with a market capitalization of less than $2 billion -- which they believe enjoy the potential to generate significant capital gains with a reasonable amount of risk for investors.
Perhaps just as important, Hidden Gemsalso looks at prospective recommendations with a long-term view, aiming to hold stocks for at least three years. Ideally, however, the team wants to identify publicly traded companies it can buy and holdforever.
Regarding that "reasonable amount of risk,"Hidden Gemssubscribers should also be aware that shares of these smaller companies tend to be more volatile than their larger peers. But keeping in mind that volatility isn't always merited -- say, for example, when the market overreacts to a single disappointing quarterly report -- theHidden Gemsteam is keenly aware that these movements can create opportunities for patient, long-term investors to buy these stocks at attractive prices.
At the same time,Hidden Gemsalso believes its members should practice regular investing to help diversify and smooth out these inevitable bumps in the road. That means putting money to work at least once per month to buy one or two stocks that appeal to you, and over the long term building a strong portfolio of at least 20 stocks Hidden Gemsrecommends. To that end, Hidden Gems maintains a list of "Core" portfolio stocks, offers monthly "Best Buys Now," and presents two new recommendations each month, with regular updates on each recommended stock in real time.
MOTLEY FOOL RULE YOUR RETIREMENT ADVISOR ROBERT BROKAMP. IMAGE SOURCE: THE MOTLEY FOOL
How Rule Your Retirement helps you navigate your golden years
By comparison,Rule Your Retirementisn't explicitly a stock-picking service. Though as I noted earlier, life -- and more specifically your journey toward retirement, in this case -- is about much more than just finding, buying, and holding great investments. So through the leadership of advisor and Certified Financial Planner Robert Brokamp,Rule Your Retirement's focus is to both educate and provide actionable guidance on topics such as building a balanced portfolio, calculating savings rates, planning for insurance, handling your taxes, and managing your estate.
Robert, for his part, has worked as a full-time Fool since 1999 and has contributed to publications includingBetter InvestingandNewsweek. He also wroteThe Motley Fool's Guide to Paying for School, co-authoredThe Motley Fool Personal Finance Workbook, and contributed to bothThe Motley Fool's Money After 40andThe Motley Fool's Guide to Couples and Cash.
But the massive trove of information included withRule Your Retirementcould easily be overwhelming for new members who join today. SoRule Your Retirementsubscribers receive weekly and monthly email digests to present the latest content. And to help you navigate all that useful content later, theRule Your Retirementsite is neatly organized by topic including:
Portfolio
Funds
Saving
Everyday Finances
Accounts
Estate Planning
How to Retire
Property and Mortgages
Insurance
Paying for College
Health and Wellness
In addition,Rule Your Retirementgives you access to a thriving community where you can interact with other members in any of 16 discussion boards devoted to every aspect of retirement planning. Put simply, if you need guidance or have questions on anything regarding your current or impending retirement, Rule Your Retirement is an ideal service for you.
It's your lucky day!
Whether you're looking for the world'sbest financial-planning and investment guidance fromMotley Fool Rule Your Retirementor want to join our search for the most promising small-cap stocks through Hidden Gems, both services offer compelling ways for anyone to vastly improve their financial well-being.
Best of all, you can sign up for either newsletter -- or both -- at a special introductory rate right now. Rather than paying the usual price,click hereto pay as little as $53 per year forMotley Fool Hidden Gems.Or you canclick hereto pay as little as $75 per year forMotley Fool Rule Your Retirement. Either way, it could mark the beginning of your journey toward life-changing wealth and financial security.
The Motley Fool has a disclosure policy.