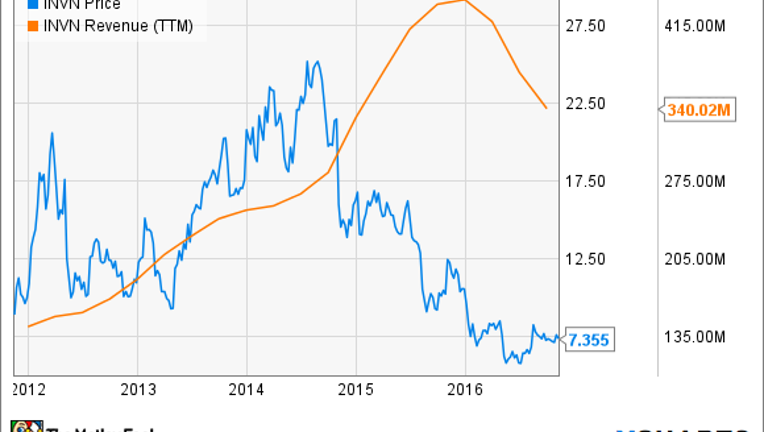 Image source: InvenSense.
InvenSense (NYSE: INVN) announced a new sensor prototyping and development platform last month. The upgraded platform helps InvenSense further diversify business and is an important asset to help boost recurring revenue from software-as-a-service. Here are the takeaways for investors.
What the new platform does
InvenSense's upgraded SensorStudio 2.2 software and GenericSensorHub Platform and development kit is designed to help make the lives of software developers easier. The platform will help with the creation of sensor and algorithm development projects for the Internet of Things. The goal here is to help bring new tech in the IoT space to market faster.
The company's niche lies in the motion, audio, and location sensing technology in consumer electronics and industrial IoT products. The company builds things like accelerometers, gyroscopes, compasses, and microphones for mobile devices, wearables, smart home products, and connected autos.
Some estimates see the number of connected devices tripling by the year 2020 from about 6 billion in operation now to over 20 billion. With the number of connected devices growing rapidly,InvenSense saw the need to help IoT developers bring their sensor test ideas to market faster. The launch of the upgraded software and new development kit is aiming to capture that increasingly important market at the ground floor: with the people who are helping build it.
Image source: InvenSense.
Why the new platform matters
InvenSense's business has relied heavily on the smartphone and tablet industry. During the last reported, the company reported that 72% of revenue came from this source. In addition, 58% of all business came from one customer, with the second largest customer only accounting for 11% of revenue.
Because of the company's reliance on phone and tablet sales, the past two years have proved to be a test of fortitude for InvenSense shareholders. All was well as the worldwide demand for mobile devices was on the rise, especiallywith smartphone salesgrowth in the double digits through 2014. That trend of growing demand has sputtered since 2015, though, and InvenSense has felt the pinch.
To address the company's predicament, research and development has begun to diversify outside the mobile business. CEO Behrooz Abdi had this to say during the last earnings conference call: "While a great deal of our R&D investments are focused on supporting and expanding our existing mobile business, we have also invested in several transformational initiatives that we believe will set up a strong [fiscal year] 2018 and beyond."
The new software update, along with the development kit, is just one result of those efforts mentioned. The IoT could be a big opportunity for InvenSense, but as of last quarter it was lumped in with the "other business segments" category, which only accounted for 22% of revenue.
In addition to unlocking new areas of business to help diversify revenue, the company's software like SensorStudio and the related new development kits also help create a source of recurring revenue. If InvenSense can create an ecosystem of developer software with a supporting user base, it would provide revenue that can offset the volatile nature of hardware sales that have caused investors grief in the past two years.
InvenSense is getting some outside help as the mobile sales division has started to rebound in recent quarters. In the meantime, the company is chipping away at the problem, as it has released several new products in the past year outside its current bread-and-butter. But, as Abdi mentioned on the earnings call, diversifying the business is still a work in progress that could take more than a few quarters to accomplish.
10 stocks we like better than InvenSense When investing geniuses David and Tom Gardner have a stock tip, it can pay to listen. After all, the newsletter they have run for over a decade, Motley Fool Stock Advisor, has tripled the market.*
David and Tom just revealed what they believe are the ten best stocks for investors to buy right now... and InvenSense wasn't one of them! That's right -- they think these 10 stocks are even better buys.
Click here to learn about these picks!
*Stock Advisor returns as of November 7, 2016
Nicholas Rossolillo has no position in any stocks mentioned. The Motley Fool owns shares of InvenSense. Try any of our Foolish newsletter services free for 30 days. We Fools may not all hold the same opinions, but we all believe that considering a diverse range of insights makes us better investors. The Motley Fool has a disclosure policy.