InvenSense Just Teamed Up With One of Apple's Biggest Smartphone Competitors in China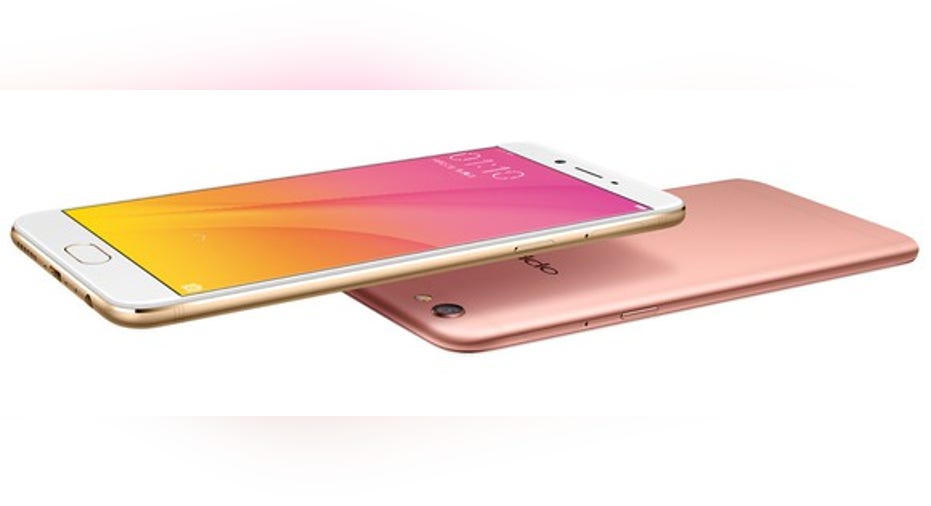 Image source: Oppo.
InvenSense (NYSE: INVN) has had a rough year, but the company is trying to end 2016 on a high note with its new partnership with China-based smartphone maker Oppo. InvenSense said earlier this week that it's supplying theelectronic image stabilization (EIS) sensors for Oppo's R9S and R9S Plus smartphones.
Oppo is the fourth-largest smartphone maker in the world, and in the third quarter of this year it leapfrogged Apple (NASDAQ: AAPL) and its other competitors to take the No. 1 vendor spot in China.
Oppo's growth has come from sales of its popular R9 and R9 Plus devices, and InvenSense is hoping to cash in on the next generation of the devices.
What InvenSense's technology does
InvenSense's EIS sensors reduce the annoying shaky video footage caused by minor movements in a user's hands. The company says the combination of both EIS hardware and software allows smartphones to capture HD video at a lower frame rate, which can reduce the file size by up to 50% on average.
InvenSens's EIS tech has been around for a while, but it was previously geared toward the high-end market. But the Oppo partnership will now bring the technology in more mid-priced smartphones. For example, Oppo's new R9S sells for about $408.
The new partnership comes at a time when Oppo is growing quickly in China, India, and Indonesia. But more importantly, it comes as InvenSense desperately needs to scale back its revenue reliance on Apple.
How this might help InvenSense
It's no secret that InvenSense has relied on Apple for much of its revenue. Apple accounted for 58% of total revenue for the company inthe fiscal second quarter 2017,and over the past six months the iPhone maker has made up 53%of InvenSense's total revenue. That massive exposure to just one company has allowed Apple to put pricing pressure on InvenSense's motion sensors, and drive down its average selling prices (ASPs).
The new Oppo partnership could bring some much-needed diversification into InvenSense's revenue streams (though it'll take some time to determine how much it's helped). Oppo's meteoric rise in the smartphone market could help drive sales of InvenSense EIS and help stabilize the company's revenue, which fell by 29% year over year in the fiscal second quarter.
Oppo has built out a strong sales strategy in China that is already paying off. The company's phone sales accounted for 1 in every 3 smartphones sold in China in the third quarter.
Oppo has been busy targeting smaller cities and outlying regions that Apple and some other competitors haven't focused on as much, and has highly incentivized sales representatives to sell its devices in retail stores. Additionally, the company has 320,000 retail outlets across China and other regions across Asia.
This strategy is working phenomenally for the company as it now has a 17% market share in China, and continued growth could mean InvenSense experiences an uptick in EIS sales.
There's no guarantee for InvenSense in all of this, of course. And if the company doesn't do a good job negotiating EIS prices with Oppo, then it could fall into the same problems it's faced with Apple.
But for now, grabbing another customer -- and one that's growing so quickly in a major mobile market -- is welcome news for InvenSense after a pretty terrible year. But investors should temper their optimism with a little skepticism, and remember that InvenSense still needs to show that this partnership actually boosts revenue and doesn't hurt ASPs.
10 stocks we like better than InvenSense When investing geniuses David and Tom Gardner have a stock tip, it can pay to listen. After all, the newsletter they have run for over a decade, Motley Fool Stock Advisor, has tripled the market.*
David and Tom just revealed what they believe are the 10 best stocks for investors to buy right now... and InvenSense wasn't one of them! That's right -- they think these 10 stocks are even better buys.
Click here to learn about these picks!
*Stock Advisor returns as of Nov. 7, 2016
Chris Neiger has no position in any stocks mentioned. The Motley Fool owns shares of and recommends Apple. The Motley Fool owns shares of InvenSense and has the following options: long January 2018 $90 calls on Apple and short January 2018 $95 calls on Apple. Try any of our Foolish newsletter services free for 30 days. We Fools may not all hold the same opinions, but we all believe that considering a diverse range of insights makes us better investors. The Motley Fool has a disclosure policy.