Intuitive Surgical, Inc. Wows With Yet Another Impressive Quarter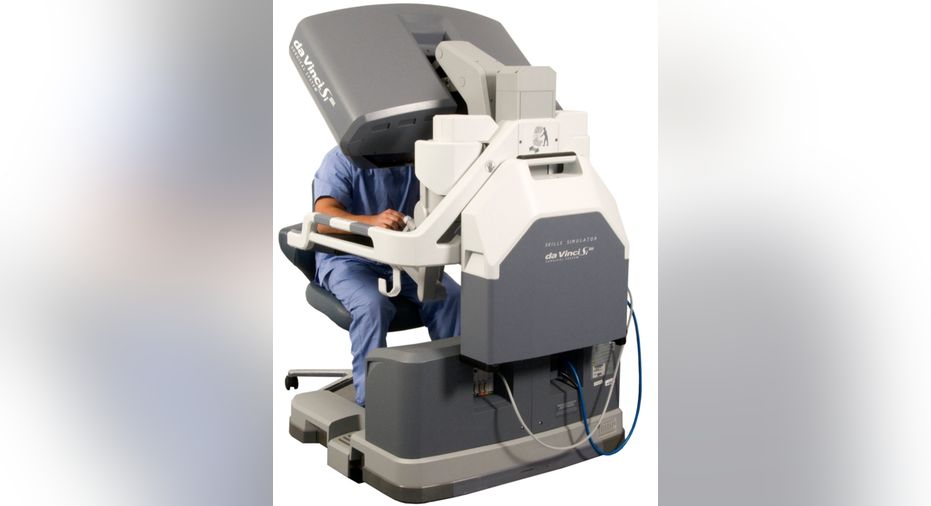 The daVinci is being used in more and more "General Surgery" procedures in the United States. Photo: Intuitive Surgical
Heading into Tuesday night's earnings release, expectations were high for Intuitive Surgical . But for the fifth quarter in a row, the company exceeded these expectations and delivered a solid quarter that shows impressive trends for the medium-term future.
Just the numbersBefore digging in to the really important metrics, let's take a look at how the company performed during the first fiscal quarter of 2016, compared with the same time last year.
| Metric | Q1 2015 | Q1 2016 | Growth |
| --- | --- | --- | --- |
| EPS* | $3.57 | $4.42 | 23.8% |
| Revenue | $532 M | $595 M | 11.8% |
*Uses non-GAAP EPS. Source: SEC filings and Intuitive Surgical investor relations.
Though we don't like to worry too much about meeting analyst expectations on a quarterly basis, it's worth noting that both of these metrics came in ahead of what Wall Street was expecting.
The big win for Intuitive, its investors, and -- most importantly -- patients While beating expectations is nice, it's the trends in procedure growth that are truly impressive. Management has done a fair job of controlling investor expectations when it comes to this key metric. In 2015 alone, the company raised guidance for procedure growth twice.
The reason the metric is so important is that it indicates that Intuitive's daVinci robotic surgical system does improve patient outcomes and is being used in evermore procedures to achieve the aforementioned outcomes. Heading into 2016, management called for procedure growth of 9% to 12% for the year.
For the first quarter, at least, the company blew those expectations out of the water, with procedure growth clocking in at a truly impressive 17%. That growth, according to the company, was, "driven primarily by growth in U.S. general surgery procedures and worldwide urologic procedures." CEO Dr. Gary Guthart said growth in U.S. general surgery was spurred by "strong growth in inguinal hernia repair and ventral hernia repair, followed by continued growth in colorectal surgery."
This is very good news for investors, as management has been signaling for over a year now that hernia procedures were likely the next big surgery where daVinci could improve patient outcomes.
International performanceIn my preview for the company's earnings announcement, I highlighted the importance of growth in both Europe and Asia moving forward. Speaking on the company's conferece call, Guthart said that "solid performance in the United Kingdom and Germany [offset] slower growth in the Nordic countries."
In Asia, CFO Marshall Mohr said that five systems were placed in China, while eight were placed in Japan. Both of these are healthy numbers, given how small the installed base of machines are in both countries, compared with the United States.
On whole, Director of Finance Patrick Clingan said operations outside the U.S. grew by 22% -- an encouraging start to the year. He said this growth was "led by the global adoption of daVinci prostatetectomy, kidney procedures, and colorectal resection." Further, "procedure growth slowed in both Europe and Asia ... in part due to the timing of the Easter holiday."
System salesOne small ding against the company came from the company's average selling price (ASP) of new daVinci systems. On one hand, the company continued to show positive trends by placing 110 new daVinci systems during the first quarter -- versus 99 during the same time last year -- for growth of 11%.
But revenue for system sales grew just 5%. Part of the reason for the slow growth is that the newer Xi system is cheaper than the older Si model. For the quarter, worldwide ASP was $1.5 million. That's only a hair higher than last year, but $100,000 lower than the fourth quarter of 2015. Mohr said that while there were fewer trade-ins for the new Xi system, a weaker product mix hurt. In other words, the Xi system is cheaper, and slightly lower ASPs shouldn't shock investors.
Looking aheadThe company updated a number of metrics when it comes to 2016 expectations. Here were the two key changes moving forward.
| Metric | Old Guidance | New Guidance |
| --- | --- | --- |
| Procedure growth | 9% to 12% | 12% to 14% |
| Operating expenses | 9% to 13% | 12% to 15% |
Source: Company conference call.
There's nothing more encouraging than such a healthy bump in procedure growth expectations. But I wouldn't be at all surprised to see Intutive's procedure growth come in above 14%, as the year is off to a very strong start, and management has a history of sandbagging these expectations.
On the other hand, while short-term investors may be dismayed by the increase in spending, I think it's a very healthy sign. The company sees opportunity in two areas: expanding its presence outside the U.S., and increasing its R&D spending to make even more valuable products. Intuitive's management wouldn't increase spending this much if it didn't believe it would lead to solid long-term results.
In all, shareholders should be very happy with these results.
The article Intuitive Surgical, Inc. Wows With Yet Another Impressive Quarter originally appeared on Fool.com.
Brian Stoffel owns shares of Intuitive Surgical. The Motley Fool owns shares of and recommends Intuitive Surgical. Try any of our Foolish newsletter services free for 30 days. We Fools may not all hold the same opinions, but we all believe that considering a diverse range of insights makes us better investors. The Motley Fool has a disclosure policy.
Copyright 1995 - 2016 The Motley Fool, LLC. All rights reserved. The Motley Fool has a disclosure policy.