Intuit Stock Upgraded: 3 Things You Need to Know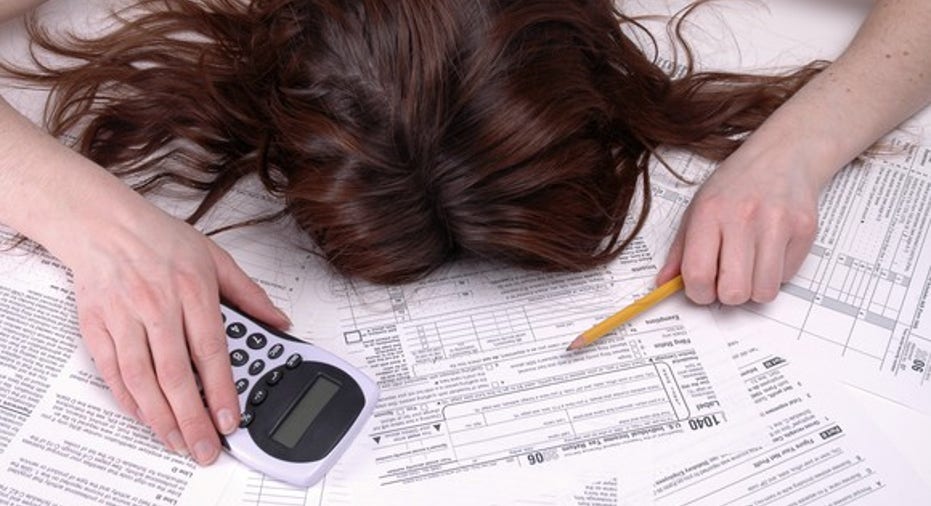 After suffering a big drop in 2015, Intuit spent most of 2016 clawing its way back to breakeven. Up 12% since the year began, the stock is finally back to about where it was a year ago.
But one analyst thinks it has a lot further still to go.
This morning, investment banker Goldman Sachs announced it has upgraded Intuit stock from its previous buy rating to an even more enthusiastic conviction buy. Along with the upgrade, Goldman added $6 to its price target and, at a targeted $123 per Intuit share, is now promising new investors as much as a 14% profit on the stock. Throw in a modest 1.1% dividend yield, and that makes 15% in potential profits for new buyers.
But does a 15% potential profit justify Goldman's conviction buy rating? Are those profits even really there for the taking? Here are three things you need to know.
No one enjoys doing their taxes -- and for Intuit's tax software business, that's great news. Image source: Getty Images.
Thing No. 1: Customers are sticking around
Tax filers have a number of options when preparing their income tax returns, from paid products including Intuit's TurboTax and H&R Block's At Home to 14 different flavors of free "branded" tax software products offered through the IRS. With so many options to choose from, Goldman Sachs finds the "improving retention rate trends"at Intuit encouraging.
Not losing existing customers is a good start. As explained on StreetInsider.com today, Goldman also says it sees Intuit making "share gains" in consumer tax products, expanding its market share and its revenue. Despite all the competition, Intuit grew revenue from its tax business 7%, and unit sales of its TurboTax software 12% last quarter.
Thing No. 2: Small business is the (other) engine of (Intuit's) economy
This is key, because consumer tax products, although currently only Intuit's second-biggest division by revenue, contribute the bulk of the company's profits according to data from S&P Global Market Intelligence. That means that for a given dollar of revenue, it's much more valuable for Intuit to be adding market share in consumer tax, than in the larger small business software division.
At the same time, though, Goldman says it also has "increased confidence in INTU's Quickbooks Online subscriber growth outlook for FY17" in Intuit's larger, but less profitable, small business division. Pacing growth in TurboTax unit sales, Intuit said last quarter that it grew its small business segment revenue 12%.
Thing No. 3: Valuation
Speaking of growth, though, most analysts who follow Intuit today expect the company to produce roughly 15% annualized earnings growth over the next five years. That's 4 percentage points faster than rival H&R Block's projected growth rate, but is it fast enough to justify the stock's price?
Honestly, I don't think so -- and this is where I differ with Goldman Sachs.
Currently, Intuit stock sells for more than 28 times earnings (and about 28 times free cash flow as well), versus just 15 times earnings for H&R Block. H&R Block also pays a much more generous dividend yield -- nearly 3.9% -- and generates significantly more free cash flowthan it reports as net income, resulting in a price-to-free cash flow ratio of just 11.9. As far as valuation goes, therefore, I have to say that I find H&R Block stock much more appealing than Intuit at today's prices.
And one more thing...
Final thought: Investors looking for investment advice are often encouraged to "diversify" their investments -- across sectors, across company sizes, and perhaps most importantly, across geographies. So perhaps Goldman's most curious argument in Intuit's favor is the following: Intuit is not geographically diverse.
According to the analyst, Intuit's less than "5% international exposure ... should help the stock outperform theS&Pin 2HCY16, irrespective of the macro environment." In Goldman's view, simply being diversified internationally isn't necessarily a good thing -- at least not when a strong U.S. dollar makes it harder to sell products abroad, and reduces the value of foreign currency earnings. Intuit's relative concentration on U.S. customers and U.S. dollar revenue, argues Goldman, is a good thing in the current international economic environment.
It's a curious theory, but I'd also point out that it's a theory that works just as well in recommending H&R Block as it does Intuit. H&R Block gets less than 7% of its revenue from abroad, and so is nearly as U.S.-centric as Intuit.
If the only things Americans can be sure of in life are death and taxes, investing in the folks who benefit from the latter seems like a good idea.
The article Intuit Stock Upgraded: 3 Things You Need to Know originally appeared on Fool.com.
Fool contributorRich Smithdoes not own shares of, nor is he short, any company named above. You can find him onMotley Fool CAPS, publicly pontificating under the handleTMFDitty, where he currently ranks No. 288 out of more than 75,000 rated members.The Motley Fool owns shares of and recommends Intuit. Try any of our Foolish newsletter services free for 30 days. We Fools may not all hold the same opinions, but we all believe that considering a diverse range of insights makes us better investors. The Motley Fool has a disclosure policy.
Copyright 1995 - 2016 The Motley Fool, LLC. All rights reserved. The Motley Fool has a disclosure policy.