Intrexon Delivers Revenue Growth (Again) While Avoiding Elephant in the Room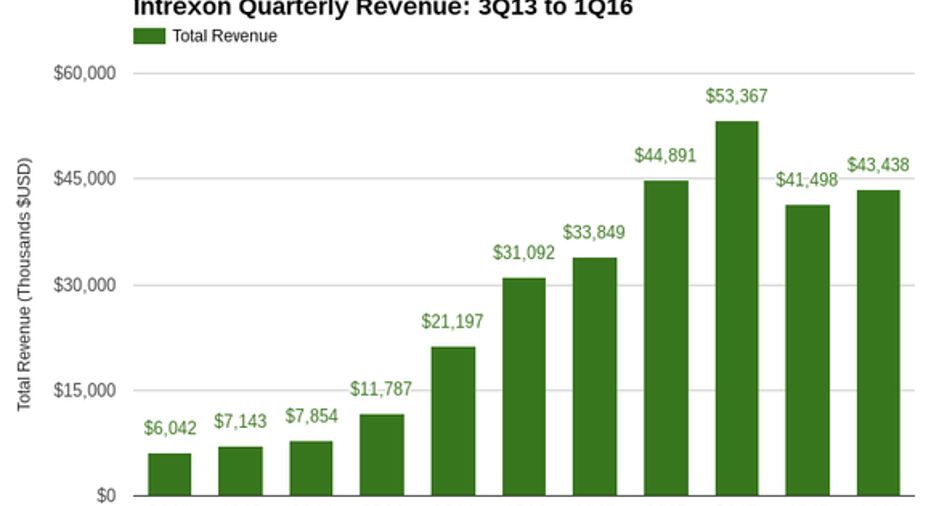 Image source: Intrexon.
Engineered biology conglomerate Intrexon (NYSE: XON) has built an impressive portfolio of technology platforms through acquisitions in recent years. In doing so, however, the company has raised questions about its home-grown technical capabilities, and the misleading storyline fed to investors to finance its existence. While acquired technology platforms can be scaled and grown under the company's control, only one acquisition generates reportable revenue at the moment.
Of course, there is no shortage of future growth potential to keep investors sticking around. As recently announced Q1 2016 earnings demonstrate, although revenue climbed higher again, investors will need to remain patient for quite a bit longer before seeing any sizable payoff. Here's what you need to know about the latest results.
By the numbers
You can check the press release for the full financial details, but several important highlights are presented below:
Source: Intrexon press release.
I've adjusted operating expenses by subtracting a one-time $59.6 million expense from 1Q15 to more accurately show the growth in expenses. The expense resulted from an equity payment to MD Anderson in exchange for licensing the Sleeping Beauty CAR-T platform. Together with partner Ziopharm, Intrexon hopes to leverage the technology to develop next-generation immunotherapies for several types of cancer.
Total revenue for the quarter settled at $43.4 million, which marked a 28% increase from the year-ago period. The growth was mostly driven by collaboration and licensing, with product revenue and services revenue -- essentially all derived from the Trans Ova cattle breeding and genetics platform -- remaining flat. Unfortunately, that means investors who were hoping that Intrexon's hockey stick quarterly revenue chart could get back on track after a dip to close out 2015 will be a little disappointed.
Source: SEC filings, chart created by author.
Business updates
Intrexon listed 11 business highlights at the top of its 1Q16 press release, which shows just how busy the company has been developing and commercializing various technologies across health, agriculture, energy, and more. Here's a distilled list:
Mosquito vector control: The management team actually hosted the conference call from Washington, D.C., where it was in talks with regulators over the use of its vector control platform, Oxitec, for combating the spread of Zika virus. The company has been granted a temporary registration to deploy its sterile mosquitoes in Brazil -- just in time for the 2016 Summer Olympics -- and received a positive recommendation from the World Health Organization for continued pilot use of its technology.
Healthcare: Several collaborations made headway in early-stage clinical trials, with nothing beyond Phase 2. While this represents a significant focus for Intrexon, these highlights should serve as a reminder of the long and uncertain road ahead.
Methanotrophic platform: Intrexon recently started a pilot plant for its methane-to-isobutanol fuel and chemical feedstock platform, which is partnered with Dominion Resources. This is an important step in the development process. However, investors should remember that scale-up of this platform faces significant technical challenges that have yet to be solved.
Animal and aquaculture feed: Intrexon acquired Enviroflight, which grows black soldier fly larvae for use in animal and fish feed, and then partnered with Darling Ingredients to market and distribute future products. Aside from building a commercial manufacturing facility and acquiring customers, this platform seems ready for commercialization and could begin generating revenue in the next 24 months.
CEO addresses recent accusations (kind of)
At the end of the call, CEO R.J. Kirk addressed recent allegations that parts of the business may be a fraud. Well, sort of. He acknowledged that business is difficult, and that research and development takes longer than expected sometimes. He also reminded investors that acquiring leading technology platforms will help to grow Intrexon in the long term, and that he expects the company to become a leader in the field of engineered biology. Analysts asked no questions about the recent allegations.
While I don't think Intrexon is a complete house of cards, I do think a significant part of the business as it stands today -- collaboration and licensing revenue -- poses a significant risk to investors.
Intrexon relies on mostly small microcap companies and Intrexon-created holding companies for essentially all collaboration and licensing revenue. These sources accounted for 49% of all revenue in 2015 and 56% of total revenue in the most-recent quarter. Specifically for the Intrexon-created holding companies, the added complexity makes it difficult to decipher exactly where the revenue is coming from: Intrexon-led financing (eventually making its way back to Intrexon), or blue-chip collaboration partners?
I see nothing wrong with acquiring and growing technology platforms -- sometimes by combining acquisitions to compound technical capabilities -- but not every acquisition will prove successful. Given the long lead times required to generate product revenue for many platforms, and the unaddressed questions about current affairs, I'll remain on the sideline when it comes to this stock.
The article Intrexon Delivers Revenue Growth (Again) While Avoiding Elephant in the Room originally appeared on Fool.com.
Maxx Chatsko has no position in any stocks mentioned.The Motley Fool recommends Darling Ingredients and Dominion Resources. Try any of our Foolish newsletter services free for 30 days. We Fools may not all hold the same opinions, but we all believe that considering a diverse range of insights makes us better investors. The Motley Fool has a disclosure policy.
Copyright 1995 - 2016 The Motley Fool, LLC. All rights reserved. The Motley Fool has a disclosure policy.