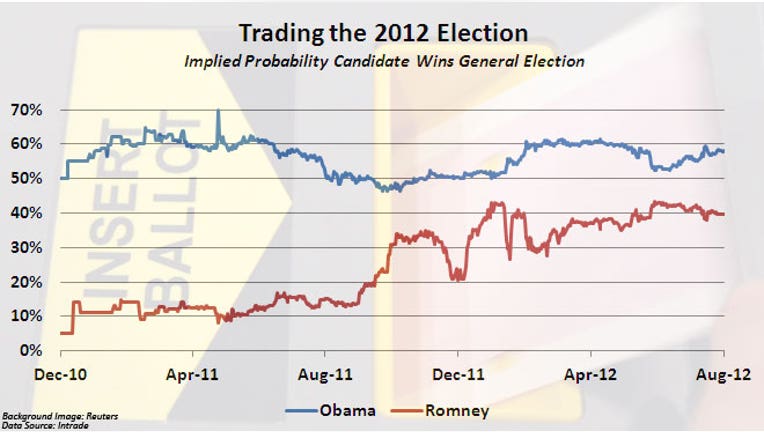 Market sentiment on Wall Street continues to be dominated by political uncertainty on everything from who will sit in the White House in January to how many countries will use the euro by the end of the year.
In this world of vexing political questions and growing policy risk, some investors searching for badly-needed guidance are turning to Intrade, the online exchange that takes bets on political outcomes.
"It acts almost like Las Vegas. You get a feeling for the wisdom of crowds," said Sam Stovall, chief investment strategist at McGraw-Hill's (NYSE:MHP) S&P Capital IQ. "There's been uncertainty and policy risk in the past. But you just didn't have the Internet available to you."
Dan Greenhaus, chief global strategist at BTIG, said he looks at Intrade at least once a week to get updated on consensus thinking in the political world.
In June Greenhaus sent out a note to clients showing the correlation of the S&P 500 to President Obama's re-election odds as measured by Intrade.
While Greenhaus notes that Intrade is too young for investors to know how accurate it is in predicting presidential elections, "it is our best real-time indicator other than polls themselves. It's helpful to pay attention."
Mixed Track Record
Based in Dublin, Intrade has been around for more than a dozen years, taking bets on everything from who Mitt Romney will tap as his vice-presidential nominee (the current favorite is Rob Portman) and whether Germany will lose its AAA credit rating to how much the new Bourne Legacy flick will gross at the box office this weekend.
Carl Wolfenden, operations manager at Intrade, said the company has had inquires from investment banks looking for pieces of information to include in their analysis.
"It's definitely something investors are already taking note of," said Wolfenden, who said a "rush" of analysts in the health-care sector came calling before the Supreme Court's landmark decision earlier this summer.
However, the exchange's markets failed to predict the dramatic outcome of the health-care law, forecasting a 75% chance the justices would overturn the law's individual mandate. Still, this was an admittedly tough result to predict for even the most savvy Supreme Court watchers, especially given the court's secrecy-shrouded ways.
On the other hand, Intrade's markets nailed the only two presidential elections they've been around for, including the super-tight 2004 contest where all 50 states were correctly predicted.
"They're not always right but they do give a fairly strong guide for what's going on in the political world," said Wolfenden.
Policy Concerns Remain
A guide is exactly what many investors are looking for in today's markets, which have focused heavily on policy tied to everything from financial reform to taxes and the willingness to bail out debt-ridden eurozone nations like Greece.
"Policy has dominated market concerns. There's no doubt about that," said Greenhaus.
Much of the focus of late has been on whether Romney can unseat Obama in the November elections, presumably ushering in a more business-friendly set of initiatives like lower taxes.
Intrade is currently forecasting Obama has a 59.5% chance of being reelected, up from just over 50% in the middle of January. Obama's odds on Intrade peaked at almost 70% back in May 2011 just after the killing of Al Qaeda leader Usama bin Laden.
According to Intrade, 3.8 million shares have traded in this contract since the 2010 midterm elections, comprising almost 115,000 trades executed by roughly 3,000 traders.
'Information Overload'
Besides its mixed and limited track record, it's also worth noting that Intrade isn't as deep of a market as investors are used to conducting business with.
Wolfenden said it would be "quite easy" to get in and out of main markets like the election one with a bet of up to $5,000, but not if investors attempt to wager much more than that. He said the exchange is not built for institutions to invest large positions in, limiting its ability to serve as a hedging tool on a broad scale.
"Intrade is another source of getting information," said Stovall. "I wouldn't necessarily say that investing decisions are made on Intrade, but they may be further influenced."
Even as a guide, Stovall warns that investors in today's digital world may already have too much information at their fingertips.
"It leads to information overload and investment indecision," said Stovall. "You could always talk yourself out of the right answer, at least that's what I find myself doing. As a result of my indecision I like to say my favorite color is plaid."
It's still too early to say whether or not Intrade will morph into a more commonplace tool for investors, especially if policy risks eventually decrease in the coming years.
"Will people use it in our business for forecasts? I don't know but we said that about Twitter and now you have funds trading off of tweeting activity and what trends on Twitter," said Greenhaus. "Five years from now, who knows?"