Interested in 3D Printing Stocks and ETFs? Check Out the First 3D Printing ETF in the U.S.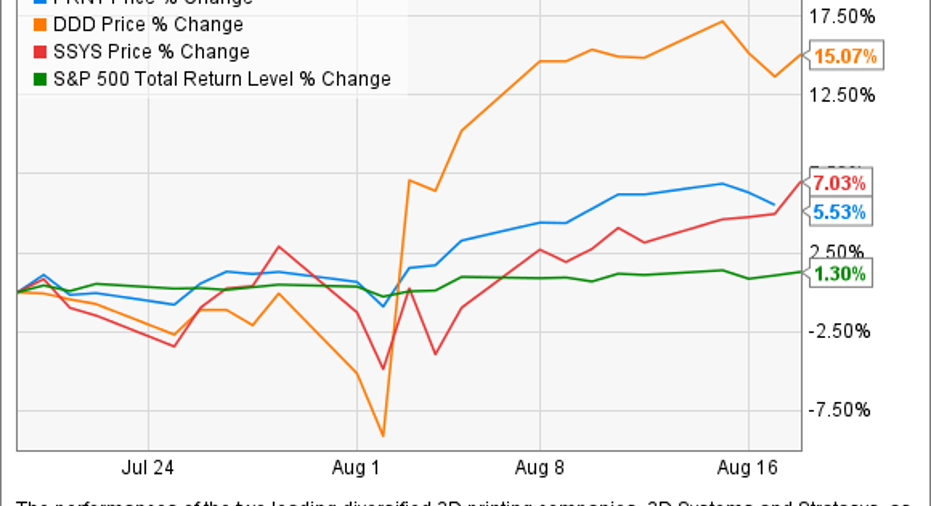 Image source: Getty Images.
Are you interested in investing in 3D printing stocks, but not sure which one to choose? You could consider investing in the 3D Printing ETF, the first exchange-traded fund in the U.S. to focus solely on the 3D printing ecosystem. This ETF, which trades under the ticker PRNT, launched on July 19.
We're going to pop open the hood of this relatively new investment vehicle to see if it's worthy of your investment dollars.
The 3D Printing ETF's goal, holdings, and expense ratio
The 3D Printing ETF, issued by Ark Investment Management, is an index-based fund, not an actively managed one. Its goal is to provide investment results that closely correspond, before fees and expenses, to the performance of the Total 3D-Printing Index, which is designed to track the price movements of stocks of companies involved in the 3D printing industry.
The 3D Printing ETF launched with 40 holdings and will be rebalanced quarterly. The weighted-average market cap of the portfolio is $18 billion, while the median market cap is $2 billion. The weighting system is multi-factor; two factors are likely application and geographic location. The fund's expense ratio is 0.66%, which is on the low side, as one might expect, because this is an index-based fund.
Here are the fund's top-10 holdings:
| | | | | | |
| --- | --- | --- | --- | --- | --- |
| Holding No. | Company | Market Cap | Country | Ticker | Weight (% of Portfolio) |
| 1 | Organovo Holdings | $356M | U.S. | ONVO | 5.44 |
| 2 | Groupe George | $328M | France | GOE** | 5.41 |
| 3 | HP Inc. | $24.7B | U.S. | HPQ | 5.14 |
| 4 | K2M Group Holdings | $700M | U.S. | KTWO | 5.04 |
| 5 | SLM Solutions Group AG | $485M | Germany | AM3D* | 4.99 |
| 6 | The ExOne Company | $225M | U.S. | XONE | 4.95 |
| 7 | Voxeljet AG | $79.5M | Germany | VJET | 4.89 |
| 8 | 3D Systems Corp. | $1.8B | U.S. | DDD | 4.52 |
| 9 | Stratasys Ltd. | $1.1B | Israel/U.S. | SSYS | 4.34 |
| 10 | Arcam AB | $415M | Sweden | ARCM*** | 4.10 |
Data source: Ark Investment Management.*SLM Solutions, which is listed on the Frankfurt stock exchange, does not trade on any U.S. stock exchanges. **Groupe George is listed on the Paris Stock Exchange under GEO, but also trades over the counter in the U.S. under GGRGF. Arcam is listed on the Stockholm exchange under ARCM, but also trades over the counter in the U.S., under AMAVF.
Let's start with the names most familiar to 3D printing investors.
The leading diversified 3D printing companies, 3D Systems (NYSE: DDD) and Stratasys (NASDAQ: SSYS), are the fund's Nos. 8 and 9 largest holdings, respectively. Both companies are pure plays, meaning they're solely involved in 3D printing. 3D Systems and Stratasys both make 3D printers for commercial and industrial markets, though Stratasys also has a desktop unit, MakerBot, which primarily targets professional and educational markets. Both companies also have sizable on-demand 3D printing service operations.
3D Systems and Stratasys -- along with other 3D printer manufacturers, such as voxeljet -- have been struggling to grow revenue since early 2015 when a slowdown in demand among enterprise customers began. Several factors are likely at play: a glut of 3D printers in the field due to the large number that were purchased in the previous few years, increased competition that has lengthened the sales cycle, and companies delaying purchases to see what new offering would (and will) soon come to market.
The latter reason is a good lead-in to HP Inc.(NYSE: HPQ). The 2D printing giant is one of two companies, along with start-up Carbon (formerly Carbon3D), whose planned entrance into the market had been greatly anticipated for some time. HP's3D printer launch occurred in May, following Carbon's in April. Both companies' printers reportedly sport compelling features, including speed advantages over machines powered by the leading 3D printing technologies. HP is a huge company, so its nascent 3D printing business will most likely account for a very small portion of its total revenue for some time.
ExOnemakes 3D printersfor heavy industrial applicationsthat can print in metal, sand, and glass. Arcam'sprimary business is making metal 3D printers for the orthopedic implant and aerospace industries.
OrganovoHoldings (NASDAQ: ONVO) and K2M Groupare involved in the medical realm. Organovo is a biotech stock that uses its proprietary 3D printing technology to "3D bioprint" human tissues and organs. The products are primarily used for pharmaceutical testing, but the company's long-term goal is to produce organs for human transplantation. K2M isa medical device company that uses its proprietary 3D printing tech to produce some of its spine products.
Groupe George is primarily involved in the industrial safety business; it entered the 3D printing market in 2013 via an acquisition. SLM Solutions focuses on making 3D printers that print in metals for customers in a wide range of industries.
The ETF's holdings 11 through 20 are Microsoft, PTC Inc., Trimble Navigation, Dassault Systemes, Mentor Graphics, Anasys, Exa Corp., Mensch Und Maschine Software, and Ultra Clean Holdings.
The 3D Printing ETF's performance
The 3D Printing ETF has risen 5.3% since it launched about a month ago. Investors shouldn't expect monthly increases of this magnitude, which equates to an annualized return of more than 63%.
Data by YCharts.
3D Systems and Stratasys are included in the above chart for context because they're the leading diversified 3D printing companies, and investors are familiar with them. Both companies have performed well recently, but nothing substantial has changed with respect to their business performances.
Here's a look at the performances of nine of the top-10 stocks in the portfolio. (SML Solutions doesn't trade on a U.S. stock exchange, so it couldn't be included.)
Data by YCharts.
Takeaway
ETFs can have a place in some investors' portfolios. If you believe the 3D printing space is attractive, but aren't sure which one or two or three stocks to bet on, you might consider exploring investing in The 3D Printing ETF. The expense ratio, while not as low as index funds offered by fund-titan Vanguard, is reasonable.
Investors should know that this fund isn't slanted toward larger-cap companies, pure plays, or what many might think of as more "typical" 3D printing plays. Organovo, the ETF's largest holding, is essentially a small-cap biotech company -- and it's unprofitable. HP, the fund's third-largest holding, is about as far from a pure-play 3D printing stock as one can get. Smaller caps voxeljet and ExOne are more heavily weighted than 3D Systems and Stratasys.
While it's not the index that I'd put together, it does a decent job representing the very broad 3D printing space.
A secret billion-dollar stock opportunity The world's biggest tech company forgot to show you something, but a few Wall Street analysts and the Fool didn't miss a beat: There's a small company that's powering their brand-new gadgets and the coming revolution in technology. And we think its stock price has nearly unlimited room to run for early in-the-know investors! To be one of them, just click here.
Beth McKenna has no position in any stocks mentioned. The Motley Fool recommends 3D Systems and Stratasys. Try any of our Foolish newsletter services free for 30 days. We Fools may not all hold the same opinions, but we all believe that considering a diverse range of insights makes us better investors. The Motley Fool has a disclosure policy.