Intel Wants You to Know That Its All-In on Artificial Intelligence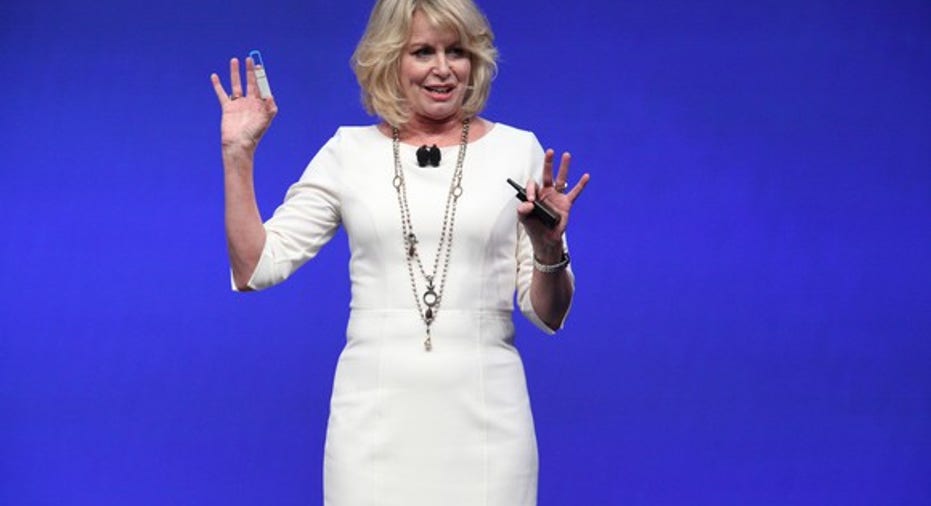 Intel's (NASDAQ: INTC) data-center chief, Diane Bryant, recently presented at an investor conference. During the conference, Bryant went into quite some detail on the company's strategy to participate in the small but fast-growing field of artificial intelligence, or AI for short.
Intel's data-center chief, Diane Bryant. Image source: Intel.
Let's take a closer look at what the Intel executive had to say.
Intel has been investing in AI for years
Analyst Blayne Curtis said that "people don't sort of think of Intel as a play on AI."
After giving a brief history of AI, Bryant explained that the whole point of artificial intelligence is to be able to gather "large amounts of data" and then applying "ever-more sophisticated algorithms" to ultimately give computers the ability to "both learn and predict."
"We have been investing in this broadest space of artificial intelligence for the past five years," Bryant said, citing Intel's investments in both software technologies -- for example, its 18% equity stake in Cloudera -- and in hardware, including its acquisition of Nervana, which was developing specialized hardware to accelerate deep learning calculations.
She then explained that just 7% of all servers are used for AI applications today but that it will be "the No. 1 workload, growing 12 times by 2020."
Bryant says Intel is already a major AI player
Curtis observed that graphics processing units, or GPUs, have gotten "a lot of the early wins and attention" in the deep-learning market. He then pointed out that with Nervana, Intel now has technology that's completely dedicated to artificial intelligence.
Curtis then asked Bryant, "What do you need to do to get those solutions to market, and what work is needed to port over the work that's been done on a GPU to run on these?"
She first rebutted Curtis' claim that GPUs have gotten the early wins, claiming that "94% of all servers running analytic workloads run on two-socket Xeon servers today."
Bryant then added that "3% run on a two-socket Xeon server with a GPU" and that the remaining 2% "run on some other architecture, like [IBM's (NYSE: IBM)] POWER or [Oracle's (NYSE: ORCL)] SPARC."
"So we dominate the small world of artificial intelligence," she asserted.
After clearing that up, she explained that the first Nervana-based hardware will be launched as a chip mounted onto an add-in card. However, she said that the next-generation Nervana engine will be integrated into its Xeon processor.
"It will be a bootable processor with the Nervana deep-learning engines, and we stated that we'll deliver 100 times performance improvement over today's GPU solution by 2020," Bryant claimed.
Intel looks well positioned
Intel should be able to capture a good portion of the AI computing market going forward. The company isn't betting on a single technology, but rather a very broad portfolio of technologies ranging from its general-purpose processors all the way to the highly specialized deep-learning chip technology that it acquired with Nervana.
Time will tell which technologies ultimately prove most popular for AI applications over the long term, but Intel's strategy should allow it to win no matter what technological direction the industry takes.
10 stocks we like better than Intel When investing geniuses David and Tom Gardner have a stock tip, it can pay to listen. After all, the newsletter they have run for over a decade, Motley Fool Stock Advisor, has tripled the market.*
David and Tom just revealed what they believe are the 10 best stocks for investors to buy right now... and Intel wasn't one of them! That's right -- they think these 10 stocks are even better buys.
Click here to learn about these picks!
*Stock Advisor returns as of Nov. 7, 2016
Ashraf Eassa owns shares of Intel. The Motley Fool owns shares of Oracle. The Motley Fool recommends Intel. Try any of our Foolish newsletter services free for 30 days. We Fools may not all hold the same opinions, but we all believe that considering a diverse range of insights makes us better investors. The Motley Fool has a disclosure policy.