Intel PC Chief Talks Average Selling Price Trends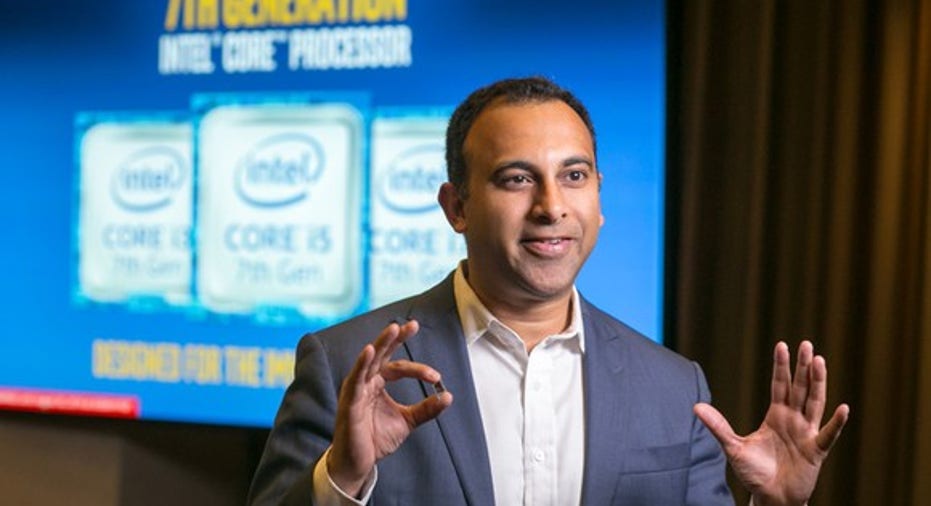 It's no secret that the personal computer market is shrinking. There are many common explanations about why it's happening, but whatever the reasons, this is the reality that personal computer manufacturers, as well as their many component vendors, must cope with.
Intel's Navin Shenoy. Image source: Intel.
Microprocessor giant Intel (NASDAQ: INTC) enjoyed tremendous success over the years by dominating the market for personal computer processors. However, the company's dependence on PCs turned from a clear benefit to a clear negative as the market suffered a multiyear decline in unit shipments.
Although there's not a lot that Intel can do to fundamentally change the trajectory of the personal computer market, the company has taken actions to try to maximize its profitability within this market.
These include the development (and in some cases integration) of auxiliary chips and technologies to boost its content share within personal computers, as well as aggressive market segmentation actions to encourage up-sell to higher-value products.
These moves appear to have paid off, at least based on the company's year-to-date financial results. During the first nine months of 2016, Intel reported a reduction in notebook platform shipments of 1% and desktop platform shipments of 5%. However, it enjoyed overall revenue growth (albeit anemic in nature) in notebook revenue thanks to a 2% boost in average selling prices. Desktop average selling prices were, too, up 2%, though that wasn't enough to completely counteract the unit decline.
At a recent investor conference, Navin Shenoy, the head of Intel's Client Computing Group (CCG), offered some insight into the potential drivers of the company's desktop and notebook average selling price trends going forward.
The overall strategy
Shenoy began by offering a high-level overview of the company's strategy in these markets.
"When I think about our strategy going forward, there's a few key tenets that we have in the strategy that ultimately drive the [average selling prices]," he said.
First, the company needs to deliver an "annual cadence of new products," asserting that delivering on that timeline is "core and fundamental" to CCG.
Intel's seventh-generation Core processor. Image source: Intel.
He noted that delivering new products in a predictable fashion helps the company to maintain or grow its average selling prices.
Beyond that, Shenoy said Intel is "focused on integration."
"As we look at future [manufacturing technology] nodes, we think about what more we can integrate," he explained, referring to combining of technologies that previous would have required separate chips into the company's processors.
Shenoy obviously didn't give specifics about future products, but did speak about what kinds of technologies Intel is looking to integrate into its chip in broader terms.
"As we think about where we go in the future, we look at things like voltage regulation, communications capabilities, and various auxiliary chips that are around the [system-on-chip] today and we think about how we can integrate those things and use Moore's Law to our advantage," he said.
He pointed out that as the company integrates technologies into its chips, it has the "ability to monetize provided [that] the end user sees utility."
Finally, Shenoy claims Intel is "focused on the segments of the market that are growing," citing gaming, 2-in-1, and commercial personal computers as examples of stable-to-growing sub-markets within the overall personal computer market.
Can Intel keep raising its average selling prices?
After outlining the company's broader strategy, Shenoy circled back to address the core question: Can Intel continue to grow personal computer processor average selling prices?
He was candid in saying that this depends on Intel's execution toward the strategy that he laid out, implying that Intel has some degree of control over its fate (at the very least, the average selling price portion of it) in a market that's largely viewed to be in secular decline.
We'll get a better sense of Intel's expectations for personal computer processor average selling price trends during 2017 when the company hosts its annual investor meeting next month.
10 stocks we like better than Intel When investing geniuses David and Tom Gardner have a stock tip, it can pay to listen. After all, the newsletter they have run for over a decade, Motley Fool Stock Advisor, has tripled the market.*
David and Tom just revealed what they believe are the 10 best stocks for investors to buy right now... and Intel wasn't one of them! That's right -- they think these 10 stocks are even better buys.
Click here to learn about these picks!
*Stock Advisor returns as of January 4, 2017
Ashraf Eassa owns shares of Intel. The Motley Fool recommends Intel. The Motley Fool has a disclosure policy.