Intel Might Have Just Given Us Its Long-Term Data Center Growth Goal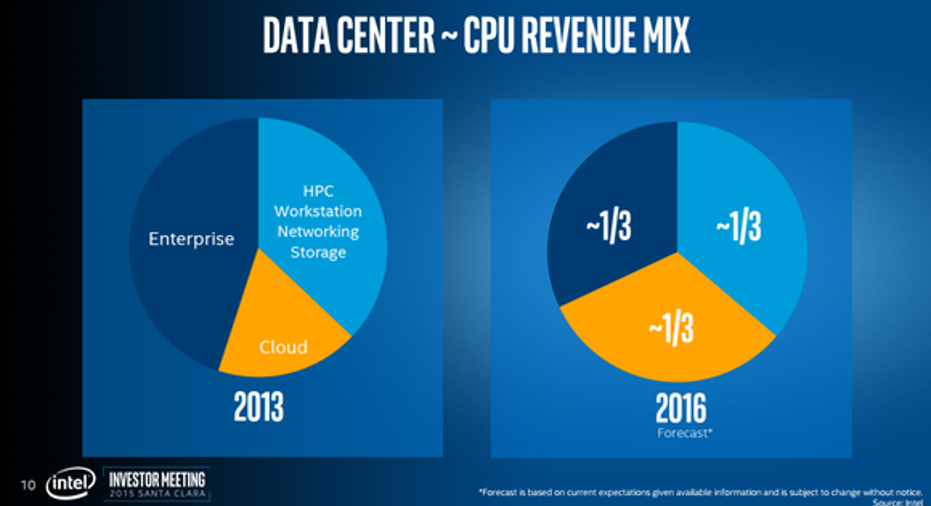 On Intel's (NASDAQ: INTC) most recent earnings call, management had some disappointing news to share with investors. The company had previously expected to be able to grow revenue in its data center business by a low double-digit percentage rate.
Image source: Intel.
However, thanks to a slowdown in the enterprise server market, the company reduced that guidance to revenue growth rate in the "high-single digits" for 2016.
On Intel's most recent earnings call, one analyst asked management for some insight into whether Intel's previously stated long-term data center group growth goal of 10-15% would be "sustainable" longer-term.
Intel executive Stacy Smith ducked the question, saying that Intel would "hold off on providing a forecast for 2017 at this time," noting that such guidance will be issued in January.
Interestingly, at the recent Barclay's Technology Media and Telecom conference, Intel data center group chief Diane Bryant seemed to indicate that its long-term growth target for this business is still at least 10% with the following statement:
If this wasn't a mistake, then it seems that Intel thinks that its data center group should be able to deliver better performance in the coming years than it is expecting to deliver this year.
Is such a growth rate realistic?
Back at its 2015 investor meeting, Intel showed the following slide illustrating the key impediment to its data center growth rate:
Image source: Intel.
Even for 2016, Intel said that roughly a third of its data center CPU revenue would come from the enterprise server market -- a market that's generally not expected to grow.
That's a clear improvement from where it was in 2013, but it still means that if the enterprise market declines, it can significantly dilute the growth enjoyed by the other, healthier segments.
What should make it easier for Intel's data center group to hit that double-digit growth rate is the fact that enterprise continues to shrink as a percentage of its server CPU shipments. The smaller a portion it is of the overall business, the easier it is for the high growth rates of the other segments to drive solid growth for the rest of the business.
However, for that hypothesis to work, Intel will need to keep up the rapid growth rates in the other two-thirds of the business.
I'd say this is realistic, but it will necessarily get tougher over time as those non-enterprise businesses simply get huge.
10%+ long-term revenue growth would be solid
It would obviously be great if Intel could see a path to a 15% compounded annual revenue growth rate over the next 3-5 years, but that's probably too high considering how this business has performed over the last several years.
If Intel resets its target to "double digit growth" -- in other words, 10% or better -- and manages to hit that consistently over the next several years, then that would be a very respectable result that would add substantially to the company's top and bottom lines.
10 stocks we like better than Intel When investing geniuses David and Tom Gardner have a stock tip, it can pay to listen. After all, the newsletter they have run for over a decade, Motley Fool Stock Advisor, has tripled the market.*
David and Tom just revealed what they believe are the 10 best stocks for investors to buy right now... and Intel wasn't one of them! That's right -- they think these 10 stocks are even better buys.
Click here to learn about these picks!
*Stock Advisor returns as of Nov. 7, 2016
Ashraf Eassa owns shares of Intel. The Motley Fool recommends Intel. Try any of our Foolish newsletter services free for 30 days. We Fools may not all hold the same opinions, but we all believe that considering a diverse range of insights makes us better investors. The Motley Fool has a disclosure policy.