Intel Corporation's Resource Shift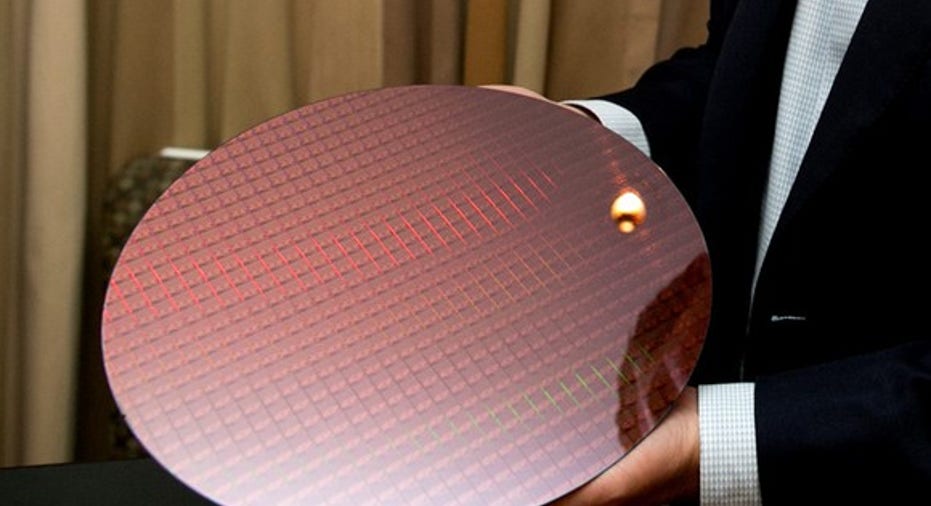 Back in April of 2016, microprocessor giant Intel (NASDAQ: INTC) announced that it would be implementing restructuring actions that the company said were designed to achieve annual run rate operating expense savings of $1.4 billion.
At the time, Intel said that the restructuring was intended to "accelerate [Intel's] evolution from a [personal computer] company to one that powers the cloud and billions of smart, connected computing devices."
A wafer of Intel's 7tg generation Core chips. Image source: Intel.
At its Feb. 9 investor meeting, Intel went into much more detail about how it has shifted around its spending. Let's take a closer look.
Investment shift year-over-year
Intel provided the following chart which illustrates a "bridge" from Intel's 2016 operating expenses to its projected 2017 operating expenses:
How Intel's research and development spending is shifting year-over-year. Image source: Intel.
This "bridge" shows that Intel expects operating expenses to drop year-over-year due to the spin-off of its Intel Security group (which will now be a stand-alone company called McAfee) as well as reductions in its Client Computing Group (CCG) investment levels.
Offsetting those declines, though, is an increase in investment levels in what the company collectively refers to as its "growth businesses" -- Data Center Group, Internet of Things Group, and Non-Volatile Solutions Group.
Additionally, Intel says it's investing more in Moore's Law, which means that it's boosting its investments in next generation manufacturing technologies. This makes sense because the company's new development methodology calls for the company to continue to enhance existing manufacturing technologies while simultaneously developing next-generation ones -- something that it didn't really do before.
All told, Intel is looking at a modest reduction in operating expenses, year-over-year.
Some additional detail
In addition to the broad year-over-year spending shifts that Intel talked about above, CFO Bob Swan showed an additional slide that gives more insight into how much research and development spending by market segment is expected to shift from 2015 through 2017.
How Intel's research and development spending changed by product category. Image source: Intel.
Intel is apparently cutting its research and development spending in personal computer processors by 5% in 2017 relative to where it was in 2015. That's not all that much, to be blunt, and I'd imagine the bulk of that shift comes more from accounting changes (i.e. allocating less of its shared operating expenses to the PC segment and more of it to other segments, like the Data Center Group).
Data Center spending is expected to be up by 25% in that two-year period. I'd imagine that part of that increase is due to the shared expense allocation, but I also expect that Intel is increasing its investments here in ways beyond simply a reshuffling of expenses.
Intel's investments in non-volatile memory -- a business that Intel expects to be a key growth engine in the years ahead -- are going up 40%. Considering that technology strength is critical to succeeding in the non-volatile memory business (better technology usually translates into a better cost structure, allowing a company to more effectively compete at good margin levels), the boost in spending isn't a surprise.
The company's investments in mobile are going to be down 55% per the slide. That's not surprising considering that Intel has refocused its mobile business away from trying to build a broad range of platforms to address the broad range of smartphones toward focusing primarily on stand-alone cellular modems, with Apple (NASDAQ: AAPL) being the company's principal (only?) smartphone customer here.
And, finally, Intel is expecting a big boost in its investments within its Internet of Things Group. This business has been growing steadily over the last several years and management had indicated that they're making some big bets on new areas like self-driving cars, so a large increase in research and development spending here makes sense -- especially as the odds that those investments will ultimately pay off look good.
Intel's sensible spending shifts
At the end of the day, these spending shifts are quite reasonable -- the company is feeding those business segments that have been growing and have the potential to continue to grow, and it's cutting back in areas that aren't expected to grow (i.e. PC processors) as well as in areas where its efforts have fallen flat and success appears unlikely (mobile system-on-chip).
Intel management is investing for the long-term, which is the right thing to do. However, investments in high technology usually take years to bear fruit, so don't expect these increased investments made today to pay off tomorrow. It'll be a couple of years before we know if Intel's increased investments will ultimately pay off.
10 stocks we like better than IntelWhen investing geniuses David and Tom Gardner have a stock tip, it can pay to listen. After all, the newsletter they have run for over a decade, Motley Fool Stock Advisor, has tripled the market.*
David and Tom just revealed what they believe are the 10 best stocks for investors to buy right now... and Intel wasn't one of them! That's right -- they think these 10 stocks are even better buys.
Click here to learn about these picks!
*Stock Advisor returns as of February 6, 2017
Ashraf Eassa owns shares of Intel. The Motley Fool owns shares of and recommends Apple. The Motley Fool has the following options: long January 2018 $90 calls on Apple and short January 2018 $95 calls on Apple. The Motley Fool recommends Intel. The Motley Fool has a disclosure policy.