Intel Corporation's 3D XPoint-Based Optane Drives: Coming to Desktop PCs Soon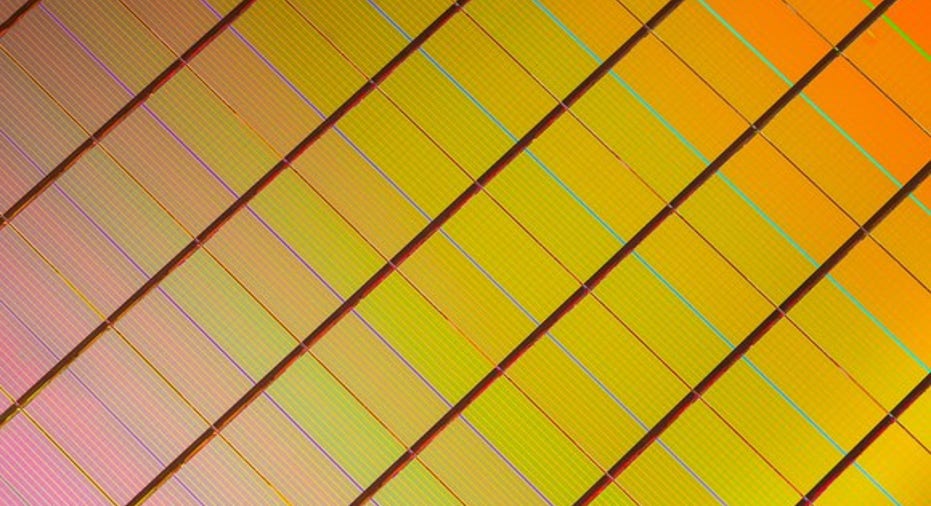 A wafer of 3D XPoint memory. Image source: Intel.
Microprocessor giant Intel has made it clear to investors that part of its long-term growth strategy will be to participate more aggressively in the market for non-volatile memory products.
In particular, the company seems to be interested in continuing to extend its presence in the market for high-end NAND flash-based solid-state drives. It is also moving to blaze the trail for high-performance drives using the 3D XPoint technology jointly developed byIntel and memory specialist Micron Technology .
3D XPoint, by way of reference, is non-volatile memory technology (that is, it retains data even when it is not powered on) that promises substantially higher speeds and greater reliability compared to traditional NAND flash, which is widely used in PCs, mobile devices, and servers today.
According to a recent leak from BenchLife.info, Intel's first storage drives based on 3D XPoint will be coming to desktop computers early in 2017.
Intel seems to be targeting enthusiasts first
According to an Intel slide posted by BenchLife, Intel expects to qualify for production a high-end solid-state drive code-named "Mansion Beach" for production in late 2016. The drive will be based on 3D XPoint technology and will be targeted at "enthusiast workstation" systems: content creators, high-end PC gamers, and so on.
There will also be another enthusiast workstation drive from Intel based on 3D XPoint, code-named Brighton Beach, that should reach qualification stage during the first quarter of 2017.
Although Mansion Beach and Brighton Beach are both high-end products based on 3D XPoint, Mansion Beach appears to be faster and will connect to systems via four high-speed PCI Express 3.0 links; Brighton Beach will apparently require only two.
Why target enthusiasts?
Although the broader PC market has suffered from customers finding their current PCs to be "good enough," PC enthusiasts generally want as much performance as they can get -- and they're often willing to pay for that performance.
Given that 3D XPoint-based drives will likely be more expensive to produce than their NAND flash counterparts, they are necessarily going to cost more. For mainstream PCs, 3D XPoint is a no-go; in fact, cost is such a factor in such systems that PC makers are still shipping systems with much slower (but cheaper) hard disk drives.
However, Intel seems to be targeting enthusiast desktop buyers, as they tend to be willing to pay for performance. As long as these drives offer significant performance enhancements over the fastest NAND-based solid-state drives available today (and Intel and Micron are claiming significant enhancements), Intel should be able to make some good money from them.
Expect data-center-based drives, too
Although the BenchLife leak talks about enthusiast desktop-oriented drives, these are most likely derived from work done for data center-oriented drives. Although PC enthusiasts are willing to pay for performance, data center customers have deeper pockets and are even more willing to pay for performance, as better performance can lead to significant total cost-of-ownership savings.
Intel is expected to launch its next-generation server platform, code-named "Purley," in the first half of 2017 (likely the second quarter). Given that Intel has made it clear that storage technology is a critical part of its server platforms, I'd be surprised if new 3D XPoint-based server drives didn't arrive alongside the Purley platform.
The article Intel Corporation's 3D XPoint-Based Optane Drives: Coming to Desktop PCs Soon originally appeared on Fool.com.
Ashraf Eassa owns shares of Intel. The Motley Fool recommends Intel. Try any of our Foolish newsletter services free for 30 days. We Fools may not all hold the same opinions, but we all believe that considering a diverse range of insights makes us better investors. The Motley Fool has a disclosure policy.
Copyright 1995 - 2016 The Motley Fool, LLC. All rights reserved. The Motley Fool has a disclosure policy.