Intel Corporation Tries to Improve Operating Margin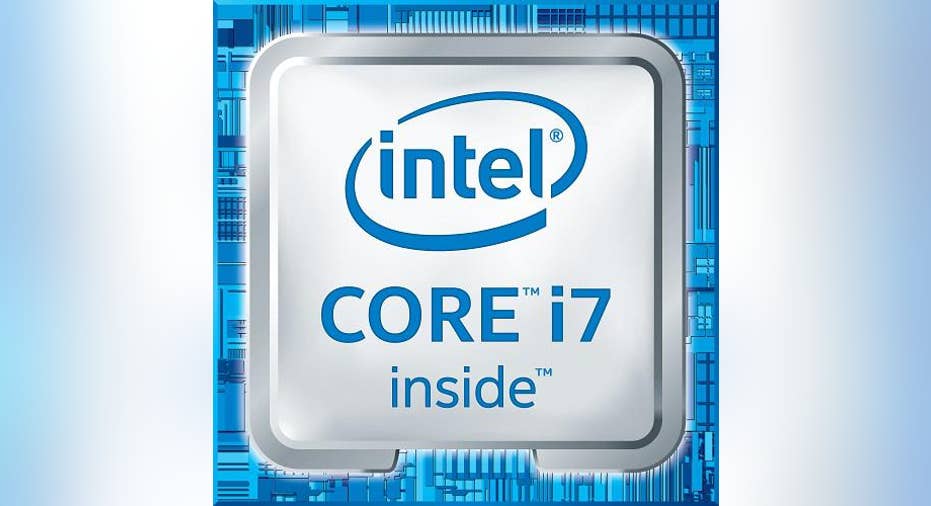 Image source: Intel.
On chip giant Intel's most recent earnings call, analyst Vivek Arya made a very interesting observation. Top fab-less chip companies -- that is, companies that do not own and operate their own chip manufacturing plants -- can deliver operating margins in the range of 20% to 25%.
Additionally, Arya pointed out, Taiwan Semiconductor Manufacturing Co., the top contract chip manufacturer for many of these fabless companies, can often deliver operating margins within spitting distance of 40%.
Intel is a unique company in that it owns its own chip manufacturing plants (as well as the all-important "process recipes" used to build chips in those plants) and it designs and sells the products that are built in those plants.
This, as former Intel CEO Paul Otellini liked to point out to investors, meant that Intel was able to get paid twice: once for the manufacturing portion and once for the design portion of a chip.
Interestingly, in 2015, Intel saw operating income of $14 billion on revenue of $55.4 billion, essentially putting it at the high end of what Arya says fabless chip companies can reasonably pull off.
The question that Arya raised then was the following: "Where should Intel be [in terms of operating margin] after all these restructuring actions are taken?"
Here's what the CFO had to saySmith didn't explicitly give a long-term operating margin target for the company, deferring a more in-depth discussion to the company's investor meeting in November of this year. However, he did point out that the company's recent restructuring efforts, after which Intel should see a $1.4 billion reduction in the company's annual operating expense run rate, operating expenses as a percent of revenue should be "back down in the low 30%."
"You can do the math from there and see what we think we can achieve next year in terms of overall operating margin," Smith said.
Let's run with this a little bitIntel had previously guided to operating expenses for 2015 of $21.3 billion, which would have been an increase from the prior year. That guidance has now been reduced to $20.6 billion as some of the impact from this restructuring will be felt in the coming quarters of the year.
To understand what the company's normalized operating expense run-rate should look like following these restructuring efforts, we should subtract $1.4 billion from the original spending forecast of $21.6 billion. This gives us new annual operating expenses of $19.9 billion -- just slightly below 2015 levels.
Intel is guiding to "mid-single digit" revenue growth for 2016, so let's call this 5% growth, or around $58.2 billion. At the new operating expense run rate, and assuming projected 2016 revenue levels and gross margin levels (62% is the current forecast), operating margin should expand to about 27.8%.
Taking it a step further, let's assume that Intel can keep operating expenses in 2017 at roughly $20 billion, gross margins stay at 62% for the year, and the company delivers the $60.93 billion in revenue that analysts project. At this point, Intel would be able to grow operating margin to around 29.2%.
If Intel is able to bring gross profit margins back up into the 63% to 65% range (probably challenging but doable), there would be additional room for operating margin growth.
It's clear why Intel initiated these restructuring actionsAt the end of the day, Intel management has a duty to its stockholders to bring in as much revenue -- and, ultimately -- profit as possible. If the company can cut operating expenses without sacrificing future revenue/profit growth, then from the perspective of maximizing shareholder value, such a move makes sense.
The article Intel Corporation Tries to Improve Operating Margin originally appeared on Fool.com.
Ashraf Eassa owns shares of Intel. The Motley Fool recommends Intel. Try any of our Foolish newsletter services free for 30 days. We Fools may not all hold the same opinions, but we all believe that considering a diverse range of insights makes us better investors. The Motley Fool has a disclosure policy.
Copyright 1995 - 2016 The Motley Fool, LLC. All rights reserved. The Motley Fool has a disclosure policy.