Intel Corporation Struggles to Rein In Spending as R&D Approaches $13 Billion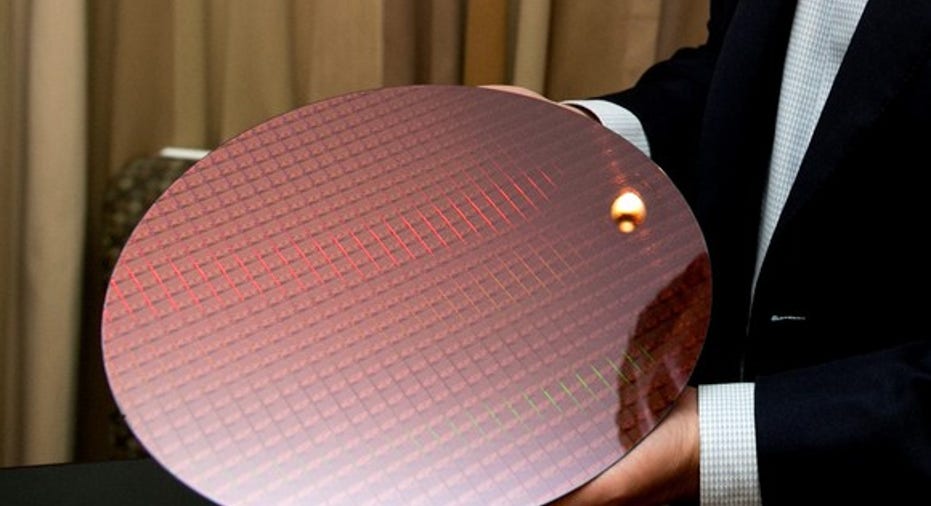 In April 2016, microprocessor giant Intel (NASDAQ: INTC) announced that it would be implementing a restructuring program that it internally referred to as "ACT" -- short for "accelerating change and transformation". It was designed to reduce the company's annual operating expense run rate by $1.4 billion by mid-2017.
A wafer of Intel processors. Image source: Intel.
It would seem, however, that the company's spending on both research and development (R&D) and marketing, general, and administrative costs (MG&A) continues unabated. This was evident in the company's fourth quarter financial results, in which the company reported shelling out $3.28 billion in R&D expenses -- up almost 5.2% year-over-year.
Meanwhile, MG&A spending was up a smidgen year-over-year, going from $2.12 billion in the fourth quarter of 2015 to $2.16 billion the following year -- a modest increase but an increase nonetheless.
For full-year 2016, Intel's R&D spending hit $12.74 billion, up from $12.13 billion in the year prior. MG&A climbed to $8.4 billion, up from $7.93 billion in 2015.
Not quite cutting back in 2017
Looking ahead for this year, Intel says it plans for combined R&D and MG&A spending of $20.5 billion -- a roughly $600 million reduction from the levels seen in 2016. However, considering the company's spending was up by $1 billion in 2016 relative to 2015 levels, and considering that part of that reduction will come from the company's spin-out of its Intel Security (a.k.a. McAfee) business, the net spending reduction doesn't seem very substantial.
Intel has made it clear what's going on: It's taking the money it saved in the restructuring efforts and plowing them into new growth areas, such as self-driving cars and memory technologies.That's fine, but it shouldn't stop investors from asking some tough questions
Intel has increased its R&D substantially since 2011, but where's the return?
In 2011, Intel spent $8.35 billion in R&D and $7.67 billion on MG&A. To be fair, the MG&A figure isn't up that much over the years -- Intel's product offerings have broadened and salaries naturally rise over time, so an 8.9% increase in MG&A spending over five years seems quite reasonable.
R&D, on the other hand, is up almost 53% in that time. Yes, developing new products is expensive, and yes, Intel is investing in building products for markets that it didn't participate in, or that simply didn't exist, back in 2011. However, Intel's R&D spending has rocketed upward, and consolidated revenue simply hasn't followed suit.
Now, one could reasonably argue that Intel's revenue mix has shifted as the personal-computer market has declined, and the company has successfully capitalized on new growth areas, including data centers and the Internet of Things. I'll accept that.
Nevertheless, cracks in the armor have appeared even as the company spends more on R&D. For example, Intel's execution with respect to chip manufacturing technology seems to have deteriorated over the past five years -- 14 nanometers was problematic, and 10 nanometers is very late.
Although Intel's business performance in its data center group (DCG) -- arguably the business that the company has bet its future on -- has been as strong as could be expected, as Intel has nearly 100% of the server processor market, the company has seen numerous product delays over the past five years. And though it's not that big of a deal, DCG's financial performance was hurt last quarter over a product warranty issue.
I would think that with a far bigger R&D budget available, Intel's execution here would be a bit sharper than it seems to be, though it's still very good.
The true litmus test
Intel isn't expecting much growth in 2017. It guided to "low-single-digit" revenue growth excluding McAfee for the year. But at some point, it would be nice to see Intel's growth accelerate as a result of all these large investments.
Perhaps a potential litmus test for whether this spending is paying off will be the company's financial performance in 2018. If the company can accelerate growth compared with what it ultimately sees in 2017, then that'll be an indication that these investments have been worth it.
However, if growth remains anemic in 2018 and potentially beyond, then it might be a sign that the company just isn't investing wisely.
10 stocks we like better than Intel When investing geniuses David and Tom Gardner have a stock tip, it can pay to listen. After all, the newsletter they have run for over a decade, Motley Fool Stock Advisor, has tripled the market.*
David and Tom just revealed what they believe are the 10 best stocks for investors to buy right now... and Intel wasn't one of them! That's right -- they think these 10 stocks are even better buys.
Click here to learn about these picks!
*Stock Advisor returns as of January 4, 2017
Ashraf Eassa owns shares of Intel. The Motley Fool recommends Intel. The Motley Fool has a disclosure policy.