Intel Corporation PC Chief Talks Manufacturing Strategy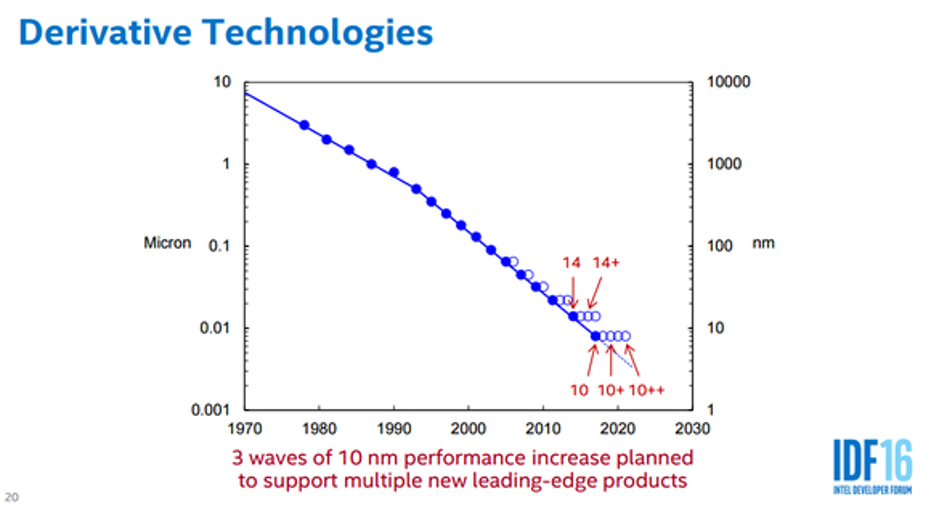 Earlier this month, microprocessor giant Intel (NASDAQ: INTC) formally unveiled a set of new microprocessors targeted at the personal-computer market known as the seventh-generation Core processor family.
Image source: Intel.
These chips, as would be expected, deliver improved performance and power efficiency relative to the company's sixth-generation Core processor family. What is interesting about these chips is that they represent a third wave of products manufactured in the company's 14-nanometer manufacturing technology, which was first used to build the company's fifth-generation Core processors.
What allowed Intel to build better products, though, was that this wasn't the same 14-nanometer manufacturing technology that was used to build the fifth- and sixth-generation Core processors; it is a performance-enhanced version known as 14-nanometer+.
At the recent J.P. Morgan Annual Tech Forum, Intel Client Computing Group (CCG) chief Navin Shenoy talked about the company's strategy in regard to chip manufacturing technology -- at least as it applies to his business unit.
There were some interesting bits of information here that I'd like to go over.
Following the 14-nanometer playbook at 10-nanometer
The analyst speaking with Shenoy asked the latter if the company had plans to do multiple iterations of its 10-nanometer manufacturing technology -- i.e., 10-nanometer and 10-nanometer+ -- as it did with its 14-nanometer technology.
Now, of course, Intel Senior Fellow Mark Bohr revealed back in August that the company indeed has three variants of its 10-nanometer technology planned -- 10-nanometer, 10-nanometer+, and 10-nanometer++ -- but Shenoy provided some additional business context around these plans in his answer.
Image source: Intel.
"I think we're going to continually look at that," Shenoy said. "There's one thing that we learned in the process of getting 14-nanometer out is there is opportunity for us to continue to optimize the [manufacturing] process, maybe more so than we had historically."
He then went on to say that such a strategy makes sense because "the most important thing is that we can deliver a predictable, annual cadence of new products."
Shenoy further went on to explain that to deliver an annual cadence of competitive products, with an emphasis on the word "competitive" -- a company "can't just sit on the [manufacturing] process as it existed" and that the company needs to "continue to advance" the manufacturing processes that it uses to build its products.
"If we can make optimizations on density or optimizations on performance or power, you're going to see us do that," Shenoy explained.
Boasting superiority at 10-nanometers
After explaining this strategy, Shenoy went on to say that the company is "very confident" that the company's manufacturing technology "continues to be the best in the world."
Shenoy then went on to argue that the 10-nanometer technologies that its competitors Taiwan Semiconductor Manufacturing Company (NYSE: TSM) and Samsung (NASDAQOTH: SSNLF) have recently put into production are "pretty close to what we had on [Intel's] 14-nanometer which [Intel] has been in production on for two years now."
The executive didn't stop there, going on to say that he is confident that Intel's 10-nanometer technology comes out, Intel will have a "clear density advantage, and a clear performance and power advantage versus what others in the industry have."
One more thing...
It's worth pointing out that based on Shenoy's commentary, it looks increasingly likely that Intel's fourth wave of 14-nanometer products -- recently revealed to be called Coffee Lake -- will use a yet-again enhanced version of the company's 14-nanometer technology.
Indeed, he made it quite clear that to build compelling new products, the company needs to make enhancements to the manufacturing technology to support its annual product rollouts.
With 14-nanometer+, the company managed to get a 12% performance boost. It'll be interesting to see if the company can wring out another double-digit performance gain with the next iteration of its 14-nanometer technology.
10 stocks we like better thanWal-MartWhen investing geniuses David and TomGardner have a stock tip, it can pay to listen. After all, the newsletter theyhave run for over a decade, the Motley Fool Stock Advisor, has tripled the market.*
David and Tomjust revealed what they believe are theten best stocksfor investors to buy right now... and Wal-Mart wasn't one of them! That's right -- theythink these 10 stocks are even better buys.
Click hereto learn about these picks!
*StockAdvisor returns as of December 12, 2016The author(s) may have a position in any stocks mentioned.
Ashraf Eassa owns shares of Intel. The Motley Fool recommends Intel. The Motley Fool has a disclosure policy.