Intel Corporation Begins Shipping Samples of Beastly Skylake-X Gaming Chip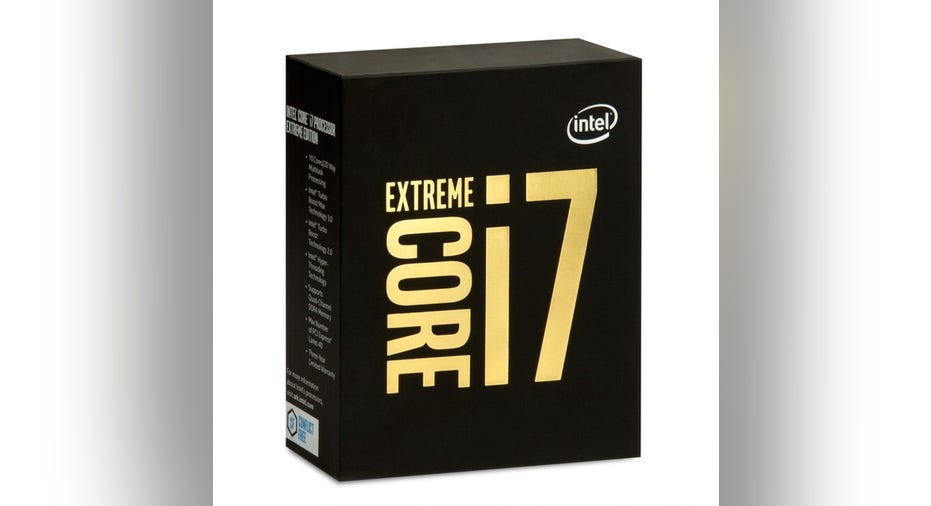 Next year, Intel (NASDAQ: INTC) is expected to release a new family of powerful processors targeted at high-end desktop and enthusiast users known as Skylake-X.
Skylake-X is expected to be based on a slightly modified, data-center-specific variant of the Skylake processor core that made its debut in late 2015 in notebooks, desktops, and notebook/tablet hybrids.
Image source: Intel.
Thanks to leaks from BenchLife.info, we know we can expect these key differences between the Skylake-X series of high-end desktop processors and the 2015 Skylake-S family of desktop processors:
Skylake-X should be available in six-, eight-, and 10-core options; Skylake-S tops out at four.
Skylake-X will include up to 44 lanes of PCI Express connectivity, useful for hooking up multiple graphics cards, PCI Express-based storage drives, and so on. Skylake-S includes just 16 lanes of PCI Express connectivity.
Skylake-X will probably be manufactured in Intel's newer, higher-performance 14-nanometer+ technology; Skylake-S was manufactured in Intel's lower-performance first-generation 14-nanometer tech.
We've also learned from BenchLife.info, which has been the primary source for leaks pertaining to Skylake-X, that Intel has begun sampling these processors in advance of next year's launch.
When will Skylake-X be released?
An earlier leak from BenchLife.info showed that Intel originally intended to launch Skylake-X in the second quarter of 2017. However, a later leak showed that this schedule had been pushed out, with production shipments expected to begin in the third quarter of 2017, with a formal launch sometime in either the third or fourth quarters of 2017.
So assuming the leaks are accurate, and BenchLife.info is usually reliable, it's unlikely that Intel will release the Skylake-X processors until the second half of 2017.
What Intel will be selling in the meantime
For the very high-end desktop market, it would appear that Intel's workhorses through the first half of 2017 will be the Broadwell-E series of processors launched back in May of this year.
That's a bummer, because the enthusiast and gaming personal-computer market is one of the few sub-segments of the total personal computer market that's not only growing but also appreciates better, faster processors.
All's not lost for the enthusiast and gaming sub-segment of the personal computer market, though. Intel is expected to launch its more "mainstream" enthusiast parts, known as the Core i7 7700K and the Core i5 7600K, in January. Accompanying those new processors will be a new platform that Intel refers to as Z270, which should add more system-level features.
These two parts are based on the company's Kaby Lake processor architecture. Kaby Lake, as Intel has explained on several occasions, uses the same basic architectural design as Skylake.
The performance improvement, at least in CPU tasks, is expected to come entirely from these chips' ability to run at higher frequencies (measured in gigahertz) than their Skylake-based predecessors, thanks to the use of an improved 14-nanometer+ technology to build the newer processors.
This lineup should still be competitive and is likely to competently serve the company's gaming and enthusiast business during the first half of 2017. However, the product lineup Intel will be selling during the second half of 2017 should be much more exciting to the gaming and enthusiast community than the first-half lineup.
10 stocks we like better than Intel When investing geniuses David and Tom Gardner have a stock tip, it can pay to listen. After all, the newsletter they have run for over a decade, Motley Fool Stock Advisor, has tripled the market.*
David and Tom just revealed what they believe are the ten best stocks for investors to buy right now and Intel wasn't one of them! That's right -- they think these 10 stocks are even better buys.
Click here to learn about these picks!
*Stock Advisor returns as of November 7, 2016
Ashraf Eassa owns shares of Intel. The Motley Fool recommends Intel. Try any of our Foolish newsletter services free for 30 days. We Fools may not all hold the same opinions, but we all believe that considering a diverse range of insights makes us better investors. The Motley Fool has a disclosure policy.