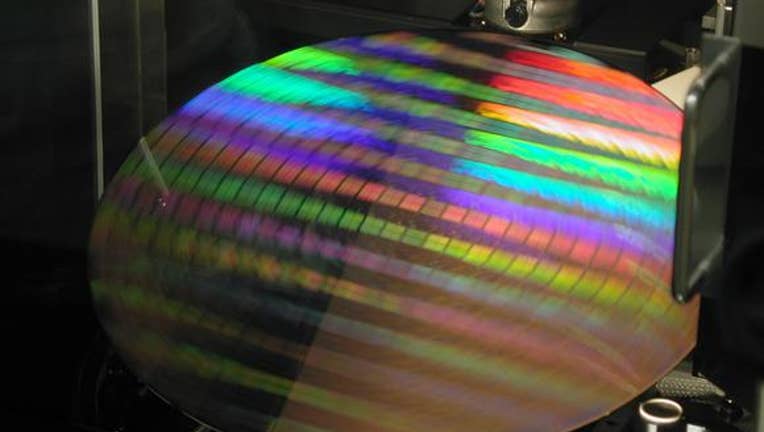 An Intel wafer being tested. Image credit: Intel.
In mid-January, I published an article here on Fool.com revealing that Intel has a third wave of 10-nanometer products planned, code-named Tiger Lake. At the time, I noted that this had some pretty serious negative implications on Intel's so-called "manufacturing lead."
At a recent investor conference, Intel CFO Stacy Smith essentially confirmed that the report was spot on.
Here's what Smith had to sayDuring the conference, Smith had the following to say with respect to the company's chip manufacturing technology release cadence (emphasis mine):
Given typical chip development cycles, Intel must already be actively working to develop this "third wave" of 10-nanometer product, known as Tiger Lake.
Intel management appears to be in denial about loss of manufacturing leadWhat I found particularly startling is that, during the investor conference, Smith had the following to say with respect to Intel's series of manufacturing screw-ups (emphasis mine):
This appears to show that Smith has a view of the company's competitive positioning in the market for leading-edge logic silicon that's seemingly inconsistent with historical fact as well as projections from Intel's main competition for the future.
To illustrate, take a look at the table below in which I show when the first products on a given manufacturing technology from Intel's main competitors -- TSMC and Samsung -- first appeared in the marketplace.
| Samsung | 32nm | 28nm | 20nm | 14nm | 10nm |
| --- | --- | --- | --- | --- | --- |
| First mass market availability | Late 2011 | mid-2013 | late-2014 | early 2015 | 1H 2017* (projected) |
| TSMC | 28nm LP & 28nm HP | 28nm HPM | 20nm | 16nm | 10nm |
| First mass market availability | Late 2011 | 2013 | mid-2014 | late-2015 | 1H 2017* (projected) |
Source: Various.
Both Samsung and TSMC have been able to transition to new manufacturing technologies at a far quicker pace than the "two-and-a-half" years that Intel has taken for its last two technology transitions. And, based on the public statements from both of Intel's competitors, it looks as though they will transition to their respective "10-nanometer" processes sooner than Intel will, even though Intel went into production on its "14-nanometer" technology before either of them.
Furthermore, TSMC has indicated that it will go into mass production on its 7-nanometer technology at some point in the first half of 2018. If the technology represents the significant area shrink that the company has said, there's little doubt that at least one of Intel's competitors is moving at a much quicker pace than Intel is.
The fact that Intel's CFO would say what he did on an investor conference doesn't instill confidence that the company's executive team truly understands the capabilities of its competitors. As former Intel CEO once said, "only the paranoid survive." The group of folks currently running the show at the chip giant don't seem to be paranoid at all.
The article Intel Corp. CFO Practically Confirms Existence of 10-Nanometer Tiger Lake originally appeared on Fool.com.
Ashraf Eassa owns shares of Intel. The Motley Fool recommends Intel. Try any of our Foolish newsletter services free for 30 days. We Fools may not all hold the same opinions, but we all believe that considering a diverse range of insights makes us better investors. The Motley Fool has a disclosure policy.
Copyright 1995 - 2016 The Motley Fool, LLC. All rights reserved. The Motley Fool has a disclosure policy.