Intel Buying 15% Stake in Here, German Auto Makers' Digital-Map Venture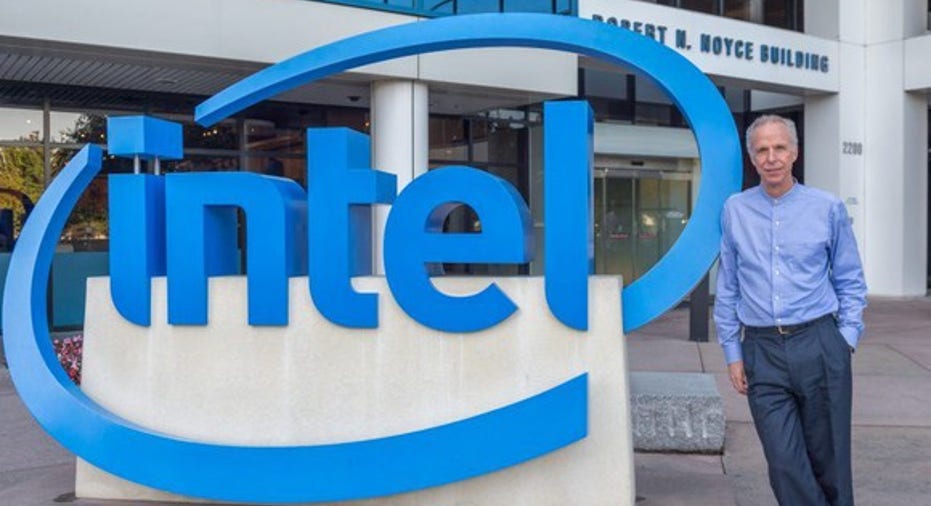 Intel Corp. is acquiring a 15% stake in Here International B.V. for an undisclosed sum, joining the digital mapmaker's core shareholders BMW AG, Daimler AG and Volkswagen AG's Audi unit in developing navigation technology for self-driving cars.
Intel and Here aim to jointly develop technology needed to support the real-time updates of traffic and road conditions that are used to enable and ensure the safety of fully automated vehicles. The companies also said they plan to explore other business opportunities to develop services that use location data generated by the vehicles and their passengers.
"Cars are rapidly becoming some of the world's most intelligent, connected devices," Intel Chief Executive Brian Krzanich said Tuesday.
The companies gave no details about the transaction. They said the deal was expected to close in the first three months of the year, pending regulatory approval.
The announcement comes after Germany's antitrust authority said earlier in the day that Intel had filed a request for regulatory approval in Germany to make a strategic acquisition of a stake in Here. The agency said it had one month to decide on whether to approve the acquisition, which is unlikely to pose competition concerns.
Germany's big three premium-brand car makers bought Here from Nokia in 2015 for about EUR2.5 billion ($2.6 billion). Based on the original purchase price, Intel's stake could be worth around EUR375 million. The companies did not disclose any financial details.
The German auto makers, which together dominate the global market for high-end luxury cars, set aside decades of bitter rivalry to jointly acquire Here in a bid to control the mapping technology they consider crucial for self-driving vehicles.
Intel appears to be positioning itself to enter the fast-growing technology field, marking the latest illustration of how the lines between the tech industry and conventional auto makers are blurring.
As the automobile morphs into a platform for digital services with the potential to generate huge profits, auto makers and tech companies are finding common cause or are engaged in fierce rivalries for control of the new mobility economy.
"Intel can help accelerate Here's ambitions in this area by supporting the creation of a universal, always up-to-date digital location platform that spans the vehicle, the cloud and everything else connected," said Here CEO Edzard Overbeek.
Auto makers are entering such businesses as car-sharing and ride-hailing to capture new revenue streams generated by their vehicles. The car makers want to avoid being left behind because such services could potentially become more lucrative than their traditional businesses.
Tech companies such as Uber Technologies Inc., which is essentially an app provider, Apple Inc. and Alphabet Inc.'s Google are challenging the dominance of auto makers including BMW, VW, Ford Motor Co. and General Motors Co. in providing personal transportation.
They are eager to extend their dominance of tech systems, apps and services to the automobile -- just as in the past they moved from the personal computer to the smartphone.
New auto technology is driven by information technology, which is why the auto industry has already outpaced computer makers as the single biggest customer for the chip manufacturers such as Intel and Germany's Infineon Technologie AG.
Illustrating the trend, U.S. chip-making giant Qualcomm Inc. in October said it would buy Dutch NXP Semiconductors NV, the world's largest developer of chips for automobiles, for $39 billion.
Chip makers provide the intelligent sensors and computing power needed to control functions such as projecting information onto the car's display, fuel injection and safety systems.
They also provide the eyes of the vehicle that enable cars to ascertain temperature, weather and road conditions, identify other vehicles and objects on the road and allow the vehicle to know its own location.
Here is developing a real-time navigation system that creates a 3-D map of the world's roads and allows vehicles to exchange information needed for navigation. The information will be stored on a cloud-based computer network that individual vehicles can access.
Intel's interest in taking a stake in Here indicates that chip makers increasingly view the nascent digital-navigation industry as a potential source of new revenue and innovation.
The German auto makers are eager to attract strategic investors to Here. Last week, Here said Chinese internet group Tencent Holdings Ltd., Chinese mapping company NavInfo Co. and Singaporean sovereign-wealth fund GIC planned to jointly buy a 10% stake in the company for an undisclosed price.
In December, Here unveiled a partnership with Mobileye NV, the Israeli tech company that makes sensors for advanced driver-assistance programs. Here is also close to announcing a partnership in Japan, a key auto market, a person familiar with the situation said.
If the Intel acquisition is completed, the Here stake held by the German car makers would fall to about 75%.